Come See Us at a Nearby Event
Throughout the year, you can find us at a variety of boat shows where we look forward to meeting customers, answering questions, and introducing you to our fleet. Review the list below and let us know which event works for your schedule.
Boat Shows:
Newport International Boat Show, September 12 - 15, Newport, Rhode Island
United States Powerboat Show, October 3 - 6, Annapolis, Maryland
Tampa Boat Show, October 25-27, Tampa, Florida
Fort Lauderdale International Boat Show, October 30 - November 3, Fort Lauderdale, Florida
St. Petersburg Power and Sailboat Show, December 5 - 8, St. Petersburg, Florida
Miami International Boat Show, February 13 - 17, Miami, Florida
Make Your Boat Show Appointment
Exclusive Changes in Latitudes Getaways! for MarineMax Owners with Their Local MarineMax Store:
Stay tuned for more upcoming trips!
Contact your local MarineMax store if you're interested in attending a Changes in Latitudes Getaway!
Page Position for form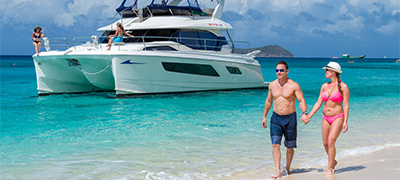 Request a Brochure
Explore the extraordinary charter options you have with MarineMax Vacations for your trip of a lifetime.
Get Your Brochure
Power Yacht Charters
Boating through the Caribbean on your own power yacht is the ultimate vacation. Now's the time to make it a reality.
Full Steam Ahead