Galeon Yachts
Since 1982, Galeon Yachts has been gracing waters across the continent with handcrafted beauty, elegance, and luxury. Every vessel by Galeon is produced in a world-class facility in Gdansk, Poland, and crafted with the utmost care—ensuring quality surpasses standards, making the company stand out amongst others. This award-winning boat builder is a family-owned and operated business that has been evolving rapidly throughout the years as it continues to meet the demands for innovation and excellence, which results in a line of yachts simply unparalleled for performance, seaworthiness, and style.
Page Position for models
Models
MarineMax is proud to offer Galeon Yachts. Our team has the experience and expertise to guide you into the perfect Galeon for your life on the water.
Page Position for series
View the Galeon Model Line
Page Position for faq
Frequently Asked Questions About Galeon Yachts
The smallest model currently in the Galeon Yachts lineup is the 325 GTO. It offers a helm inspired by high-performance sportscars and combines luxury with ample volume. With a full hardtop and full-length hull windows, the design is meticulously molded for impressive results. The 325 GTO was the first model introduced in the growing Grand Touring Outboard (GTO) collection, perfect for cruising, dining, or simply enjoying the ocean breeze.
Founded in 1982 in Poland, Galeon Yachts is a privately owned luxury yacht and motorboat manufacturer. With over 40 years of experience, the company operates two state-of-the-art production facilities, employing 1,500 skilled professionals. Renowned as a premier European boat builder, Galeon's handcrafted yachts exhibit top-notch construction, sophisticated style, and award-winning innovations. Despite being relatively new to the American yachting scene, their four decades of international manufacturing experience have earned them a well-respected reputation in the industry. Their world-class facility, staffed with highly skilled engineers, craftsmen, and technicians, continues to deliver an enviable lineup of luxury yachts that impress customers worldwide.
The Galeon Yachts factory, located in Gdansk, Poland, is where old-world craftsmanship meets the latest in innovation.
Galeon Yachts offers a diverse selection of 18 models, ranging from 32 - 80 feet, spread across four prestigious collections. Whether it's a sleek Hardtop, spacious Flybridge, innovative Skydeck, or the GTO outboard collection, each voyage exemplifies their commitment to yacht craftsmanship and design excellence.
Page Position for video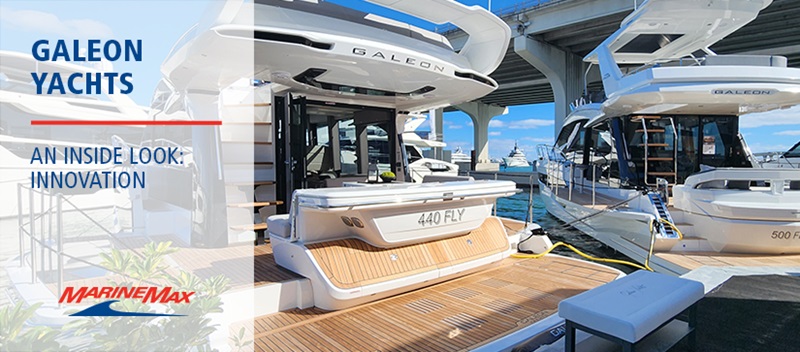 Play video for DISCOVER | Galeon Innovation
What makes Galeon so innovative? It's more than just leading-edge materials and building processes. Marketing manager Bob Burke explains what makes Galeon one of the most progressive and forward-thinking brands today.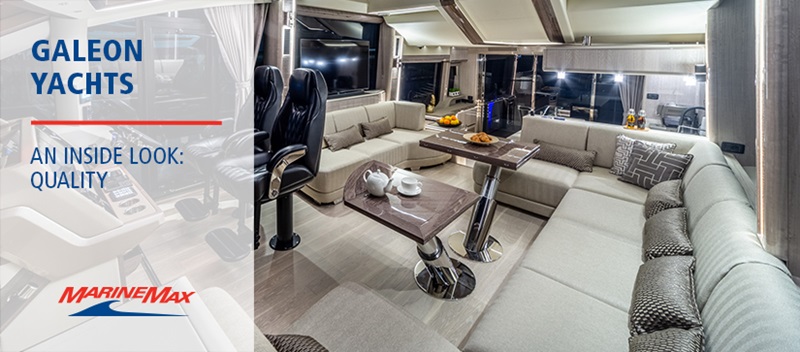 Play video for WITNESS | Galeon Quality
The quality of Galeon yachts is among the finest in the world, brand manager Bob Burke dives into what makes these yachts so special.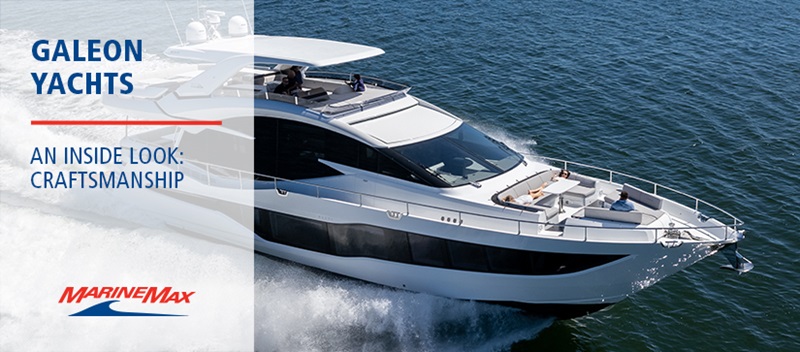 Play video for EXPLORE | Galeon Craftsmanship
The craftsmanship found on Galeon yachts is top-of-the-line. Learn what makes these yachts so special in this interview with marketing manager, Bob Burke.
Page Position for flybridge
Page Position for skydeck
Page Position for form
Want to know more about Galeon? Let us help!
Explore Galeon Yachts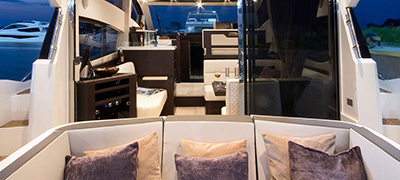 Pushing the Boundaries
Each Galeon yacht is a piece of handcrafted excellence. Galeon designs assure unparalleled modern styling and convenience.
Learn More
Galeon Yachts Collection Brochure
Prepare to be amazed as you explore the lineup of Galeon Yachts. Are you ready to Experience Innovation?
Galeon Brochure
Nana's Cool Boat
Boating holds a special place in the life of this Galeon yacht owner. Read her story.
Learn More