An Ocean Alexander Rendezvous in Paradise
It's all about fun and making new friends at an anniversary event to remember.
Ocean Alexander owners headed back to paradise at Ocean Reef Club, Key Largo, Florida, for this year's 2023 East Coast Rendezvous from March 30 to April 2. This year marks Ocean Alexander's 45th anniversary, a 'sapphire milestone.' With an anniversary and annual Rendezvous to celebrate, it made for an unforgettable weekend! The owners and their guests had the opportunity to experience the perfect location of Florida's stunning coastline, warm weather, and crystal blue waters while participating in exciting activities, enjoying spectacular entertainment, and great company.
The sapphire-themed weekend kicked off with the much-anticipated welcome reception, where sixteen sets of owners mingled with old friends, met new friends, and ultimately celebrated their shared passion for yachting and the Ocean Alexander brand. OA models in attendance ranged from a 1987 56-foot motor yacht to the 2022 Ocean Alexander 37 Legend.
The rendezvous was jam-packed with a curated agenda of daily activities, including an adventurous fishing charter where owners and guests had the chance to explore some of the best fishing locations the area has to offer and catch a wide range of species from marlin to mahi-mahi!
For those who wanted to rest, relax, and unwind, spa amenities and cabanas were available for their enjoyment. For the avid golfers, there was a 9-hole foursome scramble tournament at the beautiful Ocean Reef Hammock Golf Course, set among lush tropical vegetation and stunning ocean views.
Another highlight of the weekend was the exhilarating SEABOB Dive Exhibition, where guests were taken out to sea for the unique opportunity to experience a SEABOB-Jet while participating in an underwater scavenger hunt! Guests could compete against one another using the agile SEABOB-Jets to glide and maneuver through the water and find the hidden sapphire gems!
The annual Yacht Hop did not disappoint, as owners enthusiastically decorated their aft decks to the sapphire blue theme and served a wonderful selection of small bites and cocktails! The evening events ranged from a fun beachside dinner with fire dancers, a bonfire, and s'mores to a dress to impress in 'shades of blue' cocktail party, live band, and dancing.
Additionally, owners and guests were able to view and board one of Ocean Alexander's newest models throughout the weekend—the 2023 Ocean Alexander 32 Explorer. Designed for extended cruising and exploration, it features a spacious and luxurious interior, as well as a stylish exterior built for offshore cruising.
Overall, the 2023 East Coast Rendezvous was a success! It was an incredible weekend filled with fun activities, delicious food, music, dancing, laughter, and a chance for OA owners to spend quality time with one another, creating memories that last a lifetime!
View Our Marinas
With vast storage, convenient locations, and incredible benefits, our marinas are the perfect place for your boat to call home.
Where's My Marina?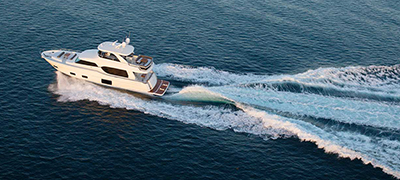 Unmistakable Splendor
Ocean Alexander radically raises the bar in the sheer abundance of luxury and expensive detail they include. But just beneath the very-evident pleasures, they build strong defenses for your safety.
Get on the Water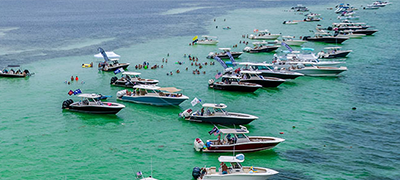 Find an Event
All this fun is exhausting – NOT! We love creating entertaining and exciting customer events. Each is designed to make boating the most remarkable leisure activity in your life.
Find an Event