Go, Go Galeon
The Galeon 385 HTS leads the way as the European builder springs into the domestic marketplace.
If you haven't heard of

Galeon

by now, consider this article a friendly wake-up call. The Polish builder — which has been wildly popular in Europe since its founding in 1982 — is making a serious push into the American market. Soon you should see these Euro-styled beauties sliding all over domestic waterways. That's because Galeon offers its customers a potent blend of sophisticated styling and forward-thinking design at a palatable price point. It's a tough combination to beat. At the forefront of Galeon's play in the U.S. is the 385 HTS, an express cruiser that can do it all.

The boat was designed by the Englishman Tony Castro, who is perhaps best known for his mega-yacht projects. It should come as no surprise then that the boat takes its exterior styling cues from much larger vessels. Its lines are replete with graceful swoops and intelligent use of windows to create a sleek, aerodynamic look. And those windows do more than just make the boat look good. They serve the dual purpose of keeping her interior extremely well lit, especially when coupled with skylights over both the salon and the forepeak master stateroom, which by the way, is en suite and has an island queen berth.

Those are accommodations which make this boat more than suited to an overnight or long weekend away on the hook, not something every express cruiser in this size and class can boast. A guest cabin aft of the master has twin berths that slide on tracks to create another queen if need be. This makes the HTS well fit for a couple of, well, cruising couples. Fit and finish onboard is a point of pride for Galeon. When you get aboard, check out how the cabinets and drawers all fit snugly into place. Have a look at the woodwork, and in particular the joinery — and take note of the inlaid maple accents throughout. The boat's stainless steel welding is done in-house and is exquisite, no small feat if you've ever known what it's like to wield a blowtorch.

As for performance, the 385 HTS does not disappoint. Galeon upgraded the engines for the American market and now the boat has relatively powerful 370 hp Volvo Penta D6 diesels paired to Aquamatic sterndrives that can fire her well into the mid-30-knot range at top hop. The V-bottom hull with 16 degrees of deadrise at the transom handles those speeds with aplomb, even in sloppy seas. A 26-knot cruise at 3000 rpm burns a respectable 29 gph as well, so you can get from here to there without setting fire to your credit card.

One final touch, a relatively gigantic garage for a boat this size is accessible via the teak swim platform. The space can hold a tender up to nine-feet long. It may be surprising to some that a boat that's just 41-feet, 2-inches LOA has a dinghy this size. However, if you've gleaned anything from this article, it should be that Galeon builds are full of pleasant surprises and that this builder doesn't do anything halfway. You may now consider yourself in the know on that.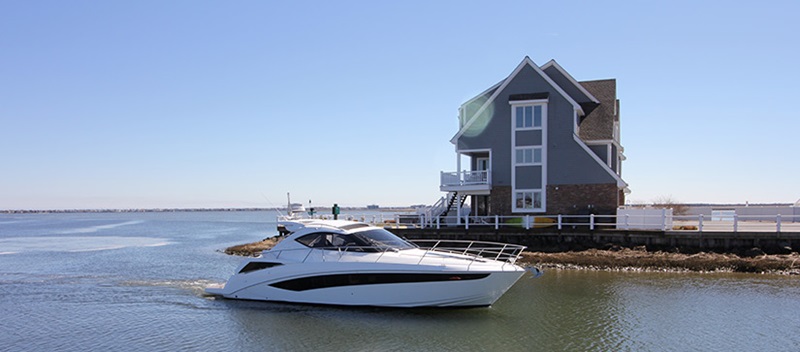 Play video for Take a Tour With Us
Experience the unmatched craftsmanship, spacious and private layout, and spirited performance of the Galeon 385 HTS with us. We think you'll agree that this boat is the perfect platform for fun!
Play video for Galeon Yachts - Dare to Break the Mold
Introducing the Galeon Yacht collection that is designed, built and imported exclusively for MarineMax across all of the Americas. Galeon Yachts are known for their innovative features such as; expandable balconies, power windows and a convertible Skydeck range. With imagination at the helm the Galeon brand is crafted to lead, not follow.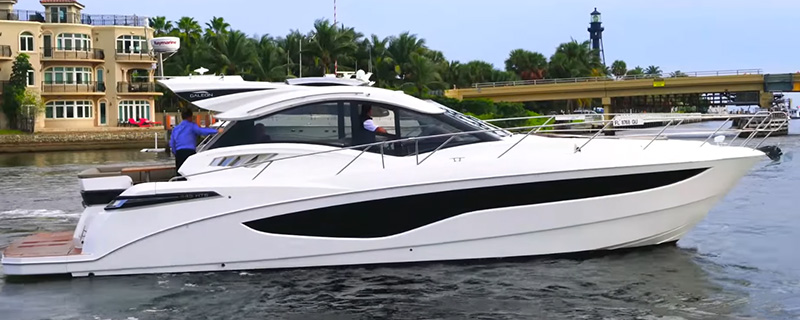 Play video for Press' First Reaction to Galeon Yachts
In January 2016, MarineMax invited the most seasoned and knowledgeable of the marine industry press to Pompano, Florida to be the first to experience Galeon Yachts. Their reactions to this new brand in the Americas speaks volumes of the quality of their handcrafted excellence.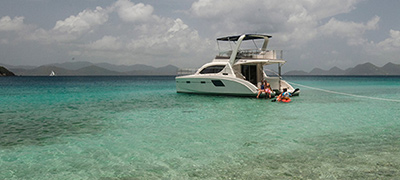 Adventures
Getaways!®, MarineMax Vacations in the British Virgin Islands and Private Yacht Charters are another way we are able to help our customers enjoy the boating lifestyle and enhance their passion for the water.
Take an Adventure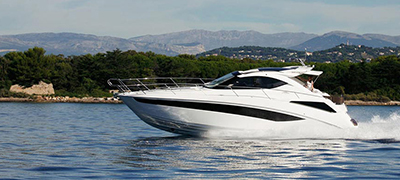 Handcrafted Excellence
Galeon designs assure unparalleled modern styling and convenience. Leading technology and design, makes each yacht exceptional.
Get on the Water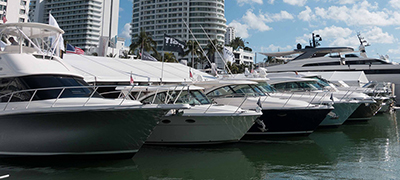 Experience Your Favorite Models
Step aboard to explore boats of all shapes and sizes including the latest models. With one place to come for everything boating, you'll find the boat of your dreams!
Find a Boat Show Near You