Love at First Sight
By Jeanne Craig
The attraction was instantaneous. When Pierre and Gigi Titley boarded the Ocean Alexander 112 at the Fort Lauderdale Boat Show in the fall of 2018, they knew the trideck yacht was the one for them. The only problem was that the boat had been claimed by someone else. "We went to that show to buy our next boat, yet when we found the perfect one, we learned it had already been sold," says Pierre.
That was a minor obstacle. Pierre, the co-founder and president of the regional real estate franchise RE/MAX Quebec, and Gigi, a veteran real estate attorney, typically know how to get what they want. The couple, who have been married for 36 years, asked about the possibility of having another boat just like it built for them. Jeff Oliver, a yacht broker with MarineMax of Pompano Beach, Florida, was working with the couple that day. "I've known the Titleys for almost 20 years. Pierre likes to joke around, so I didn't think he was serious when he suggested we sit down and put a contract together that afternoon," says Oliver.
But serious he was. At the time, the Titleys had just sold an 85-foot Pacific Mariner and were ready to trade in their 68-foot Sea Ray. They wanted to trade up to the 112, which is the entry-level model in Ocean Alexander's line of superyachts that stretches to 155 feet. She was created by London-based megayacht designer Evan K. Marshall, who brought large-yacht thinking to bear, giving the 112 five staterooms to accommodate a party of 10, crew quarters for up to six, and plenty of fine details. The boat made its world debut in 2014.
Pierre has been boating since he was a young boy. His parents owned a cottage near the Ottawa River in Canada. There he ran everything from a small boat with a 5-hp Johnson outboard to a Dowty jetboat. Decades later, when he met Gigi, he had acquired a classic 1963 Shepherd 38 made of mahogany and teak, which the couple restored together. The couple still owns that boat, and a few others that they keep at their home in Canada. The Titleys bought the Ocean Alexander 112, Gigi IV, with the intention of keeping it at Bahia Mar in Fort Lauderdale, near their oceanfront condo. It's the largest boat they've ever owned, and the first to be operated and maintained by a full crew. "We don't have to work a lot on this boat, but it is working for us," says Pierre.
At 75, Pierre is semi-retired from the company he co-founded in 1982. "I've worked very hard to pay for my boats," he says. And he and Gigi plan to enjoy them, particularly the newest member of their fleet. "This boat will help us live life to the fullest," says Gigi, who fully embraced the philosophy not to take any day for granted after she lost her younger brother to cancer. Her brother was her associate in their law firm and he died at the too young age of 36.
Once the contract was inked on the 112, Gigi took the lead on the building process, working closely with broker Mike Tyrell at MarineMax and designers in Evan Marshall's office to customize the interior to her liking. The process of creating an elegant, seamless design was familiar to her; Gigi was hands-on in the creation of their home on a lake in a suburb of Montreal. She managed every aspect of the house's construction, which took more than six years to build. Her husband calls it "magnificent."
Gigi says, "We love our house, which was selected as one of the 50 most beautiful homes in Quebec for a book published a few years ago. We named it Tara after the house in my favorite movie, 'Gone With the Wind.'" Gigi named their dog Scarlett after the heroine in the same film. The Havanese enjoys the water too, and always joins the couple on their boating adventures.
The semicustom 112 that the Titleys would take delivery on was ready for production when they signed the contract in late 2018. Gigi spent the following eight months fine-tuning and updating the layout, and selecting woods, stones, fabrics, fixtures and the like. "It took a while to get it to our specs, but we had a great experience with Mike and Jeff," she says. "There were so many choices. And there were times when spaces that had been built had to be taken apart because they weren't quite right. It was a lot of work, but it was worth it."
She worked very closely with Tyrell, who was the liaison between the Titleys and the construction team. "He was very professional and made sure everything was done properly. He's the type of person you need for a project of this type, where each detail is important."
Gigi wanted to be involved in every decision. She'd even make the time to meet with designers at the DCOTA in Fort Lauderdale on multiple occasions to select furnishings for the yacht. "She was involved in everything, right down to the buttons that go on each pillow," says Oliver. "She is meticulous, and that's why this is one of the most beautiful 112s to be produced yet."
"It's very luxurious and our favorite boat to date," says Pierre. "It's not a diamond in the rough. It's a real diamond, like my wife."
The Titleys succeeded in making the 112 their own with custom touches, including the addition of a gym—it replaced one of the four staterooms on the accommodations level. The gym as well as the lower level guest staterooms all have private marble-clad bathrooms and showers. "The gym was a must because we are spoiled," says Gigi. "When we travel we have a chef on board and we eat so well that we have to exercise to stay in shape."
There were a number of features on the yacht that appealed to them from the start. The deep and wide side decks were among them; they make it easy to move around topside. The main salon is lovely and bright and has a dining area for 10 as well as a bar. Also the galley is quite sizable with all the latest appliances and a sitting area. And for convenience on long trips, there is a large laundry room and extra freezers and refrigerators.
The couple also liked the location of the full-beam master stateroom on the main level; they don't have to descend a long staircase to access the owners' suite when leaving the entertaining areas aft. This is a split-level master suite with an area two steps down that feels more like a spa resort than a bathroom as it has a whirlpool tub surrounded by marble, an oversized shower and marble floors. The master has two walk-in closets and a small bathroom on the bedroom level, so they do not have to negotiate stairs in the middle of the night. "I love the master suite,", says Gigi, "It's a beautiful room with large windows, so there is always a lot of light. There's also a sitting area, where I go to read and relax."
One of their favorite spaces is the enclosed sky lounge that includes a pilothouse for the captain. For guests, there's a card table, loose chairs and lounges, and a flat-screen TV, all surrounded by warm woods and cool stone counters in the tradition of a fine country club. Outside the enclosure is more entertaining space, including a large table with plenty of seating, teak lounge chairs, a wet bar with stools, and a grill.
The 112 is a true trideck, and that top level, called the Sky Deck, really appeals to this couple. There's a table and chairs for meals, a bar for cocktails and a hot tub for any time of day. "It's a great place to be when you're anchored in a place like the Bahamas," says Oliver.
The Titleys took delivery of their boat in late fall of 2019 and did a shakedown cruise to the Bahamas, heading south into the Exumas. The boat ran about 23 knots at top end and cruised near 16 knots. "We told them this boat will go anywhere they want," says Oliver. "They like Ocean Reef and the Bahamas, but they can take it farther."
Future cruising plans include Europe. The couple hopes to ship Gigi IV overseas and spend a few months exploring ports in Italy, Greece, Spain and Portugal. They had wanted to do this trip in the summer of 2020, but the coronavirus pandemic put those dreams on hold. Even so, the Titleys are happy with their new yacht.
"Some of the things we love most about boating are the opportunities it provides to travel, take in views and meet other people with boats," says Pierre. "We're enjoying our new Ocean Alexander. We've got it made. We have everything we need."
Gigi agrees with those sentiments. "The boat is like a little palace on the water. It's turned out to be the yacht that Pierre and I have long dreamed about."
Learn More About Ocean Alexander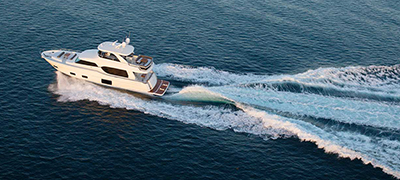 Unmistakable Splendor
Ocean Alexander radically raises the bar in the sheer abundance of luxury and expensive detail they include. But just beneath the very-evident pleasures, they build strong defenses for your safety.
Get on the Water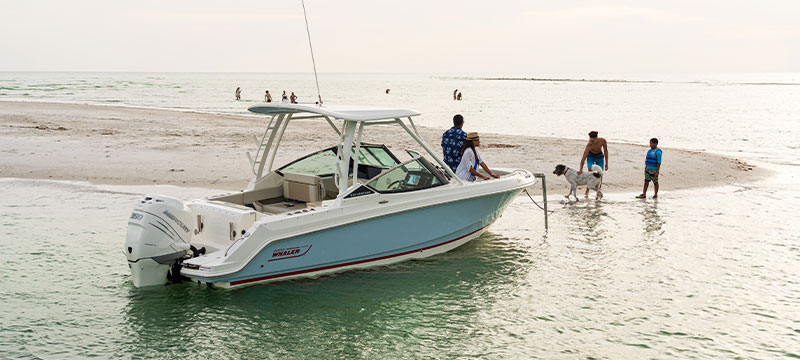 Find Your Perfect Boat Today
Start your search for the boat that has it all for your lifestyle! Explore premium new, used, and brokerage boats.
Search Boats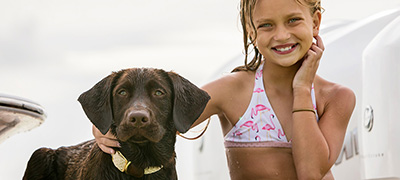 The Boating Lifestyles Blog
Browse hundreds of articles on customer stories, tips, trends, gear, amazing boating locations and more found in our Blog.
Explore Boating Articles