You've Got The Look
By: Liz Pasch
The Aviara AV36 was built for entertaining. But for Dave Goulet, who keeps his AV36 on Minnesota's Lake Minnetonka, perhaps the most entertaining moment his boat has offered him had nothing to do with her numerous features. Instead, it was a conversation overheard at the docks.
"These two guys were on the docks looking at her," he says with a laugh, "and I hear one of them say 'Oh this is the new boat built by Mastercraft' and his buddy goes, 'No way, this thing here was definitely built in Italy.' And I just had a nice little laugh to myself. This boat does seem to have that effect on people."
The Aviara is, of course, built in America. But her styling is decidedly European, and it's one of the things that makes her jump out at people right away. Initially, it was Goulet's wife who was first enamored with the boat's looks. "We had gone to the MarineMax up here by us to have a look at a Sea Ray, and my wife saw the Aviara under a tarp and it caught her eye. Mike Anderson, our salesman, took the tarp off for us and my wife fell in love with the boat right there," says Goulet. "And that was mostly because of the European styling. It's got such a different look for up here, you don't see many boats like this one. People literally stare at us. You feel like you have a pink elephant in the back of the boat sometimes!"
Which is a colorful way to say that the Aviara AV36 stands out from the crowd, to say the least. With her near-vertical bow, stylish hardtop, and minimalistic windshield, she looks as though she should be ferrying well-heeled guests ashore from some mega yacht in Monte Carlo. An ergonomic layout—featuring a galley, wet bar, and small cabin—heightens this boat's gravitas as a cruiser. "CoolFeel" upholstery is another popular feature that at once keeps the boat comfortable and stylish. "My boat's got a super dark interior," Goulet says, "and at first I thought that might be bad in the summer heat, but it's incredible, the surfaces never get hot."
All these features worked in concert to represent a big step up for Goulet's boating experience. "I grew up barefoot skiingon the lake with smaller boats, and spent some time on houseboats when I was younger," he says, "and then I owned my own ski boats, Malibus, but they were nothing like the Aviara really."
Goulet loves the boat's Garmin electronics and its advanced diagnostics, as well as her joystick docking feature, which has been a boon for him during crunch time. "I had an incident where I was pulling out this summer on a crowded dock," he says, "and it was very windy and a guy was pulling out at the same time, and he was all over the place. He didn't have any side control or anything like that, and man it was bad for him. And then it was my turn. Go time, y'know? And I pulled my boat out with 200 people watching. And with my joystick I had full control over the boat and got out smoothly. I think I disappointed the crowd!"
Goulet is extremely happy with the way that MarineMax has helped him along on his boating journey. "This past year MarineMax has been busy obviously, with the way the boat sales have been skyrocketing, those guys must have been working a mile a minute. But they've always made time for me," he says. "All new boats have issues, that is a given, and MarineMax has gotten everything fixed no questions asked. Which to me is more important than the issue itself. Most people with boats get irritated when something goes wrong, but these boats are getting very sophisticated, so of course there will be some issues, that's the nature of the beast. But you shouldn't have to fight to get something fixed. And MarineMax doesn't give me any grief, and trust me I've been picky—some little fit and finish things, and an ill-fitting gasket or two, but MarineMax always got it right, and right away too."
Goulet also likes the Aviara's speed. With the hammer down, she can approach 56 mph, thought he doesn't like to take her above 50, because of the traffic on the lake. Though lake traffic soon won't be a problem. He needs a new boat for his new home down in Florida. "The Aviara's been a good segue between those old Malibus, and an ocean boat," he says. "I've got my eye on a big Boston Whaler—that's another MarineMax boat, of course."
And as any businessman worth his salt will tell you, there's no higher compliment than a repeat customer.
Request More Information About Aviara
Elevated Open Water Experience
Aviara is the first brand to fuse progressive style and effortless comfort in a modern luxury boat that's born to break away from it all.
Get on the Water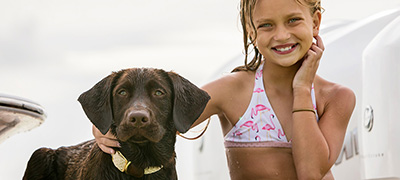 The Boating Lifestyles Blog
Browse hundreds of articles on customer stories, tips, trends, gear, amazing boating locations and more found in our Blog.
Explore Boating Articles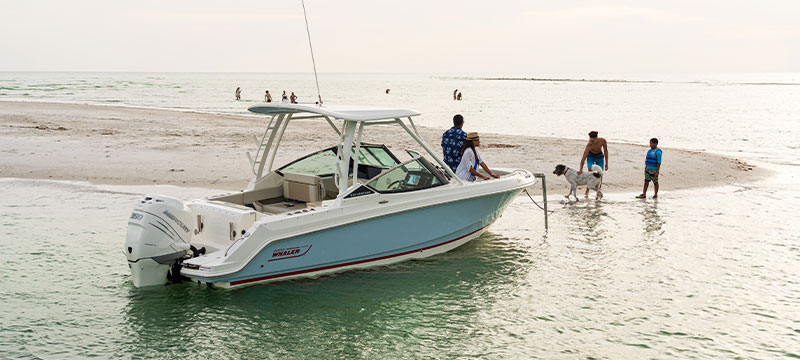 Find Your Perfect Boat Today
Start your search for the boat that has it all for your lifestyle! Explore premium new, used, and brokerage boats.
Search Boats