The Fun Never Stops with Pontoon Boats
Once considered to be a poor man's boat, the pontoon has gained significant stature and popularity among serious boaters.
Credit goes to the manufacturers who recognized that many families want a boat that is easy to maintain, stable, safe, and carries all their friends, family, and gear in relaxed comfort.
Ambrose Weeres is widely credited with inventing the pontoon boat. In 1952 he theorized that a platform fastened to two columns of steel drum barrels welded together would be more stable than conventional boats. With the help of a few dealers, the Weeres Pontoons became popular in the Richmond, Minnesota, and the "Land of 10,000 Lakes" area where Weeres owned a mill.
At nearly the same time, brothers Ernie and Pete Harris in Fort Wayne, Indiana, had been seeing people making rafts and boats out of 55-gallon barrels and aluminum drop tanks from airplanes. What they saw intrigued them, but they thought that they could do better. In 1957 the brothers started producing

Harris

FloteBotes with "fencing" and custom steel tubes. They also added a motor mounting bracket that allowed the motor to be raised and lowered.

Harris Pontoons had a significant impact on the pontoon industry by introducing built-in, upholstered bench seating in the '60s. It was an innovation that changed the perception of pontoon comfort. They continue to grow the design and innovation as modern style and technologies evolve.

In the late '80s, companies began experimenting with different ways to improve performance. Various combinations of lifting strakes and center pontoons (tri-toon design) created pontoon boats that handled better than traditional boats both in cornering and in choppy conditions. Many models of tritoons can exceed 60 miles per hour on open water and are excellent boats for tow-sports.

Today there are a wide variety of pontoon boats from simple day boats to luxurious cruising machines complete with head, shower, and entertainment bars. "Pontoons are enjoying immense popularity right now because these boats are literally like taking the comforts of your living room on the water," explained Aaron Kramer, MarineMax Pensacola Store Manager. "And frankly, many pontoon models outperform traditional sport boats and can be set up for fishing, water skiing, wake boarding, cruising, with floor plans that can include kitchens, bars and sport towers. They are the best boats for what people love to do on their boats. Having a blast!"

MarineMax offers Harris pontoon boats at several local MarineMax stores. Check with your local MarineMax for availability.
Page Position for form
Complete the form below to get more info on the pontoon of your dreams.
Page Position for videos
Take a Glimpse into the World of Pontoons
Play video for From the Helm | Boating Broadcast - Harris Pontoons
The idea began in 1956 when two brothers sought to bring safe, quality pontoon boats to market. Over the years, there have been many firsts, but the foundation remains focused on quality and safety. Today's Harris Boats feature stunning lines, top-notch technology, and extreme power.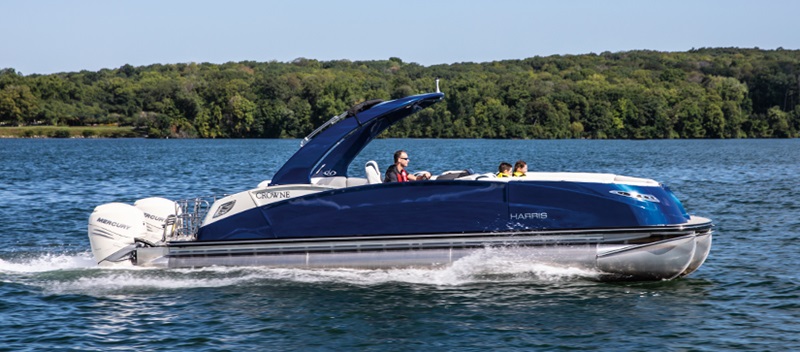 Play video for Crowne Series
The elite Crowne series boasts sleek lines, premium construction, elegant detailing, dramatic power, and agile handling, as well as a magnificent array of standard amenities and modern floorplans for truly inspired onboard entertaining.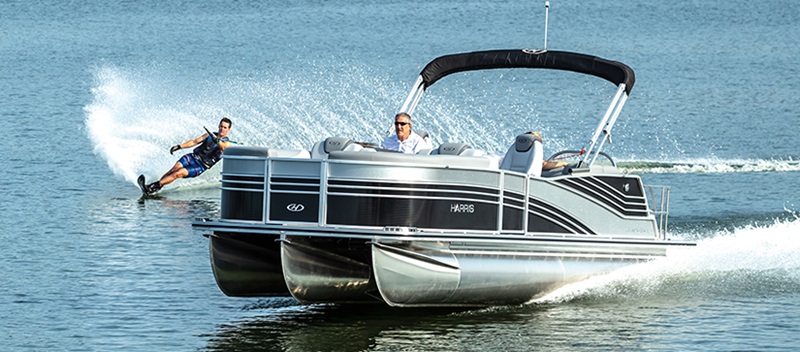 Play video for Grand Mariner Series
Dynamic luxury and peerless performance define the Grand Mariner series, a versatile group of upscale boats for entertaining and watersports.
Page Position for series
Harris Pontoons
Championing expert craftsmanship and genre-redefining designs, Harris has distinguished itself as one of the top pontoon boat manufacturers in the world. New Harris pontoons can be found at numerous MarineMax locations, ranging from Florida to Minnesota. Discover the Harris pontoon series below.