Meet the New Marina Manager at MarineMax Hall Marine Savannah
SAVANNAH, GA (April 5, 2021) – MarineMax Hall Marine Savannah recently announced the promotion of Joshua Watson to Marina Manager.
Jim Lynes, General Manager comments, "We are certainly fortunate to have Joshua join our team and are excited to see what he does with our beloved Savannah Bend Marina in the coming season and beyond. Please welcome Joshua as you see him around the docks."
Josh comes to Savannah as an internal promotion from within the MarineMax organization. He was formerly the Dockmaster at MarineMax Sarasota (Florida) for almost a decade. At that time, he had a hand in helping restructure the location into one of MarineMax's top marina locations.
Joshua Watson remarks, "I'm thrilled to be joining the team here in Savannah. I love the water and have a passion for helping others make the best of their time on the water too. I'm looking forward to working with the crew here and look forward to meeting everyone!"
MarineMax Hall Marine Savannah is the coastal empire regions' premier boat dealership and a full-service marina. They are proud to provide the area with unparalleled boat service and premium brands known for their quality and durability like Sea Ray, Aviara, MJM Yachts, Boston Whaler, Scout, and Yamaha Jet Boats. MarineMax Hall Marine Savannah is conveniently located off Highway 80 on Old Tybee Road in Thunderbolt, on the intercoastal waterway, just south of the Historic District of Savannah. They have direct access to some of the southeastern United States' most pristine, uninhabited barrier islands. Many of these locations, like Wassaw and Ossabaw Islands, are only accessible by boat. Miles of pristine beaches and sand bars provide a wonderful oasis for your family to explore or use as a personal outpost, away from crowded beaches and resorts.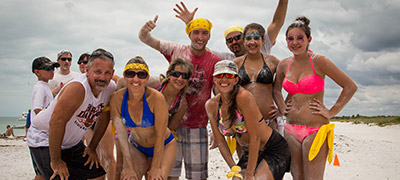 Find an Event
All this fun is exhausting – NOT! We love creating entertaining and exciting customer events. Each is designed to make boating the most remarkable leisure activity in your life.
Find an Event
Find Your Perfect Boat Today
Start your search for the boat that has it all for your lifestyle! Explore premium new, used, and brokerage boats.
Search Boats
The Boating Lifestyles Blog
Browse hundreds of articles on customer stories, tips, trends, gear, amazing boating locations and more found in our MarineMax Lifestyles Blog.
Explore Boating Articles