Meet the Hatteras Sportfish
Swells boom against the hull and salt sprays your face as you charge into open waters at speeds up to 40-plus knots. And if you're not busting waves on a Hatteras, they're busting you. With a lineage anchored in 60 years of distinguished craftsmanship, only Hatteras convertibles are engineered to excel in higher seas at higher speeds. Their perfect balance of weight, speed and hull design deliver a smooth ride that can only be defined as pure Hatteras. Explore the sportfish yachts Hatteras has to offer and begin your Hatteras journey today.
GT70

The GT70 is engineered to excel under tough conditions, while offering a host of features and amenities that define the premium sportfish category. It is built on a variable deadrise bottom with a sharp entry and powered by standard twin CAT C-32A diesels (or optional MTUs). And with a cruise range in the mid-30s and top-end speed over 40 knots, it is a workhorse with the bearing and grace of a thoroughbred.

GT65 Carolina

The new GT65 Carolina will replace the GT63 and signals a new design direction, enhanced performance and custom features for clients seeking an alternative to either a custom builder or other competitors' ordinary off-the-shelf boats. The first renderings of the new Hatteras GT65 reveal a sleek profile that refreshes the look of the GT Series while still maintaining its core Hatteras DNA.

GT59

Hatteras has conceived the all-new GT59 with an acute understanding of tournament life in mind. The design team for this sleek convertible has brought together 40+ knot top-end speed, outstanding seakeeping ability and the most comfortable ride in its class.

GT54

The Hatteras GT54 Convertible offers performance, comfort and convenience that extends beyond its efficiently engineered seakeeping ability. Capable of over 40 knots and a cruise in the mid-30 knot range, the GT54 balances an exceptionally nimble responsiveness with an extremely comfortable ride.

GT45X

With performance and amenities not typically found in a mid-forty foot yacht, the GT45X offers a legendary Hatteras experience that extends far beyond what you expect. Ideal for any owner-operator, the GT45X delivers on the Hatteras tradition of unmatched build and ride quality, while equipping all those aboard with a lavish setting to relax, entertain and pursue life's adventures.
Play video for Hatteras GT Series
Hatteras continues to redefine the category they invented over 55 years ago.The GT Series is a range of tournament-ready sportfishing convertibles for a legendary Hatteras experience.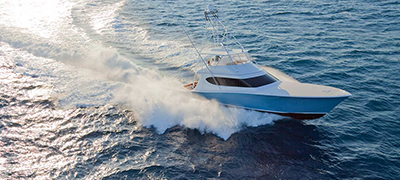 A New Breed
Hatteras yachts are the standard to which all others are judged - above and below the waterline.
Get on the Water
The Fishing Lifestyle
Read all about the latest fishing news. From the newest models and innovations to adventures taken by fellow boating enthusiasts.
Get Bloggin'
Find Your Perfect Boat Today
Start your search for the boat that has it all for your lifestyle! Explore premium new, used, and brokerage boats.
Search Boats