Going All In on the Boating Lifestyle
MarineMax Dayaways!, Getaways!® and Vacations – the Hale family can tell you all about them. They put the fun into boating and keep the good times coming by attending MarineMax events.
The Hale family of Tampa, Florida has taken the mantra; you only get out what you put in, to heart, going all in to embrace the MarineMax boating lifestyle.
David, and his wife Anne are on their fifth boat through MarineMax, a dual-console 230
Boston Whaler
Vantage named Hale's Angels. Initially the Hale's owned Sea Ray boats, but switched for an outboard motor, something the
Sea Ray
didn't offer at the time.
Hale likes the reliability of the 300-hp white Mercury Four Stroke Verado engine that comes optional in the 230 Vantage. "In 12 years of owning Verado engines, we've had zero maintenance issues," said Hale.
Versatility is a key factor in coming back to the Boston Whaler brand for a third time. "It's flexible enough to go fishing, or just take to dinner," stated Hale.
The Hales cruise frequently with extended family and the seating options on the Vantage make it easy to add passengers comfortably. There is spacious bow seating with lounge backrests on both port and starboard, plus an optional stowable table, perfect for afternoon snacks and cocktails. Port seating adjusts readily and stows plenty of snorkeling gear for scalloping, one of the Hale's favorite pastimes.
Custom helm seating has both a high and low pedestal, and there is a fold-out stern seat with backrest. Aft seating stows seamlessly to expand a large cockpit area for entertaining, something that comes in handy when the family is on MarineMax Getaways! with other boaters.

MarineMax Getaways! are a huge perk for the Hale family. They've attended at least 30 – 40 events, more than any other customer. They like cruising as a group and have discovered lots of fun destinations along the way.

"When the girls were younger, they'd always make friends on the Getaways! and inevitably the kids (Marisssa and Niki) would end up riding on other people's boats, or we'd have a bunch of kids riding on our boat," said Hale. "Now they are older and they wouldn't miss a trip to the Keys or scalloping. We have great memories of our trips together and boating has kept our family close."

The Florida Keys and scalloping in the Gulf off the Homosassa River, are two of the Hale's favorite destinations. Both they discovered through MarineMax Getaways!

"David Hale and his family are the ideal MarineMax patrons," said Jacob Coyle, a sales consultant with MarineMax Clearwater. "Not only do they see the value and quality in the boat they purchased, but they understand that we sell more than just sea crafts. We want our customers to get the most out of the boating lifestyle, and the Hale's do that 100 percent."

MarineMax has introduced the Hale's to day trip locations close to home too. Mount Dora is a chain of lakes in Florida they initially visited with a larger group for a classic wooden boat festival, but have since returned several times on their own.

It's not just Getaways!. The spectacular maintenance record on the Vantage means more time on the water cruising to downtown Tampa for a weekend dinner. Two current favorite restaurants are Café Dufrains because of the unique menu and Circles, which has awesome seafood. Both offer convenient docking.
Sometimes the boating lifestyle means leaving your vessel at home. Recently, the Hales took advantage of a MarineMax Vacation's yacht charter, booking a trip to the British Virgin Islands (BVI) with their daughter Nikala (14) as well as Anne's sister, brother-in-law and their three adult children aboard a 48' foot MarineMax 484 Power Catamaran.


"We cruised for nine days in the BVI with eight people, ages 13 – adult, and everyone had such a blast they said the trip wasn't long enough," laughed Hale. "And best of all, everything about the vacation was easy, from planning (Anne, Margie and Megan) boat navigation (Joey) to captaining (Niki). We are already talking about a return trip in 2019 or 2020."
The fun isn't over either. David and Anne are planning to attend the MarineMax Get
aways!
trip to Bimini, Bahamas – exclusive to Boston Whaler owners next year with their girls and Anne's sister and brother-in-law and their three adult children. Anne's sister also owns a Boston Whaler.
The families are looking forward to rafting up and anchoring with other boaters. The Vantage's extended integral swim platform with recessed telescoping dive ladder and grab rail make it the idea boat for playing in the water. And the 35-quart YETI cooler in the cockpit means the beverages are always cold.
Boston Whaler is known for it's safety and handling, meaning no matter what the weather, the trip to Bimini is guaranteed to be smooth.
And after Bimini? David Hale has his sites on a new Boston Whaler Conquest to cruise the 6,000 mile Great Loop, a continuous waterway that includes part of the Atlantic, Gulf Intracoastal Waterways, the Great Lakes, Canadian Heritage Canals, and the inland rivers of America's heartland.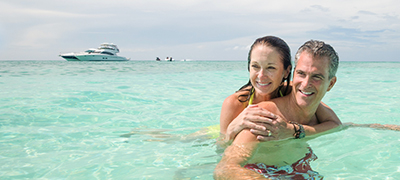 Discover New Places
Some last a day, others a weekend or longer. Either way, our Getaways!® will have you enjoying the boating lifestyle in no time.
It's time for fun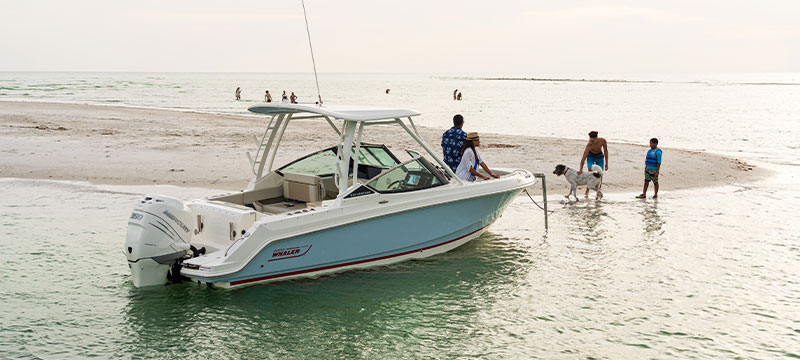 Find Your Perfect Boat Today
Start your search for the boat that has it all for your lifestyle! Explore premium new, used, and brokerage boats.
Search Boats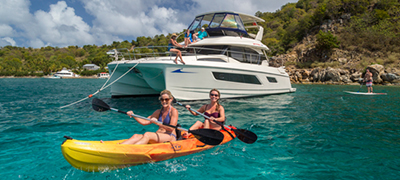 Live Your Caribbean Dreams
Imagine spending a week with family and friends aboard a power catamaran in the British Virgin Islands. MarineMax Vacations can make this dream a reality.
Plan Your Vacation