Everything You Need for Grilling Aboard
Out on the water we get hungry! Nothing beats firing up the grill and dining on your boat. We've put together our favorite recipes and tips to help you grill up a tasty meal aboard your vessel.
Page Position for hotdog
The Thrill of the Grill
What better food to enjoy on the water than the American classic – a hot dog! Here are a few ways to dress your dog..
Chicago-Style

No city takes their hot dogs more seriously than Chicago, so it's safe to say they know what they're doing. A Chicago dog is a boiled hot dog on a poppy seed bun, topped with dill pickle and cucumber spears, as well as sliced tomato, sweet pickle relish, pickled peppers, diced onion, and yellow mustard. And don't forget a sprinkle of celery salt!

Chili Cheese Dog

Spice up your dogs with a little chili! Just nestle a grilled hot dog into a soft bun, then top with ground beef chili and shredded cheddar cheese.

Corn Dog

Hot dogs and cornbread make for a tasty combination, and with a corn dog you get added convenience! Mix half a cup each of flour and cornmeal, along with a teaspoon of baking powder and a pinch each of salt, sugar, and dry mustard. Whisk in a half-cup of milk and an egg. Insert sticks into your hot dogs, dredge them in flour, then dip them in the batter and deep-fry in 365-degree vegetable oil until golden.

New York-Style

Get a taste of a New York street dog while on the water! Simply top a boiled hot dog on a soft bun with sauerkraut and spicy brown mustard. Fuhgeddaboudit!
Page Position for recipes
More Grilling Recipes
Why limit yourself to hot dogs? We've got plenty more recipes for delicious grilled food that you can enjoy on your boat this Fourth of July.
Play video for Cookin' with Kenyon
From the Helm with MarineMax
In this episode of
From the Helm
, we had a chance to meet with Kenyon Grills' very own Mike Reischmann and Galeon Brand Manager Bob Burke to see how the latest StacKEN Cookware works and the benefits of cooking aboard!
Page Position for tips
Let's Get Cooking
Once you've decided what to dine on, keep these tips in mind to make sure your meal goes smoothly.
Before going aboard, stock up with all the grilling necessities: utensils, mounts, covers, lighters, a grilling light, storage containers, etc. And of course, don't forget the food!
Save yourself some time and worry by preparing your meats and veggies ahead of time.
The most important rule of safety for grilling is to never grill while underway. When the grill is lit, never leave it unattended.
Double check that all your propane connections are sealed tight. To test whether there's a leak, brush soapy water onto a joint; if bubbles form, the connection has a leak.
When all your food is ready, turn off or put out the grill, then wait for it cool down before detaching and storing it so you can get underway again.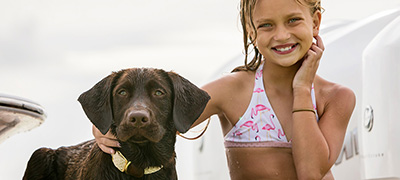 The Boating Lifestyles Blog
Browse hundreds of articles on customer stories, tips, trends, gear, amazing boating locations and more found in our MarineMax Lifestyles Blog.
Explore Boating Articles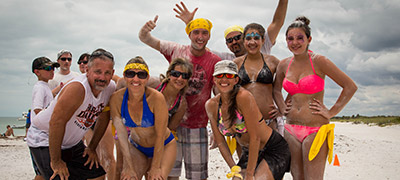 Find an Event
All this fun is exhausting – NOT! We love creating entertaining and exciting customer events. Each is designed to make boating the most remarkable leisure activity in your life.
Find an Event
Kids in Boating
Boating is a great way to spend time with kids. This mix of classroom and hands-on training helps your honorary first mates get comfortable with boating.
Search for Kids in Boating Classes