The Thrill of the Grill
It's time for grilling out on the water and what better than the American classic – a hot dog! Here are a few ways to dress your dog along with other boating-ready recipes.
Chicago-Style

No city takes their hot dogs more seriously than Chicago, so it's safe to say they know what they're doing. A Chicago dog is a boiled hot dog on a poppy seed bun, topped with dill pickle and cucumber spears, as well as sliced tomato, sweet pickle relish, pickled peppers, diced onion, and yellow mustard. And don't forget a sprinkle of celery salt!

Chili Cheese Dog

Spice up your dogs with a little chili! Just nestle a grilled hot dog into a soft bun, then top with ground beef chili and shredded cheddar cheese.

Corn Dog

Hot dogs and cornbread make for a tasty combination, and with a corn dog you get added convenience! Mix half a cup each of flour and cornmeal, along with a teaspoon of baking powder and a pinch each of salt, sugar, and dry mustard. Whisk in a half-cup of milk and an egg. Insert sticks into your hot dogs, dredge them in flour, then dip them in the batter and deep-fry in 365-degree vegetable oil until golden.

New York-Style

Get a taste of a New York street dog while on the water! Simply top a boiled hot dog on a soft bun with sauerkraut and spicy brown mustard. Fuhgeddaboudit!
More Grilling Recipes
Why limit yourself to hot dogs? We've got plenty more recipes for delicious grilled food that you can enjoy on your boat this Fourth of July.
Beer Barrel Polka Bratwurst

This simple recipe will get the gang fired up. The brats can be prepared ahead or in the galley. For this recipe you will need a marine grill like Magma's ChefsMate Connoisseur series gas grill.

Grilled Asparagus Bruschetta

A fast and flavorful antipasto prepared on a grill. Perfect as a quick snack, a light appetizer, or an easy lunch!

Grilled Peaches with Raspberries

The peach is one of nature's true delights, and grilling this wonderfruit only intensifies its inherent sweetness and adds a touch of caramel. The tartness of the raspberries is a great counterpoint to the mellow taste of the peaches.

Grilled Snapper with Island Rice

After a day out on the water, enjoy your freshly caught snapper with island rice for a fresh and tasty dinner.

Mediterranean Chicken Skewers

If you're catering for friends, you want to keep the cooking process simple so you can devote your attention to them instead of food preparation, right? You can assemble your chicken skewers in the morning before you head for the boat, or do it on board.
The Boating Lifestyles Blog
Browse hundreds of articles on customer stories, tips, trends, gear, amazing boating locations and more found in our MarineMax Lifestyles Blog.
Explore Boating Articles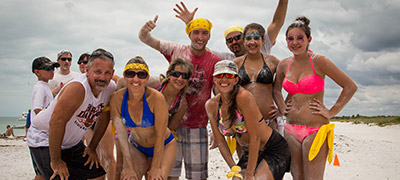 Find an Event
All this fun is exhausting – NOT! We love creating entertaining and exciting customer events. Each is designed to make boating the most remarkable leisure activity in your life.
Find an Event
Kids in Boating
Boating is a great way to spend time with kids. This mix of classroom and hands-on training helps your honorary first mates get comfortable with boating.
Search for Kids in Boating Classes