Boating Tips: Kickoff Cookout - Game Day with Kenyon on a Sea Ray!
Welcome to
Boating Tips
with MarineMax! Football is here! What goes better with football than food? Learn how to make an awesome gameday meal aboard a Sea Ray Sundancer using a Kenyon grill. Ask your questions, make comments, and learn a thing or two about your favorite outdoor activity.
The Sea Ray Sundancer 370 comes with a wide array of features that make your day on the water enjoyable. From its sleek lines to comfortable seating and cozy cabin, as well as powerful outboards, joystick piloting, and the latest in marine electronics, this boat is great for both a day out at the sandbar or lake, or overnighting.
However, one of the best features of the vessel is the Kenyon Grill! This powerful electric grill is super easy to use and will help you to make the perfect game-day meal. It heats up fast, is easy to clean, and can handle everything from burgers to chicken, veggies and more.
The Game Day Burger
Here's what you need to know to create a great game day treat using your Kenyon Grill aboard your Sea Ray Sundancer 370.
Step 1: Power
If you are at the dock, be sure that you are connected to shore power. If you are on the water and away from shore power, you'll need to make sure that you are using your generator.
Step 2: Prep
Before you get started make sure that your grease trap is inserted underneath the grilling surface. Additionally, it helps to ensure that you have all your toppings ready to go so that you'll be ready when the final whistle blows and your burgers are cooked to your desired doneness.
Step 3: Game Time
The grill is very intuitive, simply hold the power button to turn on the grill, then press the "+" and "-" buttons to toggle the heat. Cook time will depend on a variety of factors such as burger thickness and doneness. How you cook your burger is a highly individualized proposition, whether practically still mooing or (gulp), well-done, this is something that you can decide for yourself!
Step 4: Relax
Lounge on the bow or any of the numerous seats aboard the Sundancer 370 and enjoy your tasty burgers. You can even watch the big game on the built-in television located in the air-conditioned cabin below deck.
Get out on the Water:
Does this sound exciting to you? You can find your Sea Ray Sundancer 370 here. Football, food cooked on a Kenyon Grill and boating? What could be better? Stop by, call, or visit your local MarineMax store online today to join in on the fun! We'll see you out there.
Want to hear more from MarineMax?
Launch Into Living
A Sea Ray is more than a boat—it's a craft of unparalleled comfort and performance, technology, and technique.
Get on the Water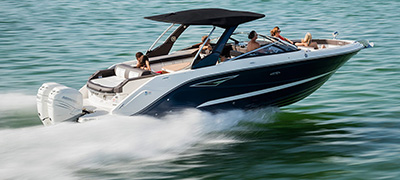 Find Your Perfect Boat Today
Start your search for the boat that has it all for your lifestyle! Explore premium new, used, and brokerage boats.
Search Boats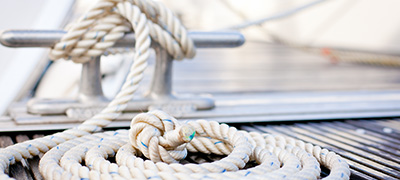 Brush Up Your Boating Skills
Our goal is to make sure you and your family feel confident and comfortable operating your boat. Our videos featuring experts will help.
Get the Tips