From the Helm | Boating Broadcast | Marine Industry Careers
MarineMax From The Helm Boating Broadcast is an entertaining take on the boating and yachting lifestyle. Tune in to the monthly video podcast that connects boat owners, innovators, and leaders in the boating industry.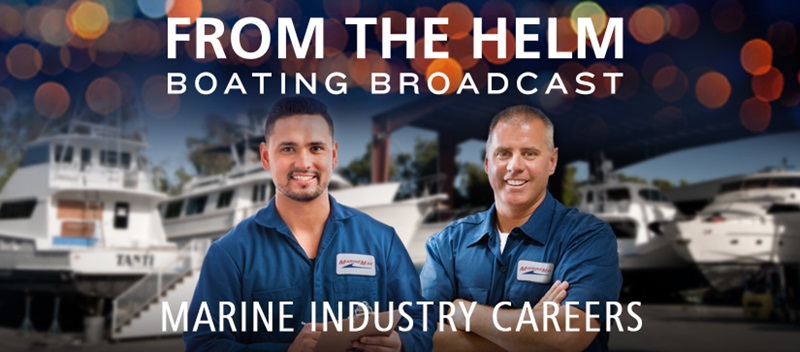 Play video for Marine Industry Careers
Boating Broadcast | From The Helm
In this episode, Chris Butts, MarineMax University Instructor, explains a few great ways to pursue a career in the marine industry.
Boat of the Month | Sea Ray SPX 190
Made for hours of entertainment and pleasure, the SPX® 190 ensures you make the most of your time on the water. The open cockpit keeps conversations going all day, and you'll be comfortably in control in the bucket seat with a slide, swivel, and a flip-up bolster. The Fusion® audio system brings state-of-the-art sound quality to give your days on the water the perfect soundtrack on this sport boat. With affordable pricing and a wide variety of optional packages to suit your lifestyle, the SPX 190 makes boat life more attainable than ever before. And with plenty of boats in stores around the country, you can make the Sea Ray SPX 190 yours TODAY!
Careers in the Marine Industry
Have you ever asked yourself, "how do I get a job in the marine industry?" Or, "how do I get a job working on a boat?" Coming up in this episode, we answer everything you need to know about Marine Industry Careers and where to find jobs in the marine industry. We sit down with Chris Butts, MarineMax University Instructor to learn more.
Did you know that MarineMax offers a Student Technician Program to help you achieve your goals by diving deeper into maintaining and servicing recreational boats and yachts of various makes and models. Besides being paid while learning at an actual marina, eligible students may choose a MarineMax location for permanent employment upon completion. Plus, we learn a little bit more about Chris' history and passion to educate the next generation.
MarineMax also has two great podcasts and countless blog posts to keep you informed of the latest industry knowledge. Boaters are constantly learning. From engines and accessories to fun day trips and more, the thirst for knowledge among boaters is common. Check out additional episodes of From The Helm and Boating Tips to stay in the know. The MarineMax Lifestyles Blog features hundreds of articles on tips, trends, gear, amazing boating locations and more. We invite you to browse our online Lifestyles articles.
Need More Boating News?
You can see or hear more episodes of Boating Broadcast and our sister podcast, Boating Tips LIVE on The MarineMax Blog, accessible on the website or via mobile phone through the MarineMax App. You can also access more episodes on Amazon, Spotify, Google Podcast, Apple Podcast, or wherever you get your podcast news. We hope you enjoyed today's Boating Broadcast, as always, Stay healthy, Boat happy!
Have ideas for our next episode or want to connect with us?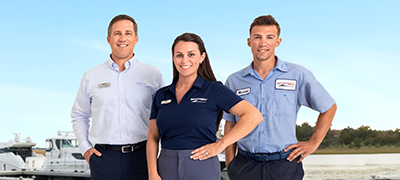 Be The Best of the Best
We pride ourselves on creating an environment for team members to develop their skills and continue growing in their field. Opportunity is knocking!
Join Our Team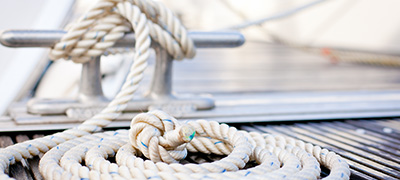 Brush Up Your Boating Skills
Our goal is to make sure you and your family feel confident and comfortable operating your boat. Our videos featuring experts will help.
Get the Tips
Our Team Is Your Advantage
Supporting owners with a team of experts to ensure you enjoy boating to the fullest.
Meet Our Team