Forever Young
Delores (Deon) Neighbors and her friend since childhood, Dot Vines were fishing off the pier at Panama City Beach last year when Neighbors, who is 84, got tired of being tied to one spot. She turned to Vines, 93, and suggested they buy a boat so they could go fish in the bay.
Neighbors has been boating since she can remember. "As soon as I started walking well, my grandfather, William Carr took me out on the lake to fish,' she said. At age 12, she began racing boats supped up by her parent's friend who she called Uncle John. She won quite a bit with Uncle John's Feathercraft with 10hp Mercury motor, but her racing career was cut short when a rule was instituted that you had to be 16 to race.



It was Neighbors who introduced Vines to the

boating lifestyle

. Vines and her husband Lewis spent weekends at the Neighbors' cabin on Lake Martin in eastern Alabama, often cruising the lake by boat. It was here that Vines learned to waterski, and Neighbors, who was always interested in

all kinds of boats

was able to expand her boating knowledge by watching the diversity of crafts on the lake.

Back on the pier, Vines thought about buying a boat for a bit then proclaimed it a wonderful idea. The decision on what boat to get was an easy one. Neighbors wanted a Boston Whaler and the 130 Super Sport fit the bill.

"I wanted something that Dot and I could go down to the sea in and wouldn't sink. It was the safest boat I could think of – they're unsinkable," said Neighbors. "We'd been looking at Whalers for years, and when they redesigned the front of the boat I was ready to buy. Since Dot and I are small, the 13 foot was all the boat we needed to fish the canals and waterways."

In 2019, the 130 Super Sport was redesigned from the keel up, with improvements that include lockable front-of-console storage, aft swim platforms, and a rear-accent hull color. In addition, there are a variety of seating configurations and options to best suite your favorite activities: fishing, watersports, cruising, lounging and beyond. A standard 40-hp Mercury FourStroke engine provides reliability and efficient power. What has not changed is the simple systems and ease of operation, plus the famous unsinkability of a Boston Whaler.
With the support of Vines, Neighbors went on the Internet to
find the closest Boston Whaler dealer
. In late August, the two women drove from Birmingham to the
MarineMax Georgia
store to take the 130 Super Sport out for a demo and make the purchase.
Neighbors and Vines customized their craft by adding cushioned bucket sport seats for a more comfortable ride, a console side seat cooler for their catch, and upgraded navigation. And although Neighbors is a fishing expert, she added the fish finder too.
"My husband Richard was a computer geek and he always thought I should be too. I find fish the old fashion way, but I thought I'd try the fish finder. Now I just need to learn how to use it," she joked.
One upgrade the friends wish they'd put on the boat was the bow rails. The women thought it would be sportier without them, but in hindsight, it might make it easier for the octogenarian and nonagenarian to get in and out of the boat.

The 130 Super Sport also comes with a galvanized trailer. Neighbors drives an RDX Acura and likes how the boat pulls beautifully behind the car, even in traffic on I-285 in Atlanta. "You don't even know it's back there," she said. "It's easy to trail, and easy to get in and out of the water."

The two friends have taken their new boat out on the bay in Panama City. There is a great place to fish for flounder in a lagoon outside St. Andrews State Park, but they have yet to fish the freshwater lakes around Birmingham. Vines may lay low for a bit, but Neighbors plans to take a friend to Logan Martin Lake in Pell City and Lake Guntersville to see which one she likes best.
The unstoppable ladies are already thinking about an upgrade to the
Boston Whaler 160 Super Sport
. After 40 years without a boat, Neighbors has learned a lot about what she really wants after spending some time on the 130.
"I'd customize it a bit differently," said Neighbors. "And I have some suggestions for Boston Whaler too. I think I can help them sell a lot more of these smaller boats."
Join the Whaler family and discover what sets their boats apart from the rest.
We're here to answer any questions you may have, or to help set up a private appointment.
Core Confidence
Few boat brands match the pedigree of Boston Whaler with its rich heritage of quality craftsmanship, safety, and innovation.
Get on the Water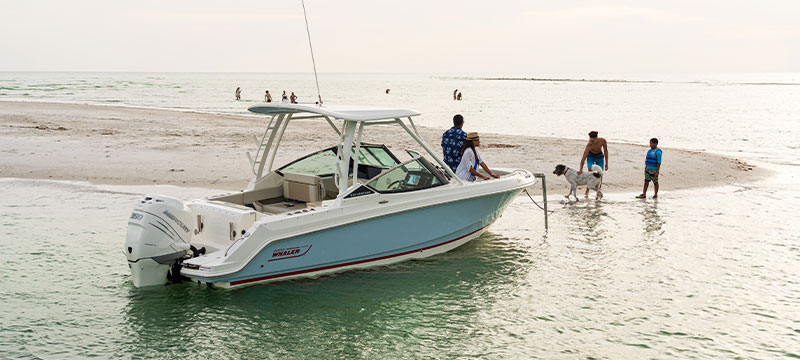 Find Your Perfect Boat Today
Start your search for the boat that has it all for your lifestyle! Explore premium new, used, and brokerage boats.
Search Boats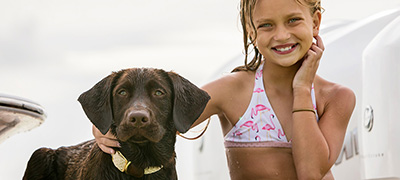 The Boating Lifestyles Blog
Browse hundreds of articles on customer stories, tips, trends, gear, amazing boating locations and more found in our Blog.
Explore Boating Articles