Taking It To The Next Level: A Colorado Couple Falls In Love With The Quality Craftsmanship of Galeon Yachts
By Pim Van Hammen
When Bill and Kim Scaff went to the 2017 Fort Lauderdale International Boat Show it was just for the fun of it. "We went to the show with absolutely zero intention of buying a boat," Bill says.

The Colorado couple owned a Sunseeker 25 pontoon boat that they used on Lake Pueblo, about an hour from their home in the Denver suburbs. "We love the water," says Bill who works in the oil and gas exploration business. They'd been boating in Colorado for about 20 years.

The Scaffs had flown down to Florida to visit friends and visited the show for entertainment's sake. They visited Azimut because they'd seen the brand in magazines. "It's a beautiful boat," Bill says, "but it was a bit too contemporary for our taste."

Then they checked out Galeon Yachts and were blown away. "We were like, 'this is a yacht,'" says Bill. They loved the interiors and the innovation, but what stood out was the fit and finish. "You could tell the builders knew what they were doing," Bill says. They asked where the boats were built and were surprised to learn it was Poland.

The Galeon emphasis on innovation was not lost on the Scaffs when they toured the Galeons in 2017. They liked the boats so much that they went back to the show for the next two days. Every day they spoke with MarineMax yacht and brokerage sales executive Kyle Pillsbury.

The Scaffs told Pillsbury they could not imagine going from a 25-foot pontoon boat to a Galeon 500 or 520. "There's no way we're gonna do this," Bill recalls. "This is crazy." But Pillsbury told them MarineMax could teach them how to operate the boat from the company's Fort Myers marine facility. "'We'll walk you through it,'" Bill recalls Pillsbury telling him. "'We'll train you, and we'll help you.'"

The Scaffs flew home to Colorado but stayed in touch with Pillsbury. Four months after the show they pulled the trigger on a Galeon 550 Fly. Bill says he never felt pressured, but it was a big step. "I call it more of a leap," he says.

They took delivery of their new boat in Fort Myers where Pillsbury gave them an orientation. Then Pillsbury and two of MarineMax's captains took turns training the Scaffs as they visited some of the smaller islands. "They took us out and let me captain the boat," Bills says. "We had to get 60 hours on it, so the insurance company would sign off on it for me to drive it solo."

"The whole time, we're like 'is this for real,'" Bill says. "This is crazy that I'm captaining a 58-foot yacht."

Being Colorado natives, the Scaffs had a lot to learn about saltwater boating. They knew nothing about tides. "That was totally foreign to us," Kim says. Navigating was also new. "You gotta go between the green and the red, and they change from right to left. We're like what is this about?" Bill says looking back on it.

But the Scaffs are adventurers. They own a Pilatus PC-12 NG turboprop airplane which Bill pilots himself, and MarineMax continued to teach them how to operate the 550.

By July of 2019 they left Fort Myers with eight other boats for a 20-day trip to the Exumas. A MarineMax captain joined them for the trip to Nassau to make sure they could handle the boat themselves. After signing off on them, the captain flew back to Florida and the Scaffs spent the next two weeks touring nine different islands with the group. "It was fantastic," Bill says. "It took me to another level of boating."

They loved the lifestyle. The 550 was great for the two of them, but they wanted to bring their three kids and their five grandkids. They needed more room. "On those smaller islands there's no place to shop for groceries," Bill says. "There wasn't enough refrigeration." They'd only owned the 550 Fly for a year, but the Scaffs decided they needed a bigger boat.

At the 2019 Miami Boat Show they looked at boats from other manufacturers, but they returned to the Galeons. They really liked the new 72-foot 680, which they thought was beautiful, but it didn't have a passthrough to the bow or beach mode. The 68-foot 640 Fly did. The 640 also had lots of refrigeration and a separate washer and dryer, which Kim really liked. With a much larger captain's quarters it also gave them more bunks and more heads.

Earlier this year, they took delivery of their new 68-footer and are getting recertified to run it. In March they took the 640 to Key West for a MarineMax rendezvous, which gave both Scaffs an opportunity to captain. When severe weather prevented them from returning the boat to Fort Myers, they rented a car and flew back to Colorado. A few days later MarineMax delivered their boat back to Fort Myers. "Where are you gonna get that anywhere else," Bill says about MarineMax's service.

Since then, coronavirus has prevented the Scaffs from getting back to their new boat. They can't wait to bring their kids and grandkids down to Hawk Cay in the Florida Keys where they plan to take them all out on the water, drop the hook and go into beach mode. "That's what we're excited about," Bill says.

"Galeon is very affordable for what you get," he says. "The fit and finish is fantastic and when you compare it to boats in similar size, you're gonna find you get more with Galeon."
Request More Information about Galeon Yachts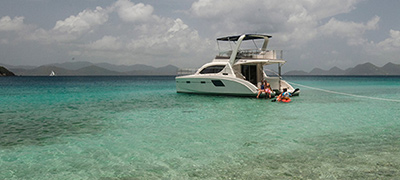 Adventures
Getaways!®, MarineMax Vacations in the British Virgin Islands and Private Yacht Charters are another way we are able to help our customers enjoy the boating lifestyle and enhance their passion for the water.
Take an Adventure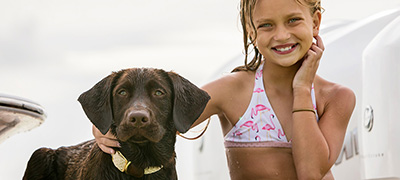 The Boating Lifestyles Blog
Browse hundreds of articles on customer stories, tips, trends, gear, amazing boating locations and more found in our Blog.
Explore Boating Articles
Let's Get Social 👍
We want to hear from you! Share your boating photos and videos. You may even get featured on one of our channels, along with the latest news from across the boating industry, fun stories from fellow boating enthusiasts, and much more!
Follow Us