Dreams Realized
By Carly Sisson
Dan Starko has been freshwater boating since he was a kid. Originally from Edmonton, Alberta, Canada, he started riding along with his grandfather in his boat when he was nine years old. A few years later, when he was 14, he was turned loose on the lake in a 20-foot mahogany Chris-Craft with a 100-hp Mercury outboard.
Starko drag raced cars for years, and he has an affinity for fast and powerful vehicles after driving over 200 mph more than a few times. When he moved to Nashville and bought a home on the lake, he bought powerboats that offered speed, first a 22-foot Cobalt and then a 35-foot Regal. The lake, however, didn't keep him entertained for long.
"My desire ever since I was a youngster was to do some ocean cruising as opposed to just freshwater stuff," says Starko. After moving to Florida following the sale of his business, Starko finally had the opportunity to live out his ocean cruising dreams. He and his fiancé, Debbie, attended the 2017 Fort Lauderdale International Boat Show to find the perfect boat to do just that.
"For some reason, I had always wanted an
Azimut
," says Starko. "I just loved the appearance of them. I loved the Italian interiors." For all three days of the boat show, however, they walked past the Azimut stand but never stepped foot in one of the boats, wanting to look at everything before making a decision. Finally, with 30 minutes left on the final day of the show and a contract already written for another boat, the couple boarded the Azimut 54. Thirty minutes later, they owned the boat.
They purchased the brand-new stock model from MarineMax, which has an extensive dealer network with a base in Naples, where Starko lived at the time. As he adjusted to the tides, currents, and weather patterns that play a role in ocean cruising, it was helpful to have a support network close to home. The couple now lives in Lighthouse Point on Florida's East coast, and there is another dealer just down the road in Pompano Beach, so when they were ready to upgrade to a larger model after a year, it was no question that they would again make their purchase through MarineMax.
The
Azimut 60
, debuted as a new model in 2019 and includes many extra features and improvements that work well for the couple's three children, including an additional head, a large bow area for entertaining and a huge flybridge, where the couple spends most of their time—Starko estimates that in the 500 combined the they have put onto the two boats, he has only driven from the 'downstairs' helm station for about 10 hours. "There were just a bunch of things they had improved from the 54 to the 60 that made us want to move up," he says, "so it wasn't so much the length as it was the new features."
The new 60 was short on availability, but MarineMax was able to set Starko up with a model that had been run for about 20 hours before that owner decided it wasn't large enough. Debbie then spent hours working with the interior designers at MarineMax to order custom bedding and other upholstery to put the couple's signature touch on the interior.
"We have not built a boat from scratch because frankly, we don't want to wait," Starko says. "And that's the thing about MarineMax, they have an Azimut of every size in stock, and usually they fully option the boats for U.S. delivery. They do a really good job in selecting the colors, so they are a really attractive pick. I'm not sure we would have made any changes to the boat; it's what we would have selected anyhow."
Powered by twin 900-hp Volvo Penta straight-shaft diesels, the 60 cruises around 25 knots with a top end around 29 knots. That's a little less speed than the former drag racer is used to, but its stability and hull design make up for it. The joystick control works well with the Volvo transmissions and bow and stern thrusters, and the Seakeeper stabilizer makes for a smooth ride while ocean cruising.
After purchasing the boat one of the service technicians at MarineMax gave Starko a thorough orientation on the new model. "I'm very mechanically inclined because of my car background, so I wanted to know everything about the engine, where everything was and how everything worked," Starko says. "We probably spent four or five hours in the engine room. After your orientation, you can call them any time and ask how to get to a screen, and the manuals that come with the boat are amazing as well."
The couple keeps their boat at home and they prefer to operate it alone without a captain—Debbie serving as the official First Mate. They enjoy taking local cruises and trips to the Bahamas with their children, and their most recent voyage was to the Exumas. Wherever they travel, they have peace of mind knowing that they are under the MarineMax service umbrella at all times.
"We've been over in Bimini or Atlantis and they've flown parts over. They will actually send a technician over if you're in a place where you can't get service, especially when you're under warranty," Starko says. That sometimes involves putting their technicians on a flight or a boat to transfer them to the islands, but MarineMax has them there within a day or two when help is needed. Starko also has the cellphone numbers for several service members, and they have been happy to answer the phone in the middle of the night when immediate assistance is needed.
In addition to their family trips to the Bahamas, they also enjoy participating in voyages organized by MarineMax. "I remember when we bought the boat, they said they'd see us soon," Debbie says. "I was like, we just bought a new boat, why will they see us soon?"
What they didn't understand until they were actually in the MarineMax family was how much the company keeps its members involved. MarineMax offers exclusive Azimut rendezvous events for Azimut owners. The couple has taken part in these events as well as other MarineMax trips with multiple types of craft. Members can opt to ride in tandem on the adventures for added support, and MarineMax brings technicians along in case any boats need service along the way. Last year, the Starkos were invited to the Azimut factory with a group of owners for the builder's 50th anniversary, which consisted of tours, lunches, dinners and wine tastings.
"They really don't just sell you a boat and send you on your way. They really try to include you in everything," Debbie says. "By having these trips, you have something to prepare for, something to look forward to." MarineMax does not just sell and service boats; they help boat owners fully integrate into the boating lifestyle. The trips have allowed the couple to become good friends with fellow boat owners, and they have become close with many MarineMax employees as well.
"Boating has become a really big part of our lives," says Starko, who has given up drag racing in exchange for a safer hobby he can enjoy with his family. "MarineMax is just a great group of people, and I don't ever feel like I'm alone." The company has provided the couple with the boating lifestyle that Starko has imagined since he was just a kid running a wooden Chris-Craft around a lake, turning the ocean cruising dreams of his childhood into a reality that he will enjoy for the rest of his life.
Learn More About Azimut Yachts
Built on a History of Excellence
Azimut sets the standard for new and used luxury vessels. Italian ingenuity and painstaking attention to detail go into every yacht.
Get on the Water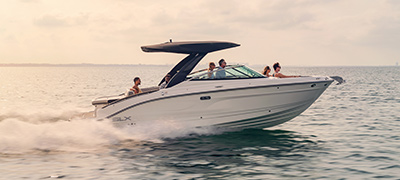 Getting Started is Easy!
Staying safe on the water starts here. Enjoy the journey as you explore different types of boats, activities, and much more.
Discover the world of boating
Let's Get Social 👍
We want to hear from you! Share your boating photos and videos. You may even get featured on one of our channels, along with the latest news from across the boating industry, fun stories from fellow boating enthusiasts, and much more!
Follow Us