22 Bucket-List Worthy Adventures for 2022
By Charlene Marie Dodge

With each new year comes new adventures, and with every new-fangled adventure often comes happiness, enjoyment, and more to cross off your quintessential bucket list. If you love the water and are seeking unique and exciting destinations to start your journey with, look no further than the 22 destinations to explore in 2022 below!

1. Anchorage, AK: Don't let the colder temperatures deter you. This wonderous location is teeming with life—especially in the summer months. Experience a plethora of activities from boating to sightseeing all under the midnight sun.
2. Boston, MA: For a 'wicked good time,' visiting here is a must! Take a stroll along Boston Harbor, go on a duck tour, visit Faneuil Hall Marketplace, try famous New England clam chowder, or ferry off to the Boston Harbor Islands.
3. British Virgin Islands (BVI): Feel the sand beneath your toes on the picturesque shore or stay afloat on a yacht chartered by your own personal captain and crew through MarineMax Vacations. Sit back, relax and let all your worries float away on an all-inclusive retreat. You can also choose only a skipper or go bareboat-style and be your own captain—the choice is yours!
4. Captiva, FL: Go on a MarineMax Getaway!® to the beautiful South Seas Island Resort for fun, adventure, and relaxation. This is just one of the many locations MarineMax visits when planning exclusive and all-inclusive mini-vacations and events!
5. Chesapeake Bay: This massive bay covers many miles off the Atlantic Ocean. See Baltimore in action, eat fresh crab Crisfield, MD, or connect with nature in 25,000 acres of estuarine marshland. You can also find a "geocache" or hidden treasure with your smartphone.
6. Florida Keys, FL: Enjoy the warm sun, clear blue water, white sands, beautiful reefs, incredible restaurants, watersports, fishing, dolphins, and so much more on these unique islands below Miami. Each one is an adventure in itself.
7. Galveston, TX: From the bay to the coast, Galveston has a host of things to do on the water and beyond. Complete with dolphin tours, fishing charters, kayak adventures, airboat rides, and more, this coastal gem is the perfect Western getaway at sea.
8. Homosassa Springs, FL: Watch the manatees, go scalloping, scuba dive, swim, snorkel, surf, see beautiful saltwater as well as freshwater fish, and more in colossal natural wonder.
9. Kauai, HI: Escape to one of the least crowded locations of the Hawaiian Islands. From lush green hills to secluded beaches, stunning views, and a sparkling waterfall, this gorgeous destination is perfect for those who love tropical serenity.
10. Lake Havasu, AZ; CA: Power up the pontoon or put that sport boat in top gear! Located between Arizona and Southern California, it's the place to go for watersport enthusiasts alike. For some great casual food at any time of day, try Juicy's in Lake Havasu City, AZ.
11. Lake Lanier, SC: This pristine 130-acre mountain lake is a manmade hidden treasure and almost a century old! Take your boat, go fishing, paddleboard, water ski, and so much more!
12. Lake Tahoe, CA; NV: Hang glide, take a helicopter tour, shop, ski, hike, boat or do almost anything by this stunning clear blue lake. Nestled up in the Sierra Nevada Mountains, this is one of the deepest lakes in the US and is over a million years old! For delectable dishes and a top-notch dining experience, try the Edgewood Restaurant in Stateline, NV.
13. Lake Winnipesaukee, NH: Head north to a lake getaway burrowed in the White Mountains. This magnificent location offers many highlights, from boating to quaint restaurants, castles, and even covered brides along the way!
14. Long Island, NY: Named for being the lengthiest and largest island in the continental US, this stretch of land is rich with adventure. From a restful stay at the Hamptons to touring one of the many wineries in North Fork, there's a long to-do list here!
15. Mackinac Island, MI: Arrive by boat, but no driving is allowed on this land—unless by horse and carriage. This delightful island on Lake Michigan is filled with great restaurants, like the Pink Pony, and will take one back to olden times with its charm and history.
16. Magdalena Bay, CA: Cruise along Magdalena Bay for sights of the sea, like never before! Watch as grey wales fill the water with life in the winter, spot dolphins, sea lions, striped marlin, balls of sardines, anchovies, and more.
17. Mississippi River: Go up, down, or explore all around on this massive 2,320-mile river spanning from Lake Itasca, MN to the Gulf of Mexico. The Mississippi is alive with adventure and has unique eateries, such as the Pilot House Restaurant in Natchez, MS, inspired by Mark Twain.
18. Nantucket, MA: Beaches, storybook lighthouses, and museums are what this well-known location is about. Boutique shops, bistros, and luxurious hotels such as the White Elephant are also present within this area.
19. Newport, RI: From the Newport International Polo Series to the Polar Bear Plunge at Easton's Beach, there's always something happening in this quaint New England town. Come September, see one of the largest on-the-water boat shows in the country.
20. Ogunquit, ME: Boat on over to Ogunquit Beach for beautiful sunset views or check out the downtown area on a fun trolly ride. With plenty to do and lots of lobster to eat, this family-friendly town is the place to be.
21. San Francisco, CA: The calm seas in San Francisco Bay make it ideal for fishing and waterskiing, or step ashore and enjoy all the sights and sounds of this iconic city itself! For award-winning Californian contemporary cuisine with an Italian flair, try Quince.
22. San Juan Islands, WA: Known for being one of the best places to view orca whales year-round, you can also see alpacas, lighthouses, experience wondrous hiking trails, fishing, and try delectable seafood in these Northern islands.
23. The Bahamas: With so much to explore, there's no shortage of fun! Swim with pigs at No Name Cay or submerge your palate with Bahamian-style favorites at Great Guana Cay—these are just some of the many unique destinations to visit on a MarineMax Vacation.
Learn More About Adventures with MarineMax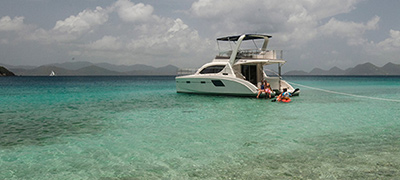 Adventures
Getaways!®, MarineMax Vacations in the British Virgin Islands and Private Yacht Charters are another way we are able to help our customers enjoy the boating lifestyle and enhance their passion for the water.
Take an Adventure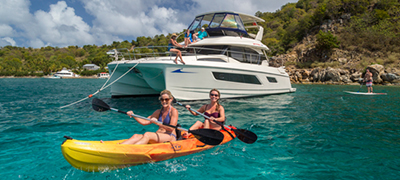 Live Your Caribbean Dreams
Imagine spending a week with family and friends aboard a power catamaran in the British Virgin Islands. MarineMax Vacations can make this dream a reality.
Plan Your Vacation
Let's Get Social 👍
We want to hear from you! Share your boating photos and videos. You may even get featured on one of our channels, along with the latest news from across the boating industry, fun stories from fellow boating enthusiasts, and much more!
Follow Us