The Best of Both Worlds
The new flagship of Cruisers GLS line is like having your own floating tropical island.
By Alan Jones
For yacht owners who have avoided jumping on the outboard bandwagon because those vessels often have smaller swim decks than their inboard counterparts, Cruisers Yachts has the answer to that dilemma with its new 50 GLS. Featuring twin drop- down beach doors that greatly expand onboard space and increase access to the water, this signature feature creates a tropical vibe that's one with nature.
It's hard to believe a 52-foot, 4-inch-long, 14-foot, 6-inch-wide yacht weighing nearly 20 tons dry can be pushed to a top speed of nearly 57 mph by only three outboards, but its trio of 600hp Mercury V12 Verado® engines are a different breed. What's especially impressive is that these 7.6L outboards can be mounted on 27-inch centers, which is only an inch more width than a 150hp engine requires, which, along with its clean installation, conserves space on the transom and has the effect of expanding the size of the swim platform. This Mercury magic is possible because the powerheads remain fixed, and only the lower units pivot to perform intricate maneuvers guided by the standard Mercury Joystick Piloting for Outboards (JPO) system.
The V12 Verado outboard also has a two-speed transmission to help get the 50 GLS on plane faster. And it also has a massive 150-amp alternator, which is more than double the output of the Mercury 400 Verado, to help keep batteries fully charged to power-hungry electrical systems operating without running the generator when beached or anchored. At the helm, standard triple 19-inch Simrad® displays allow the captain to keep all pertinent information displayed simultaneously.
While Cruisers' 50 Cantius maximizes interior space for extended cruising, the 50 GLS is all about giving onboard guests the ultimate day boat experience optimized for entertainment with features like an aft seating group that provides plenty of space for al fresco socializing and relaxing while a standard Makefast sunshade offers a respite from the sun. A wraparound bow seating area with an electronically actuated high/low table creates an intimate gathering spot, and owners can choose to equip it with a bow sunshade. A one-level deck makes it easy for guests to move about freely without having to watch where they step.
The midship galley can be equipped with twin Isotherm refrigerators, along with an icemaker beneath the doublewide helm seat, and twin grills behind the aft lounger mean an onboard chef can whip up freshly cooked treats for everyone in one firing. The oversized food prep and display area are perfect for laying out a spread during parties. A nearby L-lounge offers seating under the hard top.
While the 50 GLS is primarily designed for recreation and entertaining, it's also a capable weekender with a forward stateroom that has a queen-size island berth with plenty of storage. An aft guest stateroom can accommodate a second couple, and there's a roomy head compartment conveniently located in between. Both staterooms feature 32-inch Samsung TVs, and a pop-up
55-inch one can be added to the cockpit. Down below is an abbreviated galley with a microwave and Isotherm refrigerator.
The GLS 50 gives owners the benefits of outboard power, such as enhanced performance and ease of maintenance, while also adding the ability to safely join the festivities at the sandbar without having it come at the expense of usable deck space.
At its unveiling at the 2022 Fort Lauderdale International Boat Show, the GLS 50 was a huge hit. "Even before the show, we have had an overwhelming response," says Cruisers Yachts Director of Marketing Matt VanGrunsven. "This is a yacht people need to see in person to appreciate the impact the beach doors have on its spaciousness. It increases the
beam to 21 feet and adds about 80 square feet to the cockpit." For comparison, a Sunseeker 88 Yacht has a 21-foot beam.
MarineMax not only sells the entire line of Cruisers Yachts but were so impressed they acquired the company in 2021. This not only gives MarineMax control of the product but also makes sure they have a priority on inventory, which accounts for 50 percent of its Cruisers' sales. Chief Executive Officer and President of MarineMax W. Brett McGill explains, "The strategic acquisition of Cruisers Yachts benefits our customers by filling a meaningful void in our product portfolio, which was created in 2018 by the loss of Sea Ray sport yacht and yacht models."
View Our Marinas
With vast storage, convenient locations, and incredible benefits, our marinas are the perfect place for your boat to call home.
Where's My Marina?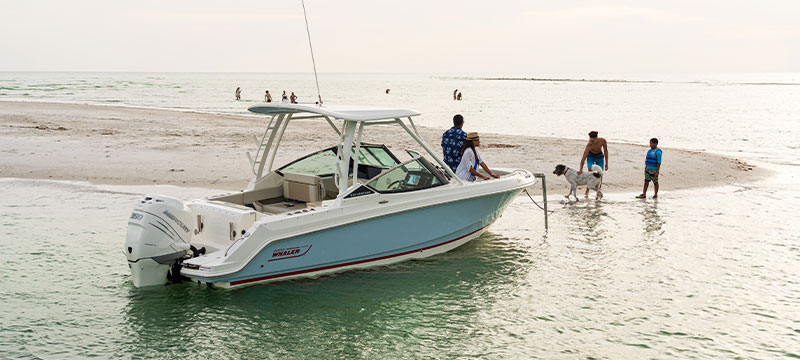 Find Your Perfect Boat Today
Start your search for the boat that has it all for your lifestyle! Explore premium new, used, and brokerage boats.
Search Boats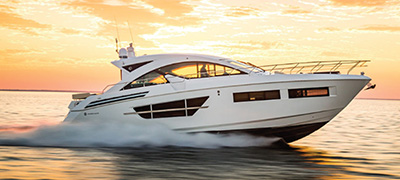 Innovative, Hand-Crafted Yachts
Cruisers Yachts pride comes with continuous innovation, hand-craft, and American-made yachts.
Learn More