Winter Sales Event
Offering premium boat brands, the largest variety and great deals, your local MarineMax is where you'll find the boat of your dreams!
Find Your Perfect Boat

Boating with MarineMax will change your life, and in a very good way. Start searching for your dream boat today. We carry a large selection of premium boat brands ranging from extra-fun sport boats to luxury yachts. We make it easy to narrow your search and find your perfect boat.
Say hello to the Azimut Magellano 25 Metri.
An exquisite new jewel hovers between sky and sea, where time is suspended and the journey begins. Like a wave among waves, the sinuous lines of the interior blend in perfect harmony with the outside world.
Fly Girl.
The coherent layout of Galeon 550 Fly has allowed for an unprecedented amount of space an all three decks, while maintaining a classy and commanding presence.
Discover the possibilities of the Divergence 45 Coupe.
Ocean Alexander took the industry by surprise with the launch of the Divergence line. Their newest 45' boat that transcends boundaries by flawlessly merging the comforts of a yacht with the size, swiftness and accessibility of a sport boat.
Freedom on the water with Aviara 32.
Aviara has redefined the modern day boat to bring you true luxury. This is the fusion of progressive design and effortless comfort, the balance of ultimate control and freedom on the water.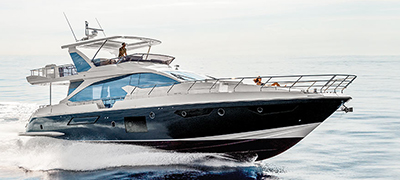 Built on a History of Excellence
Azimut sets the standard for new and used luxury vessels. Italian ingenuity and painstaking attention to detail go into every yacht.
Get on the Water
Handcrafted Excellence
Galeon designs assure unparalleled modern styling and convenience. Leading technology and design, makes each yacht exceptional.
Get on the Water
Unmistakable Splendor
Ocean Alexander radically raises the bar in the sheer abundance of luxury and expensive detail they include. But just beneath the very-evident pleasures, they build strong defenses for your safety.
Get on the Water