Island Baba with Guava Ice Cream
This tropical dessert is a great treat for anytime.
Banana Cake
Ingredients:
10 Tbsp butter, room temperature
1 1/8 heaping cup sugar
10 Tbsp honey
2 1/3 tsp baking powder
¾ tsp baking soda
4 cups cake flour
1 ¼ tsp salt
¾ cup whole milk
4 large eggs
¾ cup mashed banana
1/3 cup dark rum
Directions:
Cream butter and sugar until fluffy. Mix in honey. Sift baking powder, soda, flour and salt together and incorporate. Combine milk and eggs, and add as one. Add banana and mix until smooth. Mix in rum until all is fully blended.
Pour into a greased 9 x 13" pan. Bake in a 350° oven until done; check after 20 minutes.
Cream Cheese Mousse
Ingredients:
8 oz heavy cream
¼ oz + 1/8 oz Knox gelatin powder
¼ cup + 1 Tbls cold water
8 oz cream cheese
½ cup sugar
1 tsp vanilla extract
½ cup milk
1 vanilla bean, scraped
1 tsp lemon juice
Directions:
Whip heavy cream, set aside. Mix gelatin and water in microwavable bowl, set aside. Beat cream cheese and sugar until creamy. Add milk, vanillas, lemon juice, mix until incorporated. Melt gelatin until hot, quickly mix in. Fold in whipped cream and hold in fridge.
After cake has cooled, ice with mousse and cut into squares. Serve with candied macadamia nuts, brown sugar rum sauce and a scoop of guava ice cream.
Let's Get Social 👍
We want to hear from you! Share your boating photos and videos. You may even get featured on one of our channels, along with the latest news from across the boating industry, fun stories from fellow boating enthusiasts, and much more!
Follow Us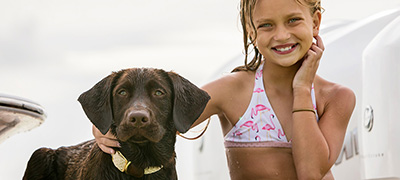 The Boating Lifestyles Blog
Browse hundreds of articles on customer stories, tips, trends, gear, amazing boating locations and more found in our Blog.
Explore Boating Articles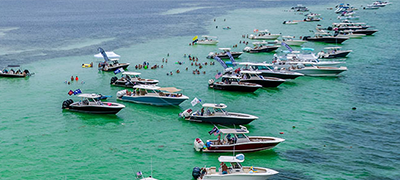 Find an Event
All this fun is exhausting – NOT! We love creating entertaining and exciting customer events. Each is designed to make boating the most remarkable leisure activity in your life.
Find an Event