Carne Asada Tacos
Tender marinated skirt steak and classic street taco toppings – this flavorful handheld has it all
Ingredients:

1 c. coarsely chopped fresh cilantro, plus more for serving
1 chipotle chile in adobo, plus 1 tbsp. adobo sauce
2 scallions, coarsely chopped
3 cloves garlic, finely chopped
Zest and juice of 2 limes
Zest and juice of 1 navel orange
1 tbsp. canola oil, plus more for grill
1 tbsp. Worcestershire sauce
2 1/2 tsp. ground cumin
1 tsp. kosher salt, plus more
1 tsp. freshly ground black pepper, plus more
1 lb. skirt or flank steak, trimmed, cut into 6" pieces
8 small corn tortillas
1/2 c. chopped white onion
Sliced red radishes, cotija, and salsa verde, for serving
Directions:
Step 1
In a food processor or blender, blend cilantro, chipotle chile, adobo sauce, scallions, garlic, lime zest, lime juice, orange zest, orange juice, oil, Worcestershire sauce, cumin, salt, and pepper until smooth.
Step 2
Place steak in a large resealable bag and pour in marinade. Press air out of bag and massage marinade into steak. Refrigerate at least 4 hours or up to overnight.
Step 3
Prepare a grill for medium-high heat; heat 5 minutes (or preheat a large cast-iron skillet over medium-high heat). Pour a small amount of oil onto a wad of paper towels and rub grates until coated with a thin layer of oil. Repeat if needed to make sure grates are coated.
Step 4
Using paper towels, pat excess marinade from steak; season both sides with a heavy pinch of salt and pepper.
Step 5
Grill steak until just browned on one side, about 3 minutes. Flip and continue to grill until second side is browned and an instant-read thermometer inserted into thickest part registers 125°, 2 to 3 minutes more. Transfer steak to a cutting board, tent with foil, and let rest 5 minutes.
Step 6
Meanwhile, reduce grill heat to medium and grill tortillas until just toasted, 20 to 30 seconds per side. Transfer tortillas to a platter.

Step 7
Slice steak against the grain into bite-sized pieces. Top each tortilla with steak, onion, cilantro, radishes, cotija, and salsa verde.
Recipe courtesy of Brooke Caison and delish.com
https://www.delish.com/cooking/recipe-ideas/a43214328/carne-asada-tacos-recipe/
Getting Started is Easy!
Staying safe on the water starts here. Enjoy the journey as you explore different types of boats, activities, and much more.
Discover the world of boating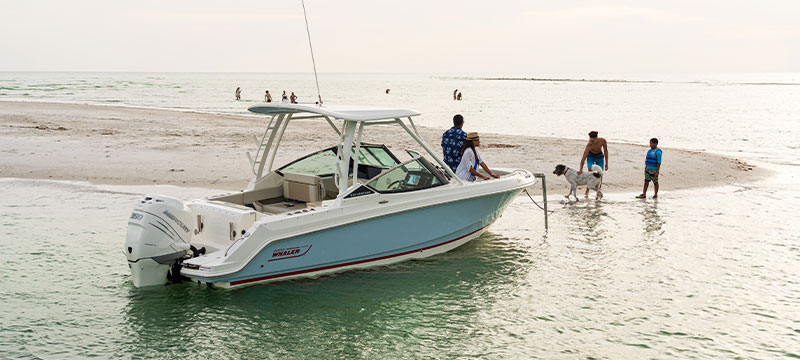 Find Your Perfect Boat Today
Start your search for the boat that has it all for your lifestyle! Explore premium new, used, and brokerage boats.
Search Boats