Never Say Never
How the boating lifestyle helped pull Brad Kendell from the emergency room to the podium at the Rio 2016 Paralympic Games.
Written by David Schmidt
The wind shear struck Bruce Kendell's twin-engine Piper Navajo as it entered its final approach into Clearwater Airpark, in Clearwater, Florida on a storm-tossed August day in 2003. Kendell, (56) was travelling back from a business meeting in St. Augustine, and his son Brad (now 35) and Brad's friend Daniel Griffith Jr. (24) were onboard. All three men were pilots, and all three knew that they were in serious trouble when the plane's nose punched radically skywards: the Navajo crested its apex and its wings stalled, banking the plane hard and sending it on an unrecoverable trajectory towards Earth, roughly a half-mile shy of the runway.
Brad watched in horror from the cabin's second row as a driveway on Greenlea Drive filled the plane's windshield; seconds later, darkness washed his conscience.

The plane erupted in flames, and Brad awoke to a wall of pain. Instinctively, his hand found his seatbelt buckle, freeing him to crawl—broken and bleeding—from the wreckage. Citizen-heroes helped pull him to safety moments before the plane exploded.

Bruce and Daniel were killed upon impact, but Brad—en route to Tampa General Hospital in a helicopter—had begun the bare-knuckle fight that would redefine his life.
Flash-forward 13 years and Kendell found himself boarding a flight with teammates Rick Doerr and Hugh Freund for the 2016 Rio Paralympics, where they would compete in the sailing portion of the Games in the three-person Sonar class. The trip was uneventful, but Kendell's road to Rio involved 25 surgeries, including bilateral above-knee leg amputations and open-heart surgery, and countless hours of jaw-clenching physical therapy just to walk; learning to be a competitive Paralympic sailor took three Paralympic "quadrennials". Yet while Kendell's life was touched by tragedy, he regained his compass bearing thanks to his family, friends and boating-centric lifestyle, which has always provided his gravity and inspiration, and earned Paralympic glory.
In the spring of 2003, Kendell was finishing his undergraduate degree in communications at the University of South Florida (USF) at Tampa. Mostly, he was enjoying the finer points of collegiate life and racking-up hours towards his big-picture goal of becoming a commercial pilot.

Five months later, this carefree life was shattered. Kendell was unconscious when the life-saving decision was made to amputate his legs, but—despite 45 days' worth of heavy sedatives—he was painfully aware of the follow-up surgeries and the agony of mastering his prosthetic legs. Kendell was 6'2" and weighed 198 pounds when he boarded his Dad's Piper Navajo, and he left Tampa General for Healthsouth Rehabilitation Center "a little shorter" and 115 pounds. While Kendell's USF contemporaries were beginning careers, he invested his rookie year (re)learning to walk. "I compare it to buying a brand-new pair of shoes and having blisters and getting used to them, but 100 times worse," said Kendell about his prosthetic legs. "It's a process, but the more you practice and the more you're on the legs, the skin toughens-up and the better you get."

While the physical therapy took grin-and-bear-it gumption, re-engaging life presented different challenges. Flying was out as a career, and Kendell had also lost his hero and mentor. Bruce Kendell was a world-class sailor who sailed away from New Zealand in the early 1970s aboard Jim Kilroy's then state-of-the-art ocean-racing sailboat Kialoa II as the boat's professional captain, a gig that would take him and his soon-to-be bride Patti (Brad's mother) around the world, while allowing him to compete in many of the world's great offshore races, including the 1975 Sydney to Hobart Race, during which Kialoa III set an course record that stood for 21 years. "My brother Sean and I grew up on the water," recalled Kendell about a childhood spent fishing, surfing and learning to sail at the Clearwater Yacht Club. "I knew I had to get back out." While Sean had to carry his big brother down to the family's powerboat those first few trips, the medicine proved strong. "[Boating] was a huge part of my healing," said Kendell. "The help of family and friends is the reason that I'm here today."

Family friends suggested that Brad consider Paralympic sailing, so, at their behest, Kendell traveled to nearby St. Petersburg and sailed Sonars with Jen French and JP Creignou. While a refresher was needed, by day two Kendell felt himself slotting back into a familiar groove that was noticed by French and Creignou, who were recruiting a third sailor for a 2008 Beijing Paralympics campaign. Kendell accepted their invitation, and while the team proved capable, they placed third at the U.S. Paralympic Trials—good, but not good enough.
French and Creignou matriculated to the two-person SKUD-18 class, where they eventually won a silver medal at the 2012 London Paralympics, but Kendell got a call from veteran Sonar skipper Rick Doerr asking if he was interested in joining his Sonar team. Doerr (56), a New Jersey-based surgeon, was sailing with Hugh Freund (28), a Maine-based architect and graphic designer, and together the trio began training.
"We were the number-one team leading up to it, but we didn't sail well at the [2012] Trials," recalled Kendell. "I'm actually glad it didn't work out as we [sailed] in a much more beautiful place in Rio." Easy words now, but it was a hit that saw Kendell leave the boat and pursue a career in commercial construction while raising his daughter, Piper (now 6), and investing time into his Never Say Never Pirates Camp.
Given the center-stage role that boating has always played in his own life, Kendell was interested in using sailing to help disabled children learn to overcome their adversities. The idea of starting a sailing-related camp took form, and Kendell and his co-organizer, Danny Deeds, soon discovered of another Florida-based group that had a similar idea and an identical moniker (Never Say Never). The two groups joined forces in 2011, and the first Pirates Camp happened in 2012. "The first year we had maybe 15 kids, and it's doubled [every year] since," recalled Kendell. "We're now up to about 60 kids. We fly in their families, we feed them breakfast, lunch and dinner, and we do activities on the water and on land, too." Funding, he explained, happens through sponsorships, fundraising and golf tournaments, and the camp takes place over a long weekend each year. "There's not much hesitation," chuckled Kendell about the campers' attitudes, "they want to get out on the boats."
While time ashore allowed Kendell to go boating and fishing—his other passion—with his family and friends every weekend, he knew he had unfinished business. Doerr and Freund kept sailing Sonars and rotated several other middle trimmers (Kendell's position) through the boat, but the crew-chemistry didn't kick. The three kept talking, and Kendell rejoined the team in 2014. "They're a couple of my best mates," said Kendell. "I always try to remind them that we've got to have fun—that's the only way to win."

Together with coach Mike Ingham, the three started training with the total-commitment goal of qualifying for—and medaling at—the 2016 Rio Paralympics. "More time in the boat, a great coach, and we had our minds set," said Kendell about the team's evolution. "We travelled a lot, and we did as many international regattas as we could."
In January of 2015, the International Paralympic Committee (IPC) dropped the heart-wrenching news that sailing would be dropped from the Paralympics starting with the 2020 Games, meaning that Rio would be the team's last shot at winning a Paralympic sailing medal. The pressure ratcheted, but the team calmly earned their berth to Rio by winning U.S. Paralympic Trials.

Talk of water-quality issues, the Zika virus, and a looming presidential impeachment chocked the Rio newsfeed, but, says Kendell, the team ignored the hype and had focused on the racecourse, where they proved themselves fast, finishing six out of their ten races in the Top Five. Appropriately, the Americans won the regatta's final race, earning a proud silver medal—the highest honor earned by any U.S. Olympic or Paralympic sailors since French and Creignou's silver medal at the 2012 London Paralympics.

"It [ranks] right after the birth of my daughter," said Kendell. "It was a huge accomplishment, certainly, but family always comes first." Like many Paralympians, Kendell had to win two races to experience the winner's podium—recovering from his accident, then learning to compete at an international level—and he wasn't shy about pointing to the higher hurdle: "Winning the silver medal was hard work!"
While the IPC's decision to drop sailing closed one door, it simultaneously opened different avenues. "I plan on enjoying more family time, and time with friends," said Kendell, who recalled some milestones he missed while off campaigning. Boating, of course, will play a central role as he teaches Piper to fish and sail, and as he transitions to big-boat sailing. "There's talk of doing a Florida to Cuba race," said Kendell, his excitement audibly registering. "Everyday above ground is a good one!"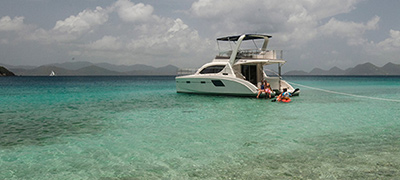 Adventures
Getaways!®, MarineMax Vacations in the British Virgin Islands and Private Yacht Charters are another way we are able to help our customers enjoy the boating lifestyle and enhance their passion for the water.
Take an Adventure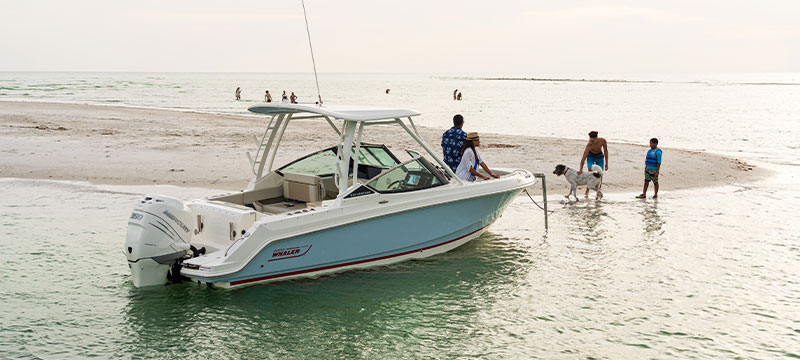 Find Your Perfect Boat Today
Start your search for the boat that has it all for your lifestyle! Explore premium new, used, and brokerage boats.
Search Boats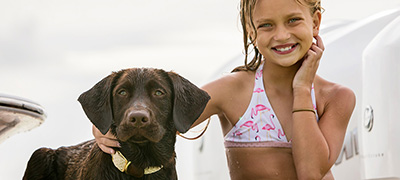 The Boating Lifestyles Blog
Browse hundreds of articles on customer stories, tips, trends, gear, amazing boating locations and more found in our Blog.
Explore Boating Articles