From the Helm | Boating Broadcast with Discover Boating
Welcome to From the Helm with MarineMax, where hosts Lisa and Kelley connect with boating industry leaders for weekly Boating Broadcasts. In this episode, they discuss all things boating with Colleen Richardson, Spokesperson for Discover Boating. Stay tuned for headlines and a social media update including soaring boat registrations, Sea Ray's high-performance e-powered new model, and Aquila Power Catamarans' new 54-foot yacht!
What are you waiting for? Get On Board, #TheWaterIsOpen!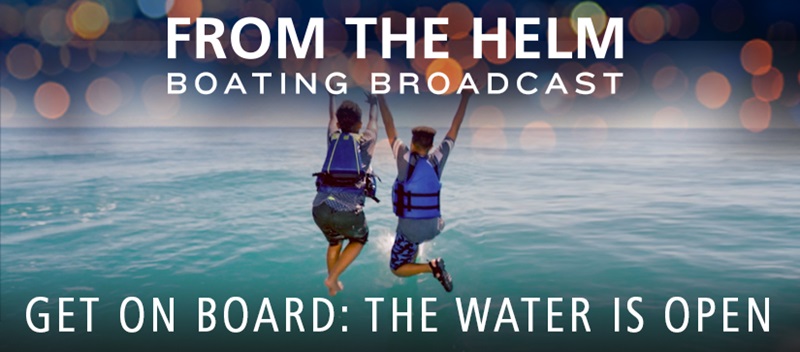 Play video for Discover Boating
From the Helm | Boating Broadcast
Discover Boating helps people get started in the #BoatLife by sharing information on the benefits of boating, tips on how to choose and buy a boat, different on-water activities, where to go boating, how to #RecreateResponsibly and answers on everything from owning and operating to gear and accessories.
Previous Boating Broadcasts
Notes and Talking Points
INTRO – 3 Min

Welcome to From the Helm with MarineMax / Hosts Lisa and Kelley

Interact with us in the comments section and if you like what you see, please share this with your friends! The more the merrier.

QUESTION OF THE DAY: Where is your favorite on-water restaurant?

COMING UP on Today's Boating Broadcast…

HEADLINES: June Boat Registrations soar, Sea Ray's revolutionary new boat model and Aquila Power Catamarans talks about a new 54-ft yacht!

SOCIAL UPDATE: Cool Whaler videos and Haulover Inlet!

GUEST: Colleen Richardson, Spokesperson for Discover Boating

GUEST: 20-30 minute interview

The water is open to everyone!

Finding places to boat near you

Safe Boating Tips to #RecreateResponsibly

Lots of first time boaters can benefit from boating safety and now with Covid, there are new things to think about

Use common sense and courtesy when boating

"Mask up until anchors up"

Colleen's son Will makes a guest appearance to ask us what we like most about boating

Coronavirus and Boat Shopping: What You Should Know

5 tips for social distance boat shopping

Find your boat type

Schedule an appointment

Inspect & test drive

Check out Discover Boating's Sea Trial Checklist

Deal and pickup

Service and care

Dr Wallace, health and wellness is connected to boating

Recent research has confirmed what many boaters already know—you experience emotional, behavioral and psychological benefits being near, in, on or under water, and while participating in activities like boating.

GUEST SOCIAL/WEBSITES:
Reminder - You can see MORE episodes of Boating Broadcast on the MarineMax Blog - accessible on the web or through the MarineMax app.

Boating tips LIVE shoutout -

HEADLINES - 10 MIN

June Boat Registrations Leap 20 Percent (Trade Only - REAGAN HAYNES - JUL 22)

Michigan-based Statistical Surveys Inc., sales director Ryan Kloppe, "What we're seeing is obviously a trend of people jumping in the marine industry as a way to enjoy the summer. We can't travel. We're not taking vacations. So basically, here's your entertainment for the summer."

Boating Magazine: Sea Ray SLX-R 400e Outboard (Staff writer)

Discover the Power of Innovation

Sea Ray's SLX-R 400e Outboard features cutting-edge technology, high-performance propulsion, and elevated design

The "e" in the model name designates a first-of-its-kind boat electrification system – Fathom™ e-Power. The system includes a high-capacity lithium-ion battery pack with intuitive power management capable of powering all of the boat's accessory systems and providing you with a convenient, smart way to enjoy all of the features of the boat, for a longer, quieter and more eco-friendly day on the water.

propelled by triple Mercury® Racing 450R outboard engines with Joystick Piloting, and NextWave™ innovations including Quiet Ride™ and Dynamic Running Surface™.

seating for 22 passengers,

New Boat: Aquila 54 (Power & Motoryacht - CHARLIE LEVINE|JUL 27, 2020)

Sporting a 25-foot, 2-inch beam, the Aquila 54 power catamaran is not lacking when it comes to room for long-distance cruising and entertaining.

Owners can opt for a 3- 4- or 5- cabin layout

three-cabin, full-beam master forward with two guest cabins in either side hull.

four-cabin layout keeps the full-beam master with one hull split into two guest cabins and the other hull offering a VIP that's a little larger.

five-cabin arrangement creates four equal-size guest cabins and a smaller master with a reading nook.

QUESTION OF THE DAY: Where is your favorite on-water restaurant?

SOCIAL UPDATE (Landen) - 10 MIN

Here's a look at what's going on in the social media world!

A testament to sturdiness of BW

Video of 17 Montauk going through Haulover Inlet

Found on Center Consoles Only

Reminder: Subscribe, Follow and Tag us to keep up to date on Boating News and share your boating stories

Facebook – @MarineMaxLeisure

Instagram & YouTube – @MarineMaxOnline

Twitter - @MarineMax

Shout out to Boats Group/and all participants in the social media takeover

EXIT (LISA) - 5 MIN

Thank you to our guest: Colleen Richardson, Spokesperson for Discover Boating

We hope you enjoyed today's Boating Broadcast, as always, Stay healthy, boat happy!