From the Helm | Boating Broadcast with Captain Janet
Welcome to From the Helm with MarineMax, where hosts Lisa and Kelley connect with boating industry leaders for weekly Boating Broadcasts. In this episode, we're joined by Captain Janet A. Urbanowicz. Captain Janet discovered a love of boating in her 20's. She started by canoeing and kayaking and then progressed into recreational boating. After going through school and spending 28 years as a nurse, Captain Janet decided to "retire" and become a boat captain. Nautical Freedom is affectionately named after how she feels when out on the water.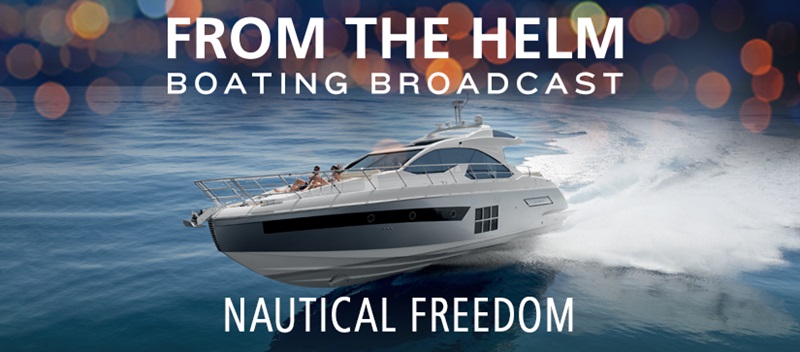 Play video for Captain Janet
From the Helm | Boating Broadcast
Based in Brick, New Jersey, Janet holds multiple titles including Ph.D., Certified New Jersey State Police Boating Safety Instructor, Private Captain, and friend of MarineMax. Join the conversation to hear about her journey from nursing to boating.
NOTES AND TALKING POINTS

From the Helm, Boating Broadcast is brought to you by MarineMax, the nation's largest boat retailer. See more episodes on the MarineMax Lifestyle Blog

HEADLINES:

First up in the headlines is a look at Sea Ray's design and engineering elements that stand out on the Sea Ray SLX 310 Outboard. Quiet Ride sound-reducing technology and The Dynamic Running Surface are two key features making the SLX 310 unique. Read the full article on BoatTEST.com. Stick around to get a sneak peek at the most popular video on the MarineMax YouTube channel, and for a good reason! The Ocean Alexander 28R Motoryacht Enclosed Bridge boasts an overall length of 90 feet and a beam of 22 feet. This Evan K. Marshall design comes to life in a beautiful walkthrough video. See more here.

SOCIAL UPDATE:

Boating Tips LIVE, our sister podcast, comes to you every Monday at 3 pm ET on Facebook and YouTube. Log on to ask your boating questions and hear from two experienced Captains. The social updates continue with an exciting video showing how tug boats can save the day. Reminder to follow and subscribe to keep up to date on all the boating news. Find us on Facebook, Instagram, YouTube and Twitter.

NEED MORE BOATING NEWS?

You can see or hear MORE episodes of Boating Broadcast and our sister podcast, Boating Tips LIVE, on The MarineMax Blog, accessible on the web or via mobile phone through the MarineMax App. You can also access more episodes on Spotify, Google Podcast, Apple Podcast, or wherever you get your podcast news. We hope you enjoyed today's Boating Broadcast, as always, Stay healthy, boat happy!