Voyaging with Confidence
For this Florida couple, having MarineMax behind them lets them enjoy longer on-water adventures.
By Louisa Beckett
"I put about 200 hours a year on my boat," said Jim Dozier, owner of an

Azimut

50 Flybridge. Jim and his wife, Ann, frequently cruise to the Bahamas from their home in Pompano Beach, Florida. During their most recent voyage in June 2019, they visited West End; Spanish Cay, Green Turtle Cay and Elbow Cay in the Abacos; cut across the deep Tongue of the Ocean to Eleuthera, then stopped at Chub Cay and Bimini on the way home.

"Our roundtrip was close to 600 miles," Jim said. What makes this achievement all the more remarkable is the fact that the Doziers bought their first boat, a Sea Ray 400 Sedan Bridge, from MarineMax Pompano just a few years ago in 2015.

"When we bought the boat, MarineMax provided me with a day of training on the water," Jim said. He also hired a captain for a couple of days and practiced until he felt comfortable operating the yacht himself. "My wife was always there to encourage me," he said. For Ann, boating is an ideal way to relax and unwind. "It's a great refuge for my wife from the demands of her work life," Jim said. "It takes her mind off work, and it's a great time for us."

The Doziers enjoyed taking their boat on MarineMax

Getaways!®

. "We've been to the Ocean Reef Club and the Lobster Bash numerous times. We've met some super people…. It's a very generous community of people," Jim said. "The [MarineMax] tagline is 'United by Water'. I feel like the company really builds on that."

It didn't take long for Jim and Ann to decide they wanted to move up to a bigger yacht. Jim called his MarineMax Pompano Sales Consultant, Sean Doyle, and worked with him and his father, MarineMax Yacht & Brokerage Sales Executive Mike Doyle at the MarineMax Yacht Center in Pompano Beach, to find the perfect vessel for their needs. "I feel like I have a father-and-son team," Jim said.

In April 2017, the Doziers took delivery of their new Azimut 50 Flybridge. "Quite frankly, I find the bigger boats are easier to operate," Jim said. "It has thrusters and it has the advantage of the flybridge." The Azimut also has a lower helm station in addition to the flybridge helm, which gives them the ability to voyage further, staying dry and cool even when weather conditions outside are not ideal. "Most of the longer trips that my wife and I have taken, we go out on our own," Jim said. "We can do that with confidence because of MarineMax. I have a company that is behind me."

Jim started planning their Eleuthera cruise months in advance. In addition to plotting the route, he worked with MarineMax Service Coordinator Dave Eckert to ensure that the Azimut was prepared for the voyage. "He's my go-to guy," Jim said. "He plays a huge role for me for any trip I take, particularly something long…. I service the boat and make sure everything's in working order."

Knowing MarineMax is always there on the other end of a phone call also gave the Doziers the confidence to take their nearly 600-mile cruise. This paid off during the voyage when, "I had an issue with the discharge [pump]," Jim said. "I called Sean…it was on the weekend." Sean Doyle helped Jim to fix the problem over the phone in minutes. "It's always comforting and reassuring to know that wherever I am, I can call those guys," Jim said.

Jim and Ann invited two other couples to join them on different legs of their trip through the Bahamas, during which they stayed in marinas on seven different islands. "It was great to be so many places and meet so many interesting people," Jim said. One day in Eleuthera, they chartered a fishing guide, then took their catch back to the chef at Valentine's Resort restaurant, who cooked it and served it to them that evening. "We met Eleanor, who worked at Valentine's restaurant. Her daughter works at Chub Cay," Jim recalled. Later in the trip, they met the daughter and brought her greetings from her mother. "We've had that happen multiple times," he said.

"Everybody enjoyed the days out at sea, being out on the water," he continued. "The fellowship, the fun, just having a relaxing good time napping on the flybridge in the open waters for hours, enjoying the beauty of the Creation we've been blessed with."

Another highlight of the trip was transiting the narrow passage along the coast of Eleuthera known as "the Devil's Backbone", which the Doziers navigated with the help of a pilot. "It was exhilarating to be traveling that close to the shore on a boat of that size," Jim said. "I wouldn't describe this as a vacation – I would describe it as an adventure."
Complete the form below to get connected with a MarineMax pontoon expert and find the right boat for you.
Built on a History of Excellence
Azimut sets the standard for new and used luxury vessels. Italian ingenuity and painstaking attention to detail go into every yacht.
Get on the Water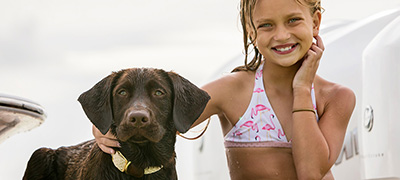 The Boating Lifestyles Blog
Browse hundreds of articles on customer stories, tips, trends, gear, amazing boating locations and more found in our Blog.
Explore Boating Articles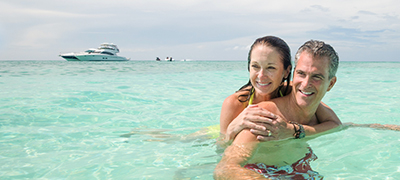 Discover New Places
Some last a day, others a weekend or longer. Either way, our Getaways!® will have you enjoying the boating lifestyle in no time.
It's time for fun