Top 15 Spots for Boating
The weather is heating up nationwide, and the water is too! Now that 'boating days' are finally here, they can even be more enjoyable when there are exciting places to go and explore. If you want to venture out and see more than your usual shore, we have plenty of suggestions of exciting destinations to experience—just look at the list below and take your favorite pick!
1. Chesapeake Bay

This massive bay covers many miles off the Atlantic Ocean. See Baltimore in action, eat fresh crab in Crisfield, MD, or connect with nature in 25,000 acres of estuarine marshland. And if you need anything from MarineMax, our Baltimore and Kent Island locations are not too far away.

2. Florida Keys, FL

We can't leave out this top vacation hot spot! Enjoy the warm sun, clear blue water, white sands, beautiful reefs, incredible restaurants, watersports, fishing, dolphins, and so much more on these unique islands, where each one is an escapade in itself! Why not cruise to the Keys in style aboard a brand new Cruisers Yachts 60 Cantius?

3. Mackinac Island, MI

Arrive by boat, but no driving is allowed on this land—unless by horse and carriage. This delightful island on Lake Michigan is filled with great restaurants, like the Pink Pony, and will take one back to olden times with its charm and history.

4. Nantucket, MA

Picturesque beaches, storybook lighthouses, and museums are what this popular location is about. Boutique shops, bistros, and luxurious hotels are also within this area. Cruise along this Massachusetts shoreline in style aboard an Aviara AV36, and if you need a marina to store it at, MarineMax Boston has got you covered.

5. Ogunquit, ME

For beautiful sunset views, head over to Ogunquit Beach or check out the downtown area on a fun trolly ride. Bring some tasty lobster aboard to eat, or try some fishing yourself in this family-friendly town. Grill up an Atlantic seafood feast on this

Boston Whaler 420 Outrage

—a perfect boat to fish on, relax, and enjoy a great meal.

6. Lake Lanier, GA

About 60 miles north of Atlanta, you'll find 700 miles of shoreline at Lake Lanier. This body of water is one of the most popular lakes in the southeast and the largest in Georgia. Besides the many restaurants and shops, there are over 45 parks and close to a dozen campgrounds. Have fun zipping across this lake on a

Saxdor 320 GTO

, an easy boat to tow to the lake.

7. St. Augustine, FL

Step back in time in a historic location with lots to do. Regardless of being dubbed the "Nation's Oldest City," St. Augustine is a lively place where you can hop aboard a trolley and experience all the local attractions the fun way! Be sure to check out the Fountain of Youth, Castillo de San Marcos National Monument, and the San Sebastian Winery while there. If you want to go here with a group, you can join a MarineMax Get

aways!®

event or find others

here

.
8. Galveston, TX

Head out for some Texas-style fun! From the bay to the coast, Galveston has a host of things to do on the water and beyond. Complete with dolphin tours, fishing charters, kayak quests, airboat rides, and more, this coastal gem is the perfect Western escape at sea. Be ready for a Texas-size trip and navigate around Galveston in luxury and comfort aboard an

Aquila 42 Yacht Power Catamaran

.

9. Lake of the Ozarks, MO

As the largest man-made lake in the United States, with 1,150 miles of shoreline, you'll have plenty of water to enjoy! Plan for the day, or stay for the night. With plenty of places to stay, things to do, and restaurants to try—it will be an adventure everyone will enjoy! Exploring this lake can be even better on a Sea Ray SDX 270. See Sea Ray models and much more at MarineMax Lake Ozark.

10. Mississippi River

Go up, down, or explore all around on this massive 2,320-mile river spanning from Lake Itasca, MN, to the Gulf of Mexico. The Mississippi is alive with adventure and has unique eateries, such as the Pilot House Restaurant in Natchez, MS, inspired by Mark Twain. Take the crew along for a fun ride on the river aboard a

Harris Grand Mariner 230

.
11. Lake Tahoe, CA; NV

Hang glide, take a helicopter tour, shop, ski, hike, boat, or do almost anything by this stunning clear blue lake. Nestled up in the Sierra Nevada Mountains, this is one of the deepest lakes in the US and is over a million years old! For delectable dishes and a top-notch dining experience, try the Edgewood Restaurant in Stateline, NV.

12. Magdalena Bay, Baja California Sur

Travel along Magdalena Bay for sights of the sea like never before! Watch as grey whales fill the water with life, spot dolphins, sea lions, striped marlin, balls of sardines, anchovies, and more. Cruise out and about and see more marine life on an

Ocean Alexander 37L

. There are area tours to guide you to the best location.

13. San Juan Islands, WA

This 'San Juan' of the north is known for being one of the best places to view orca whales year-round. You can also see alpacas, and lighthouses, experience beautiful hiking trails, enjoy fishing, and try delicious seafood in these Northern islands. Admire the views even more aboard a

Galeon 800 Fly

.
14. British Virgin Islands (BVI)

Take your own boat to the picturesque shores or stay afloat on a yacht chartered by your personal captain and crew through MarineMax Vacations. Sit back, relax, and let all your worries float away on an all-inclusive retreat. You can also choose only a skipper or go bareboat-style and be your own captain—the choice is yours! Watch this exciting MarineMax Vacations

video

and learn more.

15. The Bahamas

These exquisite islands are additional gems of the sea worth the visit. There are many areas to relax on the beach, sip on a Bahama Mama, traverse the clear-blue water via boat, or jump in to experience exotic marine life below the surface. No matter the time of year, these islands are always welcoming and friendly to visitors. Some of our favorite places to visit in The Bahamas during our Getaways!® events are Resorts World Bimini in North Bimini, Chub Cay, and the Exumas, where you can watch the swimming pigs in action!
Find your next vessel for boating adventures!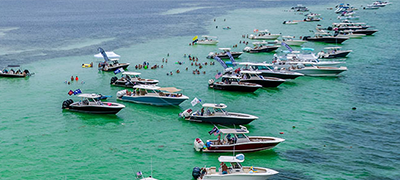 Find an Event
All this fun is exhausting – NOT! We love creating entertaining and exciting customer events. Each is designed to make boating the most remarkable leisure activity in your life.
Find an Event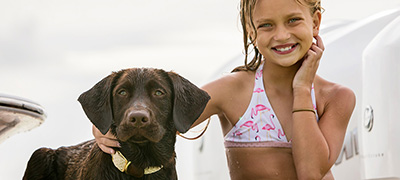 The Boating Lifestyles Blog
Browse hundreds of articles on customer stories, tips, trends, gear, amazing boating locations and more found in our Blog.
Explore Boating Articles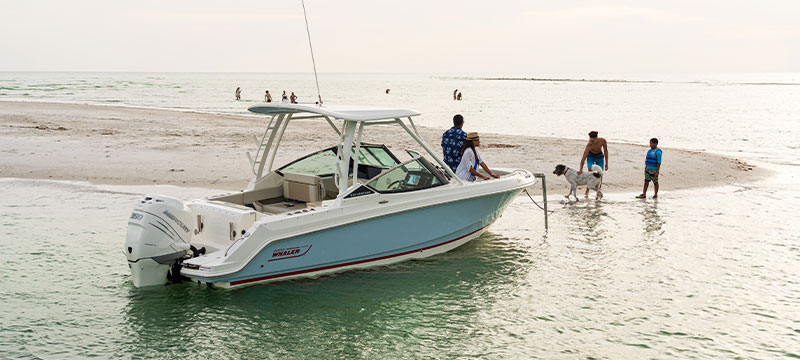 Find Your Perfect Boat Today
Start your search for the boat that has it all for your lifestyle! Explore premium new, used, and brokerage boats.
Search Boats