She Navigates the High Seas
From family vacations to weekend trips with girlfriends, being captain of her own ship gives one longtime Sea Ray owner the freedom to enjoy time on the water.
People often ask Stacey Sutherland where the captain of her 65-foot Sea Ray is when she pulls up to an unfamiliar dock.
"Well, you're looking at her," she responds with a laugh. "For me it's such an ego thing. It's like, 'Wow, I'm able to do this, I can't believe I'm able to do this.'"
The Florida native has always been the captain of the larger boats that she and her husband John, longtime MarineMax customers, have owned. She grew up not only running her parents' boats, she also learned how to drive bulldozers at her dad's golf course construction company at age 12.
As a result, John prefers to let her take the helm, saying, "There can only be one captain." "He works hard all week long, and on the weekend he wants to be driven around," Stacey says.
That suits Stacey just fine — being the captain not only allows her to take her family on vacation, it also gives her the opportunity to take her girlfriends out for getaways as part of a group they call the Pink Pirates.
Stacey and John, along with their 16- and 19-year-old sons, have moved up through the Sea Ray line as part of the MarineMax family. All their saltwater boats have been named 3XS-A-Charm in honor of Stacey and John finding each other after two divorces each.
They started out with a 28-footer Sea Ray Sundancer in 2004. It seemed to have enough room when the kids were smaller, but as they grew, so did their boats, and the family graduated to a 34-foot Sundancer, then to a 44-foot sedan bridge.
On that boat's maiden voyage, the family went to Captiva Island in southwest Florida, located just offshore in the Gulf of Mexico. On the way there were two 80-foot yachts flanking an area Stacey had to pull into. "The crew saw me coming and promptly ran to the deck and tossed over their fenders," she recalls. "I was appalled! Not only because they thought I might be a bad driver, but that their decks stood higher than my bridge."
She loved the boat, and drove it for seven years. During that time, John bought a 24-foot Everglades, and together they navigated both boats up and down the West Coast of Florida, taking weekend family trips. "Then, one day, we realized, you can only take one other couple comfortably, and our kids had outgrown the twin beds," Stacey says.
Again they returned to MarineMax Clearwater's sales consultant, Gary Reinhardt — who Stacey says understands her husband's personality inside and out — and wound up with a Sea Ray 510 Fly. They'd only had the 51-foot Sea Ray for a year when John got a bad infection in his leg that required him to spend two weeks in the hospital.
"When he came out of the hospital, he was a changed person," Stacey said, recounting a day they were at the MarineMax Clearwater dealership having service work done on the 510 and John disappeared to check out the L650 Fly. "He told me, 'Stacey, I don't want to drive the Everglades beside you anymore. I want to ride on your yacht and this looks like the one I want to ride on,'" she said.
When John surprised Stacey with the L650 Fly as a Christmas and birthday present in December, she hesitated because it was larger than anything she'd driven before. But she took it for a spin, parked it on a dime and fell in love. On the swim platform, they store a 13-foot Boston Whaler Sport to use as a tender.
Having grown up with boats, and grown with her husband through the Sea Ray line of boats, Stacey is comfortable taking off for a weekend with the Pink Pirates. "There's lots of space, and I'm taking advantage of it already," she says.

She was planning a trip to Captiva with her nieces, nephews and sister to celebrate her nephew's high school graduation. "We've had bachelorette parties, birthday parties — we make up reasons to go," Stacey says. "John is always in golf tournaments, so I take care of the wives."
Or, he will invite friends over to play poker into the wee hours — "and we've got to get away," Stacey says. "So we all go boating. The guys will ask him, 'When are we going on the boat?' and he'll say, 'There's only one captain, and she's a she.' They'll tell him to hire a captain, but nobody's driving my boat!"
Like any experienced captain, she has run into some situations on the water. Once she took the Pink Pirates to Useppa Island, and on the way home she hit fog like she'd never seen in 30 years of boating. "You couldn't see 50 yards in front of you, so I had to rely on the radar," she says.
On the way home from another trip to Key West, she navigated through a windstorm. "I had 10- or 12-foot seas cracking over the edge of my boat," she says. After passing through the weather, only about a half hour from home, she threw a rod in one of the engines. "If that had happened in those rough seas, I don't know what I'd have done," Stacey says.
But she has learned from those situations. "There've been a few things that have taught me: pay attention to the weather, and talk to people at the docks," she says.
Now, she is inspiring women in her circle of friends as a result of those trips. "I have a girlfriend who bought a boat, and she's the captain," Stacey says. "When she's on our boat, she's my first mate, and when I'm on her boat, I'm the first mate. We even have hats."
Article Written By Reagan Haynes, Soundings Trade Only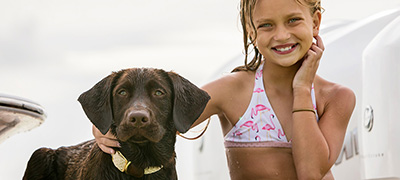 The Boating Lifestyles Blog
Browse hundreds of articles on customer stories, tips, trends, gear, amazing boating locations and more found in our Blog.
Explore Boating Articles
Women on Water
Exclusive classes especially for women ready to take the helm while gaining more confidence in the operation and care of their boats.
Search Women on Water Classes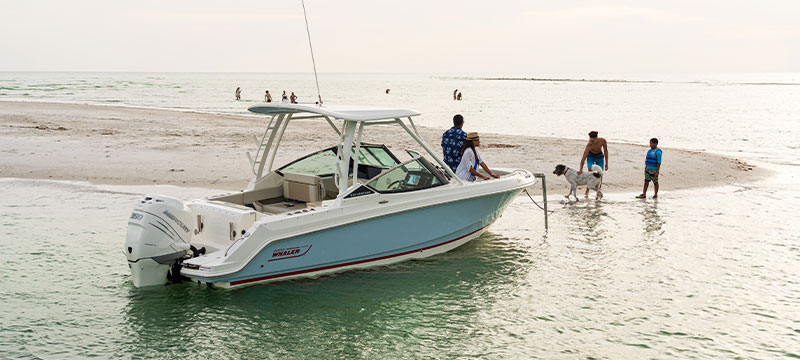 Find Your Perfect Boat Today
Start your search for the boat that has it all for your lifestyle! Explore premium new, used, and brokerage boats.
Search Boats