New Ocean Alexander 28R Owners Plan to Explore the Bahamas
The new owners of a 2021 Ocean Alexander 28R (90-feet) are set to take delivery of their new vessel in July. Trips to the Bahamas not far behind.
Scott Douglas, MarineMax Yacht Consultant comments, "This yacht is incredible. The owners live in Chicago and spend time in North Carolina and now the Bahamas. The owners just became empty nesters and were looking forward to their next adventure in life. They purchased their first-ever Sea Ray 400SLX-R/E last year, and coincidentally, his brother purchased an Ocean Alexander 70e from me last year as well. They ended up falling in love with the brother's 70e, and we all know sibling rivalry, so they bought an Ocean Alexander as well!"
The Ocean Alexander 28R boasts powerful engines, unwavering safety, luxurious spaces, and breathtaking views. The full-width main deck expands living space without compromising incredible performance and efficiency. The new owners spent time customizing the vessel to fit their active lifestyle. Their model includes a scuba system, a Tonal Home Gym, and many toys, including sea bobs, jet skis, a dinghy, and a Boston Whaler 330 Outrage tender. They are very active in all types of on and off-water sports, including scuba-diving, fishing, kayaking, paddleboarding, and working out.
Douglas continues, "Ocean Alexander Yachts are incredible as far as quality, layout, and size. Their team is so accommodating, and it was a pleasure to work with them. Of course, it feels great to help someone find exactly what they are looking for. A lot of work goes into equipping and staffing a larger yacht of this size, but I thoroughly enjoyed the process. This would not have been possible without the help of our brand champion, Bruce Siler."
Want more information about the Ocean Alexander 28R? We're here to help!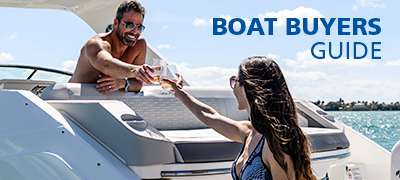 Boat Buyers Guide
Learn what to know before you buy with this useful guide.
Get the Guide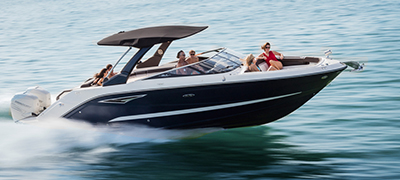 Learning the Ropes
Whether you're new to boating or need a refresher, learn the basics of boating and the rules of the water from our Coast Guard-certified captains.
Search Boating Classes