A Tour of the Galeon Yachts Factory
This August, MarineMax team members journeyed across the Atlantic to tour the
Galeon Yachts
factories in Poland. The experience of seeing the craftsmanship, detail, and engineering involved in every step of making each Galeon yacht was one to remember!
Page Position for video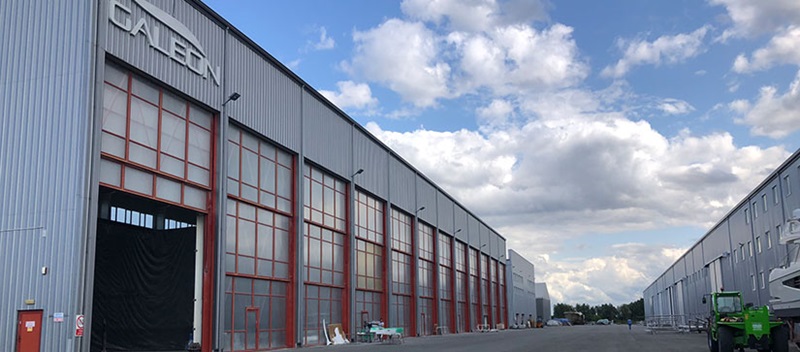 Play video for Galeon Yachts Factory Visit
Come along for a tour of the Galeon Yachts factory in Gdansk, Poland and see how Galeon's vertical integration and attention to detail results in the best boats on the water.
Every Detail Matters

To start, materials are closely inspected for potential use in a Galeon. Every chosen item shows both style and superior quality.

Handcrafted

Galeon's factory in Straszyn features a stainless-steel shop where parts of all sizes are made for use on the yachts. In some cases, parts require intricate and detailed work to be performed by experienced craftsmen.

Precision

Other stainless-steel parts are made with CNC machines that use a computer-controlled laser to make precise and accurate cuts while also minimizing waste and maximizing efficiency.

A Perfect Fit

Cabinets are carefully cut, sanded and planned. Once each piece is ready Galeon will dry fit them in the actual yacht they will call home to ensure a perfect fit. Then, the pieces are returned to the work space for final preparations.

Only the Best

Raw teak wood awaits review and only the highest quality pieces will be chosen to be included in a Galeon yacht.

Teamwork

Skilled craftsmen work together to carefully build each yacht, bringing all of their experience and knowledge to the finished product.

Quality Assurance

The factory in Straszyn is not located on the water, so each yacht is placed in a testing tank. This is a key step in the process to ensure that the quality is up to Galeon's standards.

Consistency

This machine is used to apply paint evenly and consistently to wood surfaces.

On Time

Engines, props, and other materials are supplied by outside vendors. Galeon always keeps inventory in stock to avoid delays in shipments and stick to their production schedule.

Perfection

All edges and surface on Galeon yachts are sanded by hand to ensure that they are smooth and free of imperfections.

A Leader

Galeon has become a leader in the U.S. yacht market over the years, and the factory and team have continued to grow along with it.
Page Position for form
Experience a Galeon in Person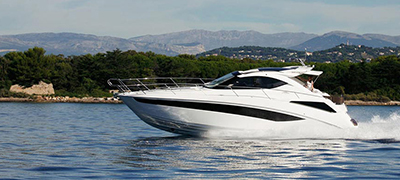 Handcrafted Excellence
Galeon designs assure unparalleled modern styling and convenience. Leading technology and design, makes each yacht exceptional.
Get on the Water
MarineMax Yacht Centers
In addition to being the world's largest stocking yacht dealer, MarineMax Yacht Centers offer priority service access to our factory certified technicians, 100-ton travel lifts, and an extensive range of parts.
View Yacht Centers
Luxury. Convenience. Ease.
Owning a yacht is the definition of luxury. Owning a yacht from MarineMax means so much more.
Receive VIP Service