From the Helm | Boating Broadcast - Minnesota Wakesurf Championship
Welcome to From the Helm with MarineMax, where hosts Lisa and Kelley connect with boating industry leaders for weekly Boating Broadcasts. Andy "Wiggy" Weigman is the organizer of the Minnesota Wakesurf Championship on Lake Minnetonka. With two powerhouse title sponsors by his side, Nautique and MarineMax Minnesota, Andy found a way to continue with the 2020 event while minding social distancing guidelines. Hear how he pulled off the event, details on the sport of wakesurfing, and more about two non-profits that inspire him to keep going. Wake for Warriors and Wiggle Your Toes work with amputees and veterans to use water sports to heal the mental and physical wounds of losing a limb.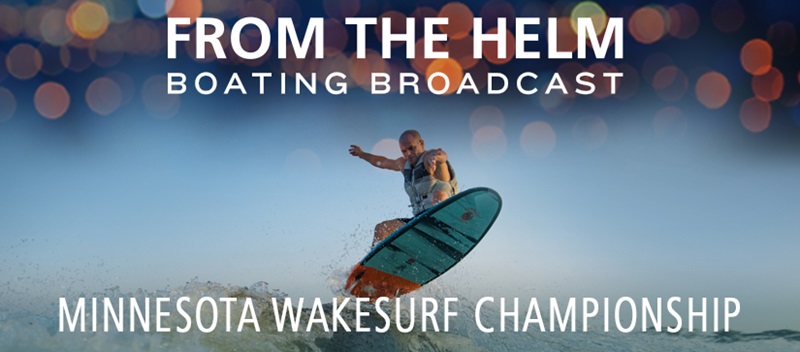 Play video for Minnesota Wakesurf Championship
From the Helm | Boating Broadcast
Learn why having a "Blue Mind" is beneficial for your health, hear more about the Boston Whaler "SUV of the Sea," see a crazy video capturing a terrifying moment, and watch a cringe-worthy wedding proposal.
Previous Boating Broadcasts
NOTES AND TALKING POINTS FOR WEBSITE
:
QUESTION OF THE DAY: What's your favorite Beachy/Surfing movie?

COMING UP on Today's Boating Broadcast…

HEADLINES: Why having a "Blue Mind" is good for your health, Flagship of the Boston Whaler Conquest Line, the SUV of the Sea

SOCIAL UPDATE: Videos! We have two of them, so you'll want to stick around to see those and hear an update from Landen. Crazy weather and perhaps NOT the best way to present an engagement ring.

GUEST: Andy Weigman, "Wiggy" Organizer of the Minnesota Wakesurf Championship

GUEST INTERVIEW:

Kick things off with a promotional video for the 2020 MNWSC

Nautique & MarineMax Minnesota are the Title Sponsor

More details on how Andy pulled off this year's event with Covid restrictions

Lake Minnetonka is a popular spot for wakesurfing

Dates for next year's competition are already set: July 16 to 17 2021

Divisions cover all ages groups to all skill levels

VIDEO: Tyler Stewart's competition run: https://www.facebook.com/MNWSC/videos/325804895448319/

Winners were announced on August 10th.

Tyler Stewart won the Pro - Open Division & Best Video overall

VIDEO: A look at an amateur division video, Riding behind a Nautique, which throws up a bigger wake. He also is using a bigger board.

Minnesota has four distinct seasons - Water sport athletes keep active by snowboarding in the winter

The NEW Nautique Paragon - The hull is deeper, bigger area for the surf system

The Minnesota Wakesurf Championship is a fun event, but it also brings people together for a good cause.

Non-profit partners

Wake for Warriors

Adaptive division - Those who have lost a limb compete

Veterans attended the event in the past but were not able to make it this year due to Covid restrictions

Using water sports to heal the mental and physical wounds of being a veteran

Wiggle Your Toes

Non profit that works with amputees

July 16 to 17 2021 dates for next year

QUESTION OF THE DAY: What's Andy's favorite Beachy/Surfing movie? Out Cold with Zach Galifianakis - snowboard movie

GUEST SOCIAL/WEBSITES:
Reminder - You can see MORE episodes of Boating Broadcast on the MarineMax Blog - accessible on the website or through the MarineMax app. You can also catch the show on your favorite podcast platform, Spotify, Pandora, iHeartRadio, etc.
HEADLINES

ARTICLE #1 - The Science is Clear: Boating is Good for Your Health & Mind (Discover Boating Article)

In October 2019, researchers at the University of Exeter Medical School in the UK published a study showing that people who live near the ocean are 22% less likely to report depression and anxiety symptoms than people who stay inland..

Wallace J. Nichols, the author of Blue Mind, a bestselling book, looks at the scientific reasons why being in, on or under the water can make us happier and healthier.

"Simply the mere sight and sound of water promotes wellness by lowering cortisol, increasing serotonin, and inducing relaxation," said Nichols. "In fact, when it comes to reducing stress, being on a boat can be considered a type of medicine."

"Blue mind is when we disconnect and logout," Nichols continues. "We move away from the screens and we get out on the water, and leave all of that technology and information behind. We give our brains a break—and our brains love that."

(38 minutes) VIDEO:

ARTICLE #2 - Boston Whaler 405 Conquest: Flagship of the Conquest Lineup (Power & Motoryacht - Jeff Moser - January article)

the 405 Conquest is the largest Conquest model ever and marks the second time Boston Whaler has eclipsed the 40-foot barrier.

Debuted at the Ft. Lauderdale boat show to a standing-room-only crowd

dubbed the "SUV of the Sea"

QUESTION OF THE DAY: Kelley, Lisa and Landen answer - What's your favorite Beachy/Surfing movie?

Boating Magazine published an article about Wakesurfing 101 in 2015, touting two movies that I have NOT seen - Endless Summer or Chasing Mavericks - https://www.boatingmag.com/wakesurfing-101/

Point Break - Kelley

Cast Away - Landen

Caddy Shack - What was the name of the boat in the movie?

Great Outdoors -

SOCIAL UPDATE

Here's a look at what's going on in the social media world!

2 interesting videos to share, with potential lessons to be learned

Sailboat gets struck by lightning - good note

Marriage proposal gone bad!

Reminder: Subscribe, Follow and Tag us to keep up to date on Boating News and share your boating stories

Facebook – @MarineMaxLeisure

Instagram & YouTube – @MarineMaxOnline

Twitter - @MarineMax

Podcast shout out Spotify and Apple

Boating Broadcast

Boating Tips LIVE

We hope you enjoyed today's Boating Broadcast, as always, Stay healthy, boat happy!