Don't Get Spooked by These 10 Boating Superstitions
With Halloween creeping up on us, scary stories and superstitions can be seen as a staple of the season. Though the last thing you want to encounter on the water is bad luck! Here are 10 common boating superstitions and the history behind them to help you steer clear of curses during this "spooky season."
1. It's Bad Luck to Have Women Onboard

It was a widely held belief in centuries past that having women aboard your ship was bad luck. While several theories exist as to why, some include the potential jealousy and temptation that could stem from having them around an all-male crew.

Luckily at MarineMax, we support and encourage our female captains to take action at the helm. Our exclusive Women on Water® courses are designed to help them gain more confidence in their boat and on the water!

2. Watch Your Mouth

Be careful what you say on board. While sailors and pirates used notoriously bad language, there are certain things you don't utter at sea. "Goodbye" and "Good Luck" were among these forbidden phrases, and to even mention "drowning" was said to summon the incident itself.

3. Never Change Your Boat's Name

Sailors once believed that once a boat was christened, to change the name would bring bad luck on your voyage. Though there does seem to be a consensus on a way around this: a simple de-naming ceremony and re-christen of the boat with its new name can counteract any bad juju.

Check out our story about an Aquila 44 christening.

4. Seafaring Felines Are a Sailor's Best Friend

Historically, felines were said to be good omens as they provided protection against vermin that could potentially chew through ropes, eat the ship's limited provisions, and spread disease. They were also said to offer comfort and snuggles to lonely sailors at sea. We aren't arguing this one! In fact, we'll go as far as to say all pets are welcome onboard. We love seeing what your furry first mates are up to–check out our Pets on Board page to learn more about sharing their adventures with us out on the water and other great boating with pets resources.

5. Delay Your Departure?

Sailors have long believed that leaving for a voyage on Friday is a big no-no, or on a Thursday, or on the first Monday in April. In fact, there are so many "bad" days to depart, it's a wonder you can go at all. We're here to tell you, you should take to the water any time and as often as you want (weather dependent, of course). MarineMax stores plan customer Getaway!® events throughout the boating season. Some last a day and others a weekend or longer. In every case, you'll have the time of your life no matter what day you depart. But if you're still worried, you can always knock on wood for good measure. Find your perfect MarineMax Getaway! and don't delay.

6. Right Foot First!

For good measure, always step aboard a boat with your right foot. Apparently setting your left foot down on the deck first was considered a bad omen for the journey. We couldn't tell you where this one came from, but whether it's "right foot in" and or "right foot out", the only thing we're concerned with is finding you the RIGHT boat. Take our quick and fun Boat Finder quiz to figure out which boat is right for you.

7. Those Are Some Bad Bananas…

Have you ever encountered a "no bananas" sign on a dock and wondered what it meant? While there are several theories circulating as to why including their tendency to spoil quickly, the most commonly accepted one is that tarantulas would sometimes be found hiding in banana bushels brought onboard and could eventually make their way into your ship's sleeping quarters (note: that's not what we meant by "pets on board.")

8. Don't Whistle Up a Storm

Whistling was thought to stir up the wind and encourage a storm at sea. This particular superstition is so well-known that "whistling up a storm" has worked its way into modern vernacular.

So perhaps keep the tunes to yourself. On the other hand, if you are looking for something to listen to, why not tune in and explore past episodes from our Boating Broadcast series to hear the latest on a wide variety of boating topics from leaders in the boating industry.

9. Good Luck Lies in Odd Numbers

William Shakespeare said it himself, "good luck lies in odd numbers." Some fishermen swear to the superstition of setting out fishing nets in odd numbers in hopes of bringing in a good haul. Supposedly this one stemmed from one's tendency to set out items in even numbers. From this, you should add an "extra one" for good luck.

To bring some real luck to your fishing excursion and avoid the opportunity for dangerous mistakes on the water, explore our 5 Tips for Safe Fishing on a boat and get ready to reel in a big one!

10. Shaggy at Sea

If you thought the unkempt, scruffy look of pirates was just due to their lack of caring, you'd only be partially right. Shaving your beard, hair, or fingernails at sea was also said to bring bad luck as it would incur the wrath of Neptune, the God of the Sea, who considered these clippings an offering to Proserpine, the Goddess of the Underworld, in his domain. In lieu of an insult to the Gods, why not please them with the "grooming" of your boat by scheduling your routine annual maintenance today. You can do so with ease by downloading our MarineMax App to easily connect and order services with just the touch of your finger.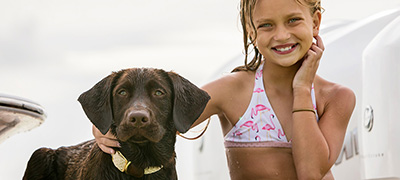 The Boating Lifestyles Blog
Browse hundreds of articles on customer stories, tips, trends, gear, amazing boating locations and more found in our Blog.
Explore Boating Articles
Let's Get Social 👍
We want to hear from you! Share your boating photos and videos. You may even get featured on one of our channels, along with the latest news from across the boating industry, fun stories from fellow boating enthusiasts, and much more!
Follow Us
10 Tips for Boating with Pets
Follow these tips when boating with your pet for a safe and happy adventure on board.
View Now