Celebrating 25 Years!
It's all about family, enjoying life on the water, and doing what you love.
By Charlene Marie Dodge
Time flies when having fun, and on the water, it can go by even faster when enjoying it with loved ones. With 25 years at the helm, we can safely say MarineMax knows a few things about a passion for boating and family too. And speaking of which, that's where the story begins.
MarineMax, a publicly traded company (NYSE: HZO), has made remarkable contributions to the boating industry and boating enthusiasts for 25 years. As the largest boat, yacht, and superyacht company in the world, our priority is to provide the best experience to our customers, and it all began with our founder's belief that boating changes people's lives.
This year, Executive Chairman of the Board Bill McGill celebrated half of a century since the formation of Gulfwind Marine, which in time became what we know today as MarineMax. What started as a desire to fuel his lifelong passion for boating blossomed into a well-respected business shortly after he moved his family to Florida. Through hard work, dedication, and with the support of his family, success prevailed.
Following years of great success, the bar was raised even higher, and additional solutions were sought to advance the boating community and better serve the needs of consumers. Top boat dealers across the nation bonded together over their passion for being on the water, and shortly after, the concept of MarineMax came to fruition in January of 1998. The new company name was formed to create more opportunities and unite an even bigger family by water.
The legacy and passion continues with Brett McGill, our Chief Executive Officer and President at The Helm. Building upon his father's core beliefs and his own love for boating, he continues to lead the way, ensuring we have a passionate team providing world-class service globally. The goal of every MarineMax team member is to make sure you, our family of boaters, have every opportunity to enjoy the many benefits and services we offer so you can create lifelong memories with your families and friends.
Under the new mission to provide the world's best pleasure boating experience by consistently exceeding the greatest expectations of our customers and team members, the business has increased at significant levels. The strategic growth plan resulted in numerous acquisitions of other notable boating-related companiescele and dealerships globally. Thus, not only increasing the number of locations but also the variety of the products and services offered.
With full-service marinas, boat and yacht dealerships, brokerage, insurance and finance operations, superyacht services, a MarineMax Vacations charter base, technology services, our MarineMax App, and more, MarineMax is an award-winning top resource for all things boating. With our in-depth and collective knowledge from across regions, platforms, specialties, and access to our practically endless database of boats and yachts, we will listen intently and tailor a vessel to meet your specific needs. In addition, we are all about the boating lifestyle, and once you become part of the MarineMax family, there is even more access to fun and learning on the water.
We want your time on the water to be enjoyable and safe. And to help, we offer multiple classes with our team to get you started with confidence, such as our Captain's Orientation, exclusive Women on Water®, and Kids in Boating classes. We also offer live fishing seminars at our stores and guidance on multiple boating subjects with our Boating Tips videos with our knowledgeable and enthusiastic captains. Learn how to properly tie dock lines, flush your engine, and much more from the comfort of your computer or mobile device.
Besides the beauty of experiencing the water with your friends and family, you can meet new like-minded folks that share the same passion for the water. With exclusive MarineMax Getaways!®, overnight adventures to breathtaking destinations are on the agenda, and with Dayaways!, rendezvous, and many other events and happenings, there is always something exciting happening around the water. Keep an eye on our growing events page online to get involved with the latest ones that interest you.
While having multiple opportunities for growth, MarineMax will continue to have a full agenda, and we are optimistic about the future. However, it's truly the support of our extended boating family: our loyal customers, team members, and partners, that enable us to keep leading the industry. Thank you for all your support and for joining us throughout this 25-year journey of being United by Water®.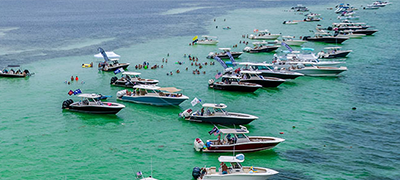 Find an Event
All this fun is exhausting – NOT! We love creating entertaining and exciting customer events. Each is designed to make boating the most remarkable leisure activity in your life.
Find an Event
Let's Get Social 👍
We want to hear from you! Share your boating photos and videos. You may even get featured on one of our channels, along with the latest news from across the boating industry, fun stories from fellow boating enthusiasts, and much more!
Follow Us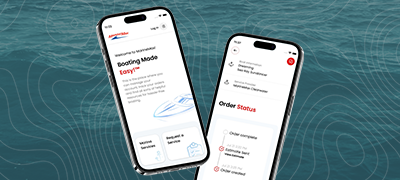 MarineMax App
Scheduling service for your boat or yacht is now easier than ever with the new MarineMax mobile app.
Download Now