Catch the Contagious Boating Lifestyle
The Best Friendships Are Made on the Water
When Joe and Theresa Trento decided on a whim to buy a used pontoon boat to cruise the four square mile Lake Hopatcong in northern New Jersey, they didn't know they were starting a trend. But within a year, they inspired Joe's business partner and brother-in-law Anthony Fioretti, and his childhood friends Ron Faas and James Hermey to join them in the boating lifestyle.

It had been about five years since Joe had a boat when he bought the used pontoon. He had kept a Sea Ray down on the Jersey Shore at one time, but he preferred the proximity of the lake to his house. He invited Fioretti and his wife Karen on the craft and they enjoyed it so much, Fioretti bought his own boat, a 2017 Harris 220 Sunliner with the performance package plus which gives the tri-toon increased buoyancy to boost performance and greater control at the helm for an overall smoother ride. Right now, you can save money on new Harris Sunliner and Cruiser models during the Harris Summer Series event going on until July 31st. If you are intrested in other Harris models, check out these great opporTOONities with listed monthly payment options for amazing Harris models.

"I didn't want to mess with maintenance, so I wanted to buy a new boat," said Fioretti.
Falling for Harris
Harris boats come with a limited lifetime warranty on the entire structure, including pontoon tubes, cross-members, decking, motor mount and fence rail. The bow-to-stern warranty covers all materials and workmanship and is good for five years. And the warranty is transferrable should Fioretti decide to sell the boat.

Perhaps that's the push Trento needed to upgrade his craft to a tri-toon, Harris 240 Sunliner. The deck has more room for entertaining, and the bulletproof 150 XL horsepower four stroke Mercury engine allows for tubing and other water sports.

"I researched a few brands, but really like the Harris style, and it had good reviews," said Trento. "I like the performance and handling of a triple pontoon. The design of the cross members are closer together so it's also a more stable boat. And the interior's thick-foam seating is like hanging out in a plush living room."

There are five different floor plans to choose from on the Harris 240. The Trentos chose the center walkthrough. It gives their boxer Duke, who goes crazy for the ducks on the lake, plenty of room to run around. Fioretti's 220 has the DL floor plan that provides dual rear-facing loungers with dual helm seating. His wife thought their daughters would enjoy sunbathing on the bow chaises.
Sharing is Caring
But Fioretti wasn't the only one Joe inspired to buy a boat. Trento is part of a trio of guys that have known each other since grade school. Ron Faas and James Hermey lived next door to each other growing up, and have been friends since they were seven years old. Now the two are business partners. Trento officially joined the group when they all attended Mountain High School together. They've been close ever since.

"Joe is like our brother," said Faas of his and Hermey's relationship with Trento. "We mess with each other all the time, but if someone else does, there's trouble. When we found out Joe bought his first pontoon boat, we invited ourselves out."

Hermey remembers it a little differently. "On Thursdays we would sneak out and play golf in the afternoons. One day, after Joe bought the older boat we were supposed to play golf, but instead he asks if we want to go boating instead. We don't really golf anymore."

According to Fioretti, boating is a better pastime for the trio, "they're terrible golfers, and you can quote me on that."

According to Faas, it was Hermey who fell the hardest for the boating lifestyle, but it wasn't until the trio went out on Trento's brand new Sunliner that he and Hermey paid a visit to Mitch Scharf at the MarineMax Lake Hopatcong store.

"They told me they wanted a boat like Joe Trento," said Scharf. "As soon as a 240 Sunliner came in, I called them. Two days later they are in the store and we're signing the papers. The boat wasn't even unwrapped yet!"
Friends Who Boat Together Stay Together
These days the three friends, along with their entourages can be found anchored in Byram Cove, a large inlet with no waves. They'll tie up together, grill out, dine al fresco, and just enjoy each other's company. Deep storage under each bench seat means supplies can be stowed easily, and a pop up table is perfect to hold the picnic spread. Fioretti will join the group for a little while, but he's more of a cruiser.
With such a large pontoon, boating can be a family affair. The 220 and 240 Sunliners can accommodate between 10 and 16 people and up to 3000 pounds. The four men have eight teenage and up daughters, and one grand daughter between them. Creative storage on the boat means the girls can always keep their cell phones within reach, tucking them into built in caddies in the furniture when they go for a swim.

One of Hermey's favorite memories is taking his 16 year-old Isabella and her friends out. The girls were blasting K-Pop through the Jensen stereo sound control with Bluetooth streaming audio, and dancing up a storm on the Sunliner 240's 24-foot deck.

Fioretti entertains on the weekends, but favors weeknight cruises with just his wife Karen when the water is still and the crowds have gone. Sometimes the couple brings their yorkie Romeo, and their daughter's golden retriever Libby along for the ride.

The men have started to use the Sunliner to entertain clients too. Spending a few uninterrupted hours together on the weekend is a golden business opportunity.

But Thursdays are still reserved for just the guys. They head out to Byram Cove to smoke cigars, grill and just hang out.
Harris Pontoons
Championing expert craftsmanship and genre redefining designs, Harris has distinguished itself as one of the top pontoon boat manufacturers in the world.
Get on the Water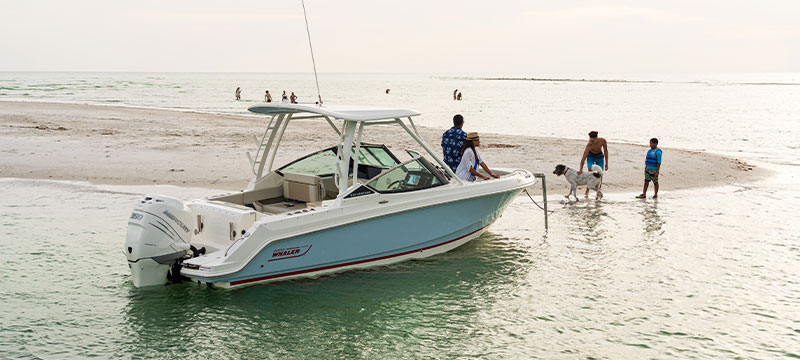 Find Your Perfect Boat Today
Start your search for the boat that has it all for your lifestyle! Explore premium new, used, and brokerage boats.
Search Boats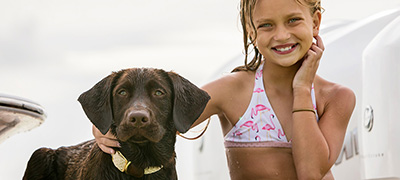 The Boating Lifestyles Blog
Browse hundreds of articles on customer stories, tips, trends, gear, amazing boating locations and more found in our Blog.
Explore Boating Articles