Twice In A Lifetime
When visiting the British Virgin Islands, once is never enough.
Setting Off

When you take a trip of a lifetime, it's usually not part of the plan to return for a second time. But plans, just like the tides, change quickly – especially when your destination happens to be the British Virgin Islands on a 48' MarineMax Vacations Power Catamaran. The first time was such an incredible experience that we either needed to stop bragging or plan another with friends who hadn't been there. On our first BVI trip, we flew directly to Puerto Rico and chartered a puddle-jumper plane to Beef Island, Tortola. On this second trip, we wanted to change it up. We'd fly into St. Thomas and take a private water taxi from Charlotte Amalie to the MarineMax Vacations base at Hodges Creek Marina. There we'd find our sweet ride — a 48' Power Cat with four spacious queen berths, a complete galley, gathering space inside and a "spend your entire life up there" bridge lounge and helm.
Our prearranged, airport pickup to the water taxi was waiting for us with the news that our private water taxi was staying dockside because of adverse weather. The larger ferry from St. Thomas to Tortola was our only option, so we hustled to the landing to find we had missed the boat by five minutes. The next ferry was an hour and a half wait, which, according to "island time," left almost 2.5 hours later. We spent our delay indulging in thirst-quenching beverages on the islands.
The first leg of the ferry took us to West End, Tortola while we sipped on the BVI's signature drink, the "Pain Killer!" The second leg took us to Road Town and swiftly through customs thanks to thorough pre-organization. Our van to Hodges Creek was waiting and we were greeted by our cheerful driver handing us ice-cold water. We arrived to find our Power Cat waiting patiently, stocked and loaded for bareboating. And while we had provisioned enough to feed and quench the entire fleet for weeks, we decided we needed a little island jam, somewhere that could reset weary travelers and put the lift back under their sails after a long day of traveling.
The manager had the perfect spot, a little joint on the water called The Loose Mongoose. An inviting oasis of island bartenders and inventive cuisine created as near to table-side as you'll find, The Loose Mongoose turned out to be the perfect remedy to our weary bones.

We awoke early the next morning with excitement, as well as some impressive post-daquiri headaches, healing up before beginning a required yacht walk-through, systems checks and float plan discussion with our liaison and face of the operation, Bentley. Even though we had three extremely qualified captains on our crew and three first mates capable at the helm, it was important to follow procedure, understand the vessel and make sure we actually knew what we were doing.
Anchors Away!

In familiar territory from our last trip, we charted our daily itinerary weeks prior. Our first stop was to be the fabled Anegada "Drowned Island,", a shimmering coral lagoon 15 miles beyond Virgin Gorda famous for its flat elevation and lobster dinners. Timing, good seas and favorable weather were essential.

Consulting with Bentley gave us everything we needed, and along with some seasoned advice and recommendations, it was determined that Anegada was not the right move.
Reassessing, we landed on Cooper Island, only 3.5 nautical miles southeast of the marina. One of many helping highlights of MarineMax Vacations is that one of their experienced captains is at the helm until you are out in the bay. They also offer to send the captain with you to your first destination if you are not entirely confident in your ability to get there. If desired, you can also hire a captain for your entire journey, too. Once in the bay, our MarineMax captain sailed away in his dinghy and our adventure officially began.
Safety First

We have a steadfast rule on travel days — the captain does not imbibe until the vessel is safely tied at our next destination. Acting in solidarity, we each sailed sober and arrived at the lee of Cooper Island. As the glass water embraced us, our crew of friends began to feel it. The "oh wow" face, the "is this real" expression. Those are the moments we live for.

There comes a point where the water turns a stunning shade of turquoise and the sun dapples the palms lining the white sandy beaches. All at once, you want to stay away to admire and move closer to immerse yourself.
Traditions

As we approached our first stop, our mooring ball sat waiting for us to hook and attach.

Once tied up and settled, our crew were presented with customary nicknames and arrival packages we created, including t-shirts, hats and Tervis tumblers.

Another tradition is we herald the cocktail hour with the ring of our captain's bell, taken on all our voyages. We toast to life, to how fortunate we are, and of course, to the great lifestyle of boating.
At this point, we also begin to inflate the giant bird float rafts included in our famous arrival packages – swans, flamingos, parrots – oh my!

Cooper Island is easy-going but elegant, with a Beach Club famous for its rum and rhumba. The restaurant was on the beach and excellent; only a three-minute tender ride and we were headed to our table.
Off to Anegada!

After a restful night's sleep in our air-conditioned suites, we arose to a perfect travel day. As coffee brewed, our onboard chef (and first mate) whipped up a hearty breakfast in the well-equipped galley and then we were on our way, aiming Anegada on our horizon.

The seas brought us a 1-2 foot chop and winds of 5-10 knots, ideal circumstances for our departure through the BVI. Following the channel is crucial here. Our crew believed it couldn't get any better than Cooper Island. But Anegada was special. In her simplicity lay her charm and in her waters lay her beauty.
This island only offers mooring balls, which we often prefer over a dock. It often adds to the adventure. With a water maker, a powerful generator and a tender for eight, our Power Cat was more than equipped to swing in comfort. The minute we were secure, a sun-washed Montauk Whaler with a cheerful fellow approached. He was singing: "It's a bright golden day on the…water. The sun is as high as an elephant's eye and it looks like it's rising right out of the sky…"

We listened to him sing, delaying the arrival cocktail. He invited us to try the lobster dinner at his restaurant and offered to get us anything we needed from shore. Other charming islanders approached, inviting us to dine at their spots, as well. Reservations, often done by VHF, are strongly encouraged.
As we gathered our snorkeling gear for an adventure on the other side of the island, a small front that had been building treated us to a beautiful, freshwater rinse down and double rainbows just off our starboard. All around us people came out to stand in the warm rain and watch the colors. There was something powerful in that moment — the sense of a shared experience. The communing with nature. The shower came and went quickly as a perfect welcome and then we were off to shore.
We soon arrived to Potters By The Sea for our first on-shore libation. The multicolor, shanty-esque structures that make up the restaurant and bar were vibrant with charm. It was quiet except for a couple of equally colorful local personalities who twisted our arms into ordering their arm-hair-curling, get-the-party-started Painkillers. Time eased by.

One of our captains, a dashing yachtsman meandered over to chat up the driver of an island taxi. Within minutes we were gallivanting across the island in the back of a pick-up truck complete with bench seats, bimini and cold brews foaming at the neck.

Loblolly Beach was our snorkeling destination. As the dust swirled behind us, our driver gave us a lively tour of the island. Colorful shacks poked out from behind the scrub. At one point, our driver came to an abrupt stop. Flamingos! A huge flock. What a sight.

Loblolly Beach was magnificent whether you snorkel or not and we thoroughly enjoyed our day there. Then it was back for dinner where we chose The Wonky Dog. It was intimate, had a great menu and the easygoing bartender who was a skilled fire-breather.
Saba Rock

In the morning, we were off to Saba Rock, where we stayed for two days with jaunts in the tender to Prickly Pear Island, Leverick Bay, and the famed Bitter End Yacht Club.

Next was the Virgin Gorda Baths for a morning of exploring before a few hours of anchoring in Deadman Bay on Peter Island. Then to an unforgettable stay in The Bight at Norman Island.
From there, our stops included the requisite day in White Bay on Jost Van Dyke (even if you're not feeling like a tourist, stop at The Soggy Dollar anyway), a mooring around the bend in Diamond Cay for sea turtle watching and a morning of exploring at Sandy Cay (it's what every tropical island picture postcard aspires to look like).
Every destination was unique and we could write a movie about the hilarity, shared emotions and pure pleasure we experienced together. The adventure, the beauty of not sitting still for too long. Therein lies our love of the BVI and why boaters are captivated by and drawn to her. There's always something to go back to, whether missed on this trip or something just so memorable that it inspires a return for more memories. The MarineMax Power Cat effortlessly provided an experience that allowed us to push beyond what we thought was possible. If all this talk of tropical paradise is making you thirsty for a get-away, the one thing we can tell you is that a MarineMax Vacations adventure in the BVI will surely quench that thirst.
Share Your MarineMax Vacations Adventure With Us!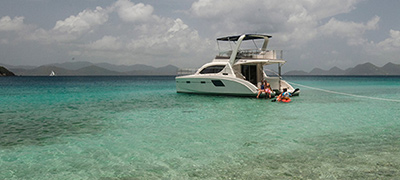 Adventures
Getaways!®, MarineMax Vacations in the British Virgin Islands and Private Yacht Charters are another way we are able to help our customers enjoy the boating lifestyle and enhance their passion for the water.
Take an Adventure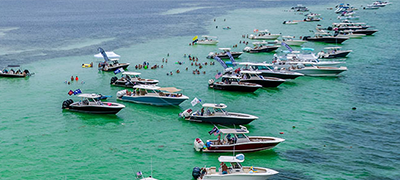 Find an Event
All this fun is exhausting – NOT! We love creating entertaining and exciting customer events. Each is designed to make boating the most remarkable leisure activity in your life.
Find an Event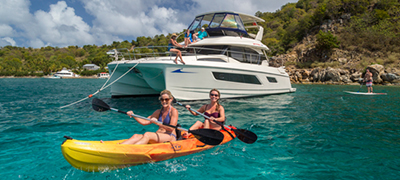 Live Your Caribbean Dreams
Imagine spending a week with family and friends aboard a power catamaran in the British Virgin Islands. MarineMax Vacations can make this dream a reality.
Plan Your Vacation