Worth the Wait
By Liz Pasch for MarineMax Vacations

Three years ago, Alan Carter began to explore buying his very first boat and a close friend gave him some very good advice: Just because it looks like the one you want, it may not be the one you need. "I still had two kids living in my home and they still needed parenting, so the timing wasn't right then," says the California-based TV director of awards shows, specials and series including The Voice and Shark Tank. "I had to factor in what worked in my life. I didn't necessarily think the Aquila was the one to buy right away." Alan considered the 44 or 48 but it didn't fit his requirements at the time. Taking his friend's advice, neither were any of the other boats he considered. So, he waited.

"I was smart enough to not own a boat before," says Alan and explains that his family life and demanding career were too busy to spend that much time and money to justify owning a boat. His interest in boating however, led him to chartering boats on vacations in the Bahamas and BVI. "The first time I brought my nieces, my mom, and their friends, six ladies in all. One of the girls grew up on boats so that was very helpful." Alan had been to the BVI previously but had never chartered. "We were all experiencing it the first time together and at the end, they all agreed this was a trip of a lifetime. Every time I take someone new, that's what they say."

Alan loves to share the charter experience with others and his professional experience in the entertainment industry came in handy when he launched his YouTube channel, The Wandering Hillbilly. He intended to primarily focus on videos in the BVI. "There's nothing like going to a cove, dropping anchor, and you own the island while you're there. It's so unique for everyone who goes." His channel generates 10-15 questions from YouTube viewers who dream of someday experiencing their own BVI charter, which Alan answers personally. "Anegada is magical, an hour away from all the other islands. Then there's Foxy's. The only way to get there is on your boat." The opportunities that a charter offers are unique things that you cannot do from a cruise ship, which, according to Alan, is the most appealing benefit for him. "On one charter there were eight of us and we anchored by Dog Island. It was a surreal moment realizing that we were on our own boat, with each other, surrounded by beauty. That's the unique part of chartering a boat."

Years of BVI and Bahamas' charters have provided Alan with significantly more boating experience. He enrolled in a variety of boating courses to enhance his skills and has fostered friendships with many boat owners. He loves the challenge of learning something that's completely different from his 25+ years in the entertainment industry. "Owning a boat didn't fit in our lives before but now it does," says Alan. He had previously considered single-hulled boats, but his charter experience led him to focus on powercats and reconsider the Aquila brand that had expanded their product line since he first saw it three years prior. He also now had a much clearer idea of not only what he wants but what he needs.

Alan promised his wife their new boat would never feel like camping, so a full-beam master was his top priority. He also wanted comfortable cabins for friends that would be equally conducive to their children's needs. There was only one model that met all his requirements, the Aquila 54. "There was a long list of options to choose from and I basically checked them all. This boat will be totally decked out," jokes Alan. "It's the right size and has crew quarters. It checked off everything in my list. By being patient, I found the boat I both want and need, and so it worked to wait."

Alan says he was very fortunate in his career and now wants to slow down. His Aquila 54 is planned for delivery in late December, and he looks forward to cruising the Atlantic coast on his own boat, spending time in Georgia, and exploring the ICW. "There's a whole new phase of life coming," he says and adds that he'll continue chartering in the BVI.

Following his friend's advice proved to be valuable, and Alan offers his own to those who want to charter but are nervous about their ability. "Just ask MarineMax to hire a captain. It will relieve your stress of being responsible for the boat. They know where to go, you'll have a great time and you'll realize that you can do this, too."
Learn More About Adventures with MarineMax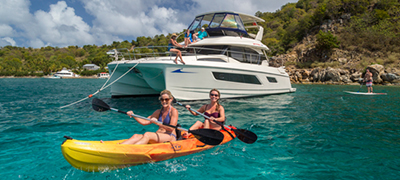 Live Your Caribbean Dreams
Imagine spending a week with family and friends aboard a power catamaran in the British Virgin Islands. MarineMax Vacations can make this dream a reality.
Plan Your Vacation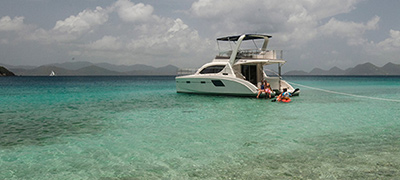 Adventures
Getaways!®, MarineMax Vacations in the British Virgin Islands and Private Yacht Charters are another way we are able to help our customers enjoy the boating lifestyle and enhance their passion for the water.
Take an Adventure
Let's Get Social 👍
We want to hear from you! Share your boating photos and videos. You may even get featured on one of our channels, along with the latest news from across the boating industry, fun stories from fellow boating enthusiasts, and much more!
Follow Us