Dancing to a Different Toon
By Jeff Hemmel
There are many reasons that drew Maddie and Bob Sipp to their current 2021 Harris Sunliner 230.
The fact that the twin-pontoon Sunliner performed so well on their local Lake Norman waters that they completely forget they went shopping for a triple 'toon. The acceptance that Maddie, 68, and Bob, 71, were getting older and found their current bowrider harder to get in and out of at the dock. The fact that their very first boat had been a pontoon and, truth be told, they missed it.
Spend just a few minutes in conversation with the couple, however, and one reason above all shuffles its way to the forefront — the dance parties. The Sunliner offers an abundance of dance-floor-ready real estate, perfect for when the couple's five grandchildren want to crank up the music and boogie.
"It's my favorite thing," laughs Maddie, a woman who during disco's peak years found herself doing the hustle in a photo that made the front page of The Wall Street Journal. "Just to be out on the water and see the little ones dance. I inherited that from my family so I'm just so happy to be passing it on. Our grandkids just really think that that's fun."
Boat dancing, or just boating in general, wasn't something on the couple's radar for most of their lives. Neither was leaving Pittsburgh for Lake Norman. Life, however, has a funny way of changing the tune. The couple's son Nathan was first to move to the area. After he was diagnosed with lymphoma, daughter Abbey relocated to help his family. Needless to say, Maddie and Bob soon followed. At first it was Nathan's boat that got the Sipp clan out on the water. The beauty of the lake (and an empty dock beckoning outside their home), however, soon convinced Mom and Dad to purchase their first boat as well. A pre-owned 2006 Harris Sunliner, the couple enjoyed it for eight years before purchasing Nathan's Sea Ray. Deep down, however, Maddie and Bob knew they were pontoon people. And yes, dancers.
Enter that 2021 Harris Sunliner 230. The couple had stopped into MarineMax Hall Marine Lake Norman convinced they needed a tri-toon in order to have the performance, handling and stability they deemed necessary. Covid-depleted inventories, however, had triples in short supply. That's when sales associate Jim Pinkham realized that the best fit might actually be a twin-tube boat.
"They were very much convinced they needed a tri-toon," recalls Pinkham, "and I said let's just put this boat in the water and make your determination after you ride the boat. Not a lot of brands out there perform like a modern Harris. It probably wasn't 10 minutes into the ride before Bob looked at Maddie grinning ear to ear. They loved it. The boat sold itself."
As the couple tell the story, the 2021 Harris was a notable upgrade from their first Harris, with larger diameter pontoons that handled rough water far better, confident handling and exceptional stability. "A magnificent change from our original Harris to this one was the way it handled," explains Bob. "The pontoons are larger in diameter and the performance strakes keep it so stable in the water. It was like having a tri-toon. We looked at each other after the test drive and said 'we're getting this boat!'"
As Pinkham recalls, inventory may have limited both he and the Sipps to what was available, but it was the time spent understanding how the couple planned to use the boat that convinced him the twin-tube Sunliner was the perfect fit. "I'm not the kind of person who's going to sell something just to sell something because an unhappy customer is going to come back and derail many years of sales ethics. Horsepower overcame the fact that it didn't have a center tube, and for what they were going to use it for, the larger diameter pontoons allowed the boat to sit up higher in the water."
Today, all three generations of the family continue to enjoy Lake Norman. Nathan won his battle with cancer and wife Jennifer and sons Asher, Kieran and Wesley continue to enjoy their lakefront home. Abbey stayed in the area and, along with husband Robert, added granddaughters Lina and Maren.
"We're a really close knit family for some good reasons and for some not-so-good reasons," says Maddie, "but we all really love being together. And the lake, you cannot beat it. We like to ride along the shoreline and look at the beautiful homes, anchor and swim or eat lunch or go to a restaurant.
"And the grandchildren like to dance and carry on, too, so we do a lot of that. The boat is definitely a drawing point for all of us to get together."
Learn More About Harris Pontoons
Harris Pontoons
Championing expert craftsmanship and genre redefining designs, Harris has distinguished itself as one of the top pontoon boat manufacturers in the world.
Get on the Water
Getting Started is Easy!
Staying safe on the water starts here. Enjoy the journey as you explore different types of boats, activities, and much more.
Discover the world of boating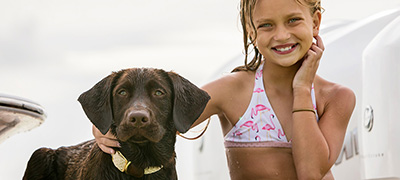 The Boating Lifestyles Blog
Browse hundreds of articles on customer stories, tips, trends, gear, amazing boating locations and more found in our Blog.
Explore Boating Articles