2019 Cannes Yachting Festival Recap
The Cannes Yachting Festival has taken place every September since 1977. As Europe's top in-water boating event, the show routinely draws the major figures of yachting to the beautiful bay of Cannes. The 2019 festival was no exception, as attendees were wowed by new models, remarkable sights, and unforgettable experiences. This year's event doubled as a MarineMax Getaway!®, as Azimut yacht owners gathered to celebrate in one of the most picturesque locations in the world. The owners experienced an exquisite week in southern France, including day trips to Eze and Monaco, a Yachting Gala Parade of Yachts, and delectable meals.
Relive the 2019 Cannes Yachting Festival here - MarineMax hopes to see you at next year's show!
A Journey to Remember

The

Azimut

owners experienced an exquisite week with MarineMax, beginning with the festival on Wednesday. Other highlights included a day trip to the countryside of Eze, a beautiful tour of Monaco, the Yachting Gala Parade of Yachts, and a tour of the Azimut factory in Turin, Italy.

World Yachts Trophies

The

Azimut

|

Benetti

Group was proud to be the recipients of seven awards at the World Yachts Trophies gala taking place in Cannes. With award-winning yachts like the

Azimut A45

(recipient of the interior design award for yachts between 45 and 64 feet), Italian excellence continues to bring innovation to the boating world.

Reveal of the Azimut S10

Azimut Yachts

unveiled a new yacht on their horizon: the

S10

. Combining the elegance of a sailing superyacht, the architecture of a modern seaside villa, and the personality of a supercar, this engineering marvel is set to make waves.
Our Getaways!® Events Create Lifelong Memories

The MarineMax boating family loves spending time on the water with family, friends and other boaters. That why we created MarineMax Getaways!®, a series of customer events creating opportunities to explore the waters and form new friendships.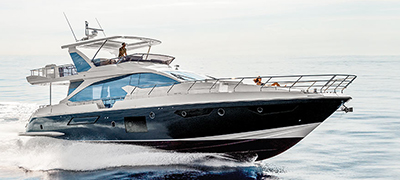 Built on a History of Excellence
Azimut sets the standard for new and used luxury vessels. Italian ingenuity and painstaking attention to detail go into every yacht.
Get on the Water
Experience Your Favorite Models
Step aboard to explore boats of all shapes and sizes including the latest models. With one place to come for everything boating, you'll find the boat of your dreams!
Find a Boat Show Near You
Luxury. Convenience. Ease.
Owning a yacht is the definition of luxury. Owning a yacht from MarineMax means so much more.
Receive VIP Service