Breaking Boundaries: Aviara's Evolution and the Arrival of the AV28
In the world of luxury day boats, Aviara has been a game-changer since its inception four years ago. The brand's commitment to break away and offer elevated style, control, comfort, and quality is evident in the AV32, AV36, and AV40. With the introduction of the AV28, Aviara continues to blend the best of luxury, sport, and innovation. Let's take a closer look at what makes Aviara boats stand out from the crowd.
Progressive Style

Aviara boats are known for their striking European styling, featuring clean, linear profiles with steep bow angles that make a bold statement on the water. The open layout of Aviara boats is designed for entertainment and hosting, with features like free-floating hardtops, integrated gas and waste fill lids, and carefully curated color options that exude reserved sophistication.

Elevated Control

Aviara's helm designs are nothing short of monolithic, featuring multiple display dash panels and Italian handcrafted steering wheels. The joystick piloting system, standard on multi-engine models, ensures quiet, super-smooth control powered by Ilmor or Mercury engines. Ergonomic layouts and raised helm areas prioritize comfort.

Modern Comfort

Aviara boats prioritize modern comfort, with thoughtful ergonomics, Klipsch audio systems, CoolFeel vinyl, and sculpted foam seating. Optional heated seats add a touch of luxury for those cooler days on the water.

Quality Details

The brand's commitment to quality is evident in the use of premium materials and craftsmanship, superior engineering and construction methods, thoughtfully designed and complimentary accents, and precisely machined metals. Unique features like Versailles tiled floor pattern and cleat placement add to the overall experience.

Aviara Luxury in All Models

All Aviara boats are designed with progressive luxury in mind. They feature entertainment-focused layouts with wet bars, versatile transom seating, Klipsch audio, centerline heads, deep gunnels, and offshore-inspired hull designs. The flexibility of outboard and sterndrive variants, as well as a dedicated production facility in Merritt Island, Florida, ensures consistent quality and performance.
Introducing the AV28
The AV28 is the latest addition to the Aviara lineup and has options that include the sterndrive AV28, the outboard AV28-OB, and the surf-centric forward-drive model AV28S. This series offers luxury without limits.
The AV28 embodies Aviara's progressive styling with its curated gel and vinyl colors, premium billet aluminum metals, and spacious layout. Its deep-V vertical bow design ensures a smooth, dry ride, even in challenging conditions.
The AV28's innovative layout provides an open cockpit with versatile seating options, making it ideal for entertaining. The sliding sun pad extends for added lounging space, and the power folding hardtop keeps you cool on hot days. Optional heated seats and a cockpit heater provide comfort in changing weather.
Storage is abundant on the AV28, with dedicated fender storage, under-seat storage, in-floor storage, transom storage access, built-in cooler locations, and hinged seating. The boat's full-beam platform offers easy boarding and access to the water.
Aviara ensures an exceptional audio experience with Klipsch Audio, and the optional wet bar provides space for food prep, a sink, a pull-out refrigerator, and an optional grill. The AV28 also features a centerline head with luxurious amenities.

Additional features include, wireless phone chargers, billet aluminum cleats, an undermount ladder, grab handles, optional cooled cup holders, a transom shower, and a windlass anchor system highlight the list of creature comforts.
The AV28S takes performance to the next level with SurfStar™ and 1,800 pounds of ballast, offering customizable waves for all skill levels. Controls are intuitive, and the power folding hardtop includes board storage and a rearview camera.
The Aviara AV28 is the epitome of luxury and innovation in the world of day boats. With its progressive styling, elevated control, modern comfort, and quality details, it offers an unrivaled boating experience. Whether you're cruising, swimming, or surfing, the AV28 ensures luxury without limits. Discover the evolution of boating with Aviara.
Other boat brands don't offer the same comforts infused with the European style that an Aviara does, especially the fine quality and attention to detail, as with the Aviara boat manufacturing process. Discover the in-depth details of how an Aviara is made from start to finish
inside their award-winning facility
. Additionally, access Aviara boat reviews such as videos and
360° virtual tours
at any time, and find models immediately available can be found
online
and at MarineMax locations across the nation. Are you ready to see an Aviara in person?
Discover one at your Local MarineMax
!
Want to Learn More About Aviara?
Elevated Open Water Experience
Aviara is the first brand to fuse progressive style and effortless comfort in a modern luxury boat that's born to break away from it all.
Get on the Water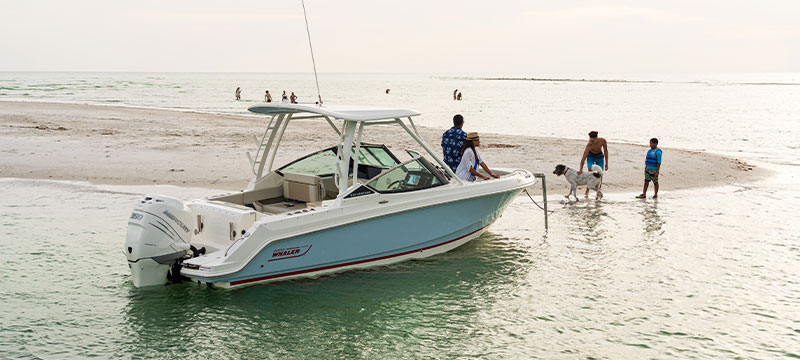 Find Your Perfect Boat Today
Start your search for the boat that has it all for your lifestyle! Explore premium new, used, and brokerage boats.
Search Boats
Finance Your Boat
When it comes to financing the boat you've always wanted, our team has you covered.
Explore Finance Options