Inside Aviara's Award-Winning Facility
When you're dedicated to excellence and breaking away from the ordinary, it makes it even better when you have a proper facility to bring perseverance, creativity and inspiration to the forefront of boating.
At Aviara, the state-of-the-art facility unleashes all the necessary components that enable the ability to produce the luxury day boats it does. Powered by engineering marvels and a dedicated team committed to their craft, take a look inside the world where Aviara vessels are born through Boats.com Factory Fridays review.

Inside this episode, host Marilyn DeMartini and Rob Nye, Director of Sales and Marketing, uncover the behind-the-scenes details of this European-styled brand derived from MasterCraft that made its debut in February 2019. After much success, it was clear that Aviara needed a larger home base to enhance its boatbuilding process. Made in the USA with the utmost pride in Merritt Island, Florida, this 137,000-square-foot award-winning facility on 38 acres started production in January 2021.

Within the video, see an exciting walkthrough of the factory and watch how Aviara brings these state-of-the-art boats to life through the different phases of fabrication, lamination and assembly. See the lab where gel coats and other chemicals are tested, the RTM room where small parts and other fiberglass components are created, and the active upholstery department, where CoolFeel vinyl is used to create the modern comfort seating.

In addition to watching Aviara employees hard at work building these stunning, modern boats, Rob also walks viewers through the cutting room, molding area, parts inspection room, and assembly area. Last but not least, watch as a completed Aviara AV32 is tested in the water. The action doesn't stop at Aviara—the next step is sending the boats out to a local MarineMax location, the brand's exclusive dealership and partners in excellence, to be sold.

With the progressive style, modern comfort, elevated control, and quality details that roll into each of these luxury day boats, it's easy to see why many are enthusiastic to be or become a future Aviara owner. The AV32, AV36, and AV40 models are available to view online or to experience for yourself to step aboard at

a local MarineMax location

. For a closer look at the AV36, check out a really "cool" feature in the video below.
Connect with a Boating Specialist About Aviara
Elevated Open Water Experience
Aviara is the first brand to fuse progressive style and effortless comfort in a modern luxury boat that's born to break away from it all.
Get on the Water
Finance Your Boat
When it comes to financing the boat you've always wanted, our team has you covered.
Explore Finance Options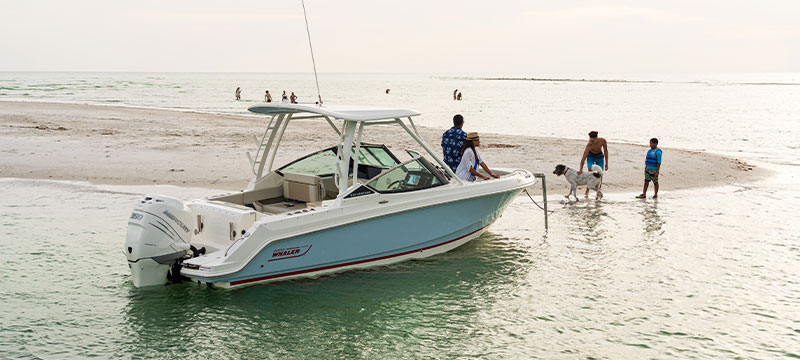 Find Your Perfect Boat Today
Start your search for the boat that has it all for your lifestyle! Explore premium new, used, and brokerage boats.
Search Boats