10 Reasons Why You Need A Pontoon
Look around the next time you're on the water. Pontoon boats are everywhere, cruising, fishing, pulling watersports junkies and, yes, still partying at the sandbar. It's no exaggeration. The pontoon segment has been experiencing steady, sustained growth for years. In fact, it's converting customers from other categories, enticing towsports fans, center-console anglers, even go-fast enthusiasts to come over to the dark, er, gleaming silver side. How did this happen? And more to the point, what exactly might you be missing out on? Here are 10 reasons why you need to consider a pontoon.
1. VERSATILITY

While pontoons will always excel at cocktail hour, today's offerings venture far beyond the old-school status quo. With their roomy decks, minimal draft and stable presence, pontoons make an ideal platform for fishing. Increasing horsepower and agile, V-hull-like handling pleases not just performance enthusiasts but extends the boat's watersports repertoire to include skiing, tubing and wakeboarding. Triple pontoon packages can handle rougher, larger bodies of water and, with saltwater packages, enable pontoons to venture into coastal waters. In fact, pontoons may just be the ultimate crossover — one boat that can satisfy nearly everyone's passions.

2. CUSTOMIZATION

A pontoon's rectangular platform is essentially a blank canvas, enabling buyers to choose a layout that fits their lifestyle and priorities rather than tailor those wants and needs to the confines of their boat. From the club-like lounge seating found on Harris' Crowne or Crest's Carribean series, to the bass seats/livewell focus of Bennington's G22 Fish & Cruise, there's literally a floorplan to match almost any desire.


3. ENTERTAINMENT

Passenger capacity also tips in favor of the pontoon. Have that family get together without leaving anyone at the dock, let those teens invite their friends or host that client get-together after hours. A modern pontoon's plush furniture and individual gathering areas let everyone join together or individual parties break off on their own. Sound systems are capable of pleasing even the most discerning audiophile. Interior and exterior lighting options establish the mood after the sun sets.

4. STORAGE

Tired of finding a spot to fit all that stuff that inevitably finds its way aboard? Pontoons take it all on, organizing every-thing out of sight below all that incredible seating while still maintaining convenient access when needed. Insulated coolers are at the ready, whether they're permanent fixtures below the seats or one that you pack at home and slide under the helm console. Triple pontoon configurations can even take advantage of that center tube's hollow space to provide massive, in-floor lockers, ready to swallow up skis, boards, and fishing equipment.

5. SAFETY & STABILITY

With their wide beam and naturally stabilizing pontoon configuration, wakes and waves won't rock a pontoon like they do a V-hull. That stability offers added peace of mind to passengers, as does perimeter fencing for those with little ones on board. And although modern performance and handling can be jaw-dropping, the average ride remains predictable and never intimidating.

6. MAINTENANCE

Sick of waxing that shiny gelcoat? Any boat needs TLC but pontoons minimize the time and effort. There's little, if any gelcoat to worry about fading or oxidizing from the sun. Aluminum pontoons typically need only seasonal care to keep looking bright and shiny. And though ideally they should always be protected by a cover when not in use, modern vinyls are easy to clean and protect with basic aftermarket products.

7. OUTBOARD POWER

The vast majority of pontoon boats also feature outboard power, which is easier to maintain, service and winterize. Should you decide to upgrade down the road, replacing an outboard is also a relatively simple swap, allowing you to maintain your original investment in the boat itself.

8. LESS PRONE TO DAMAGE

Pontoons naturally sit much higher in the water, where they aren't as susceptible to damage from rocks, logs, or other debris below the surface. An impact that would crack fiberglass will often result only in a dent at best. Pulling up to a beach or sandbar also won't wear or significantly mar the bottom surface like it can gelcoat and fiberglass.

9. INCLUSIVE PRICING

On a tight budget? Basic pontoon models, like Crest's 20' Classic LX, are surprisingly affordable. Models can also be configured to hit a wide variety of price points by choosing different horsepower alternatives, pontoon configurations and interior amenities.

10. COOLNESS FACTOR

And if we haven't convinced you by now, consider this: pontoon boats are cool. Grandparents might still cruise past on their sunset cruise, but so too will twenty-somethings partying with friends, young families with kids, parents still connecting with teens (and their friends), and couples pulling up to the yacht club.
Ready to pick out the right pontoon for you?
Schedule an appointment with your local MarineMax store and allow us to help find your perfect match.
Boat Ownership Costs
Make a smart buying decision by understanding the true costs of owning a boat.
See Boating Costs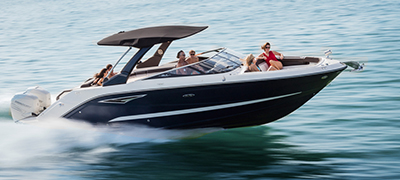 Getting Started is Easy!
Staying safe on the water starts here. Enjoy the journey as you explore different types of boats, activities, and much more.
Discover the world of boating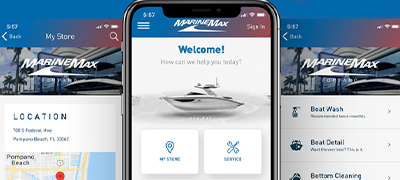 MarineMax App
Scheduling service for your boat or yacht is now easier than ever with the new MarineMax mobile app.
Download Now