MarineMax Pensacola
The team at MarineMax Pensacola are pleased to have been able to serve and provide unparalleled personal customer service to the area's boating community.
Lifestyles

MarineMax Pensacola is proud to be the Pensacola area's authorized

Sea Ray

,

Boston Whaler

,

Azimut

,

Ocean Alexander

,

Galeon Yachts

,

Grady-White

, and

Harris Pontoons

dealership. MarineMax Pensacola maintains a marina with a full-service retail sales, marine repair and service facility. It is conveniently located at 1901 Cypress Street with easy water access to the surrounding bays and the Gulf of Mexico. The team at MarineMax Pensacola are pleased to have been able to serve and provide unparalleled personal customer service to the area's boating community.

Tucked away in a quiet basin near the inlet to Bayou Chico, MarineMax Pensacola and Oar House Restaurant provides the perfect starting point to area's many dock and dine restaurants, sugar white sandy beaches and all the wild beauty of nature on Pensacola Bay, the Escambia Bay, East Bay, Blackwater Bay and the open waters of the Gulf of Mexico. A popular destination is Fort McRee where many MarineMax team members and customers frequent on weekends for the lively and highly entertaining celebrations of the boating lifestyle.

Local boating enthusiasts enjoy cruising to local waterways and bays visiting waterfront restaurants and sandbar beaches as well as cruising to far away destinations such as New Orleans or Key West. Pensacola bay supports a wide variety of inshore gamefish species. Locals and visiting anglers alike target sheephead, redfish, and trout. Offshore anglers enjoy the challenge of tuna, wahoo, cobia, king and Spanish mackerel, along with billfish that can be found in the waters of the Gulf.

Our MarineMax Pensacola team members and their customers are true boating enthusiasts. They relish their time on the waters that are practically everywhere you turn in and around the waters of northwest Florida.

For more ideas of where to boat in the areas waters, stop by

MarineMax Pensacola

and talk to one of our experienced sales professionals. They love to share their boating adventures.

Events and Getaways

MarineMax owners should keep an eye on the MarineMax Pensacola

Calendar of Events

. You would not want to miss an exclusive Docktail Party, or

Getaways!®

hosted by MarineMax Pensacola. There is always something to look forward to as a MarineMax Pensacola owner.

Classes

When you purchase a boat from MarineMax Pensacola it is the start of our commitment to you, our customer. At delivery, your new boat is fully fueled, all the lines are aboard and the U.S.C.G. safety equipment is provided. You can simply provision your boat and begin living the boating lifestyle you desire. Throughout the boating season MarineMax Pensacola's team members provide

informational and instructional seminars

on boating, including seminars on fishing, watersports, navigation and the popular

Women on Water classes

.

Service

MarineMax Pensacola is a full-service dealership, providing the areas highest quality marine repair and service. Our factory-certified technicians service all top brands and MarineMax Pensacola maintains a well-stocked parts department with OEM parts and marine accessories. In many cases, MarineMax Pensacola's service team can provide service at your boat's location using the new MarineMax app. World-class service is a hallmark of MarineMax Pensacola.

Marina

We offer highly desirable covered wet slip storage up to 55'. Our floating dock wet slip storage can accommodate up to 58'. Both our covered and floating slips have electricity, potable water and locking dock boxes. The popular inside dry storage barn houses 210 slips for boats from 17' to 38'. Outside rack storage will also accommodate 83 racks for boats from 17' to 38'.

We recently made a few improvements including the addition of a Marine Travel Lift forklift - capable of lifting boats up to 38' for inside dry barn storage, a brand-new Travel Lift - capable of hauling yachts to 65'. We added a high-speed diesel pump at the end of our fuel docks, and installed new equipment improving WI-FI on the docks. Most notable is the expansion of our outside dry storage racks increasing capacity by 30%. Customers are provided with the BoatCloud APP, an easy way to schedule boat launching as well as our premier concierge services of filling your boat with fuel, ice and reserving boat washes. Additionally we offer beer, wine and other refreshments available at our fuel dock. Overall, we made these upgrades to the facility and storage to accommodate the evolving needs of today's boater.

Marina Summer Hours

Mon-Sat: 8:00 AM – 5:00 PM

Marina Launch/Haul/Float/Fuel Hours

Mon-Thurs: 7:00 AM – 6:00 PM
Fri-Sun: 7:00 AM – 7:00 PM

Fuel Dock Hours

7 Days a Week: 8:00 AM – 5:00 PM

Storage Pricing

Covered Wet Slips: $648.00 - $804.38 per month, tax and electric included
Wet Slips: $373.00 - $644.20 per month, tax and electric included
Inside Dry Storage Barn: $340.00 - $585.00 per month
Outside Dry Storage Racks: $300.00 - $500.00 per month

Storage Terms

Both Inside Dry Barn and Outside Dry Rack storage includes unlimited launches during business hours
Contract terms: Annual
Charges deducted monthly via card on file
Includes use of facility amenities and free app for managing boating
Current insurance and registration required
One Transient Slip Available for Booking; $3.00 per foot per day, electric included
Call for reservation; payment due in advance

Hurricane Haul-Out

$2,500.00 for reservation plus haul out and launch fee

Haul-Outs & Hoist

$375.00 for Survey Haul-Out with travel lift
$175.00 for Survey Haul-Out with fork lift (38' and under)
$75.00 for Static Hoist per use

We have a brand new Marine Travel Lift forklift capable of lifting boats up to 38' and a brand-new Travel Lift capable of hauling yachts up to 65'.

*May vary by season, subject to change without notice. Limited space available.
Find Your Perfect Boat

Boating with MarineMax will change your life, and in a very good way. Start searching for your dream boat today. We carry a large selection of premium boat brands ranging from extra-fun sport boats to luxury yachts. We make it easy to narrow your search and find your perfect boat.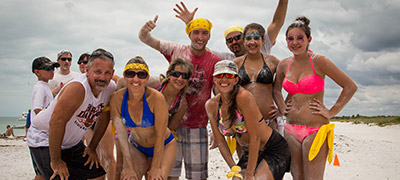 Find an Event
All this fun is exhausting – NOT! We love creating entertaining and exciting customer events. Each is designed to make boating the most remarkable leisure activity in your life.
Find an Event
Find Your Perfect Boat Today
Start your search for the boat that has it all for your lifestyle! Explore premium new, used, and brokerage boats.
Search Boats
Our Team Is Your Advantage
Supporting owners with a team of experts to ensure you enjoy boating to the fullest.
Meet Our Team