Let the Water Change Your Life
When the water calls, let MarineMax deliver all of boating's magical moments. We're a community of boaters, United by Water, ready to guide your journey. Whether you're an experienced boater or a first-timer, we'll get you on the water, creating fun and great memories.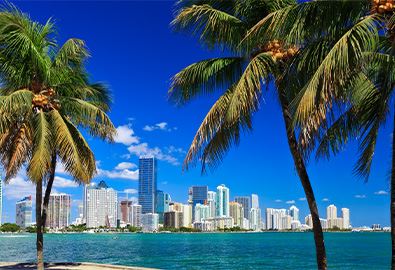 Miami, Florida
Feb. 13-17, 2020
Join MarineMax February 13 - 17 as the boating community descends upon Miami to see the latest models, technology, and more.
Map of MarineMax Jacksonville at Beach Marine Location
MarineMax Jacksonville at Beach Marine
Sales Showroom
Monday:

8:00 AM - 5:00 PM

Tuesday:

8:00 AM - 5:00 PM

Wednesday:

8:00 AM - 5:00 PM

Thursday:

8:00 AM - 5:00 PM

Friday:

8:00 AM - 5:00 PM

Saturday:

9:00 AM - 5:00 PM

Sunday:

Closed
Service Department
Monday:

8:00 AM - 5:00 PM

Tuesday:

8:00 AM - 5:00 PM

Wednesday:

8:00 AM - 5:00 PM

Thursday:

8:00 AM - 5:00 PM

Friday:

8:00 AM - 5:00 PM

Saturday:

9:00 AM - 1:00 PM

Sunday:

Closed

* Service open Saturdays from March to November
Parts Department
Monday:

8:00 AM - 5:00 PM

Tuesday:

8:00 AM - 5:00 PM

Wednesday:

8:00 AM - 5:00 PM

Thursday:

8:00 AM - 5:00 PM

Friday:

8:00 AM - 5:00 PM

Saturday:

9:00 AM - 1:00 PM

Sunday:

Closed

* Parts open Saturdays from March to November
Jeff Wilson

General Manager

Eddie Atkinson

Business Manager

Mike Hawkins

Brokerage Consultant

Morris Hackett

Service Manager

Joe Hoffman

Delivery Captain

Larry Vogt

Sales Consultant

Grant Droogsma

Sales Consultant

Zack Petrous

Sales Consultant

Carl Nelson

Sales Consultant

Summer Allison

Marketing and Getaways Coordinator

Brenda Addis

Sales Admin

Steve Rayhorn

Service Advisor

Camden Owens

Parts Lead Consultant

Darren Klotz

Parts Consultant

Rick Bellinger

Service Assistant

Mike Asaro

Service Tech

Chris Gebbia

Service Tech

Jayde Gouveia-Hernandez

Service Tech

Josh Kent

Service Tech

Edgar McClintic

Service Tech

Wayne Montgomery

Service Tech

Mariano Nunez

Warranty Advisor

Roger Prince

Service Tech

AJ Womack

Servie Tech

Sean Whietecki

Service Tech

Tyler Thompson

Service Yard Tech

James Arthur

Service Tech

Angel Caraballo

Detailer
View More