Your Local Store
MarineMax St Petersburg
Sales Center
Monday:

9:00 AM - 6:00 PM

Tuesday:

9:00 AM - 6:00 PM

Wednesday:

9:00 AM - 6:00 PM

Thursday:

9:00 AM - 6:00 PM

Friday:

9:00 AM - 6:00 PM

Saturday:

9:00 AM - 5:00 PM

Sunday:

11:00 AM - 4:00 PM
Service
Monday:

8:00 AM - 4:00 PM

Tuesday:

8:00 AM - 4:00 PM

Wednesday:

8:00 AM - 4:00 PM

Thursday:

8:00 AM - 4:00 PM

Friday:

8:00 AM - 4:00 PM

Saturday:

8:00 AM - 12:00 PM

Sunday:

Closed
Parts
Monday:

8:00 AM - 4:30 PM

Tuesday:

8:00 AM - 4:30 PM

Wednesday:

8:00 AM - 4:30 PM

Thursday:

8:00 AM - 4:30 PM

Friday:

8:00 AM - 4:30 PM

Saturday:

8:00 AM - 12:00 PM

Sunday:

Closed
6810 Gulfport Boulevard
St Petersburg, Florida 33707
St. Petersburg Marina Amenities
MarineMax St. Petersburg
About Our Marina
Welcome to MarineMax St. Petersburg Marina! Conveniently located on Boca Ciega Bay off the Gulf of Mexico, we provide unparalleled boating services and sales to the Tampa Bay area. Our marina offers top-notch boat storage and full service alongside a vast selecti
About this Marina
At MarineMax St. Petersburg, we offer a variety of amenities including in-water slip storage for boats up to 90 feet. We also offer high and dry outdoor storage, as well as indoor storage that keeps boats protected from the elements. Additionally, we provide an array of convenient services including carpentry and paintwork, and amenities like high-speed fueling and pump-out stations to make your boating experience as seamless and enjoyable as possible.

Our factory-certified technicians are experts in everything from routine maintenance to major repairs, and we use only genuine manufacturer parts to ensure the best possible performance.

Our marina also has a boat metal fabrication shop, fiberglass repair shop, boat woodworking shop, indoor paint facility, and an expert electronic specialist. Our fully stocked boat accessories store has all the boating essentials you need, including marine equipment and parts.

Newly enhanced facilities and amenities we offer include WiFi, ice, and clean restrooms and showers. We're also pet-friendly so you can bring your four-legged friends with you!

Whether you're looking to buy a new boat or yacht, store your boat, or need reliable boat service, MarineMax St. Petersburg Marina has you covered. Contact us today to learn more about our services or to schedule a tour of our marina.
Shop Boating Parts:

Find all your boating needs at MarineMax St. Petersburg. We have an extensive department full of marine equipment, boat accessories, and high-quality parts in stock and ready to use. Work with our knowledgeable staff who can help you find everything you need to get out on the water and keep your boat running. Shop with us today!
Services At MarineMax St. Petersburg
Onsite Marina Services At MarineMax St. Petersburg
MarineMax St. Petersburg is a full-service marina that provides the best service and repair from experienced service technicians.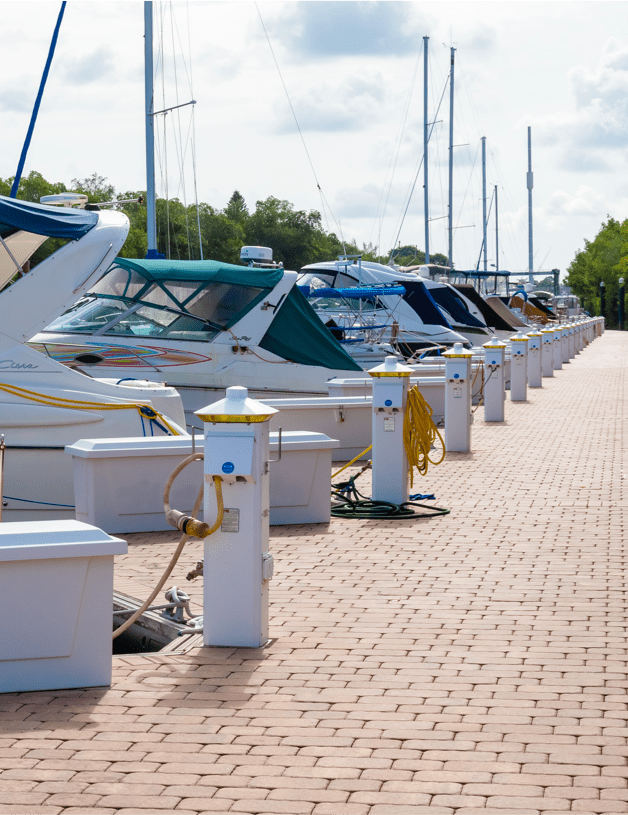 Our MarineMax carpenters and craftsmen are versed in the widest range of materials, methods, and technologies of carpentry and joinery. Whether the job is big or small, our experts can handle it.
Boat Carpentry and Joinery
Our MarineMax team consists of highly skilled professionals who will repair your boat's fiberglass and composite-related damages as soon as possible so you can get back on the water in no time.
Boat Fiberglass Repair and Composites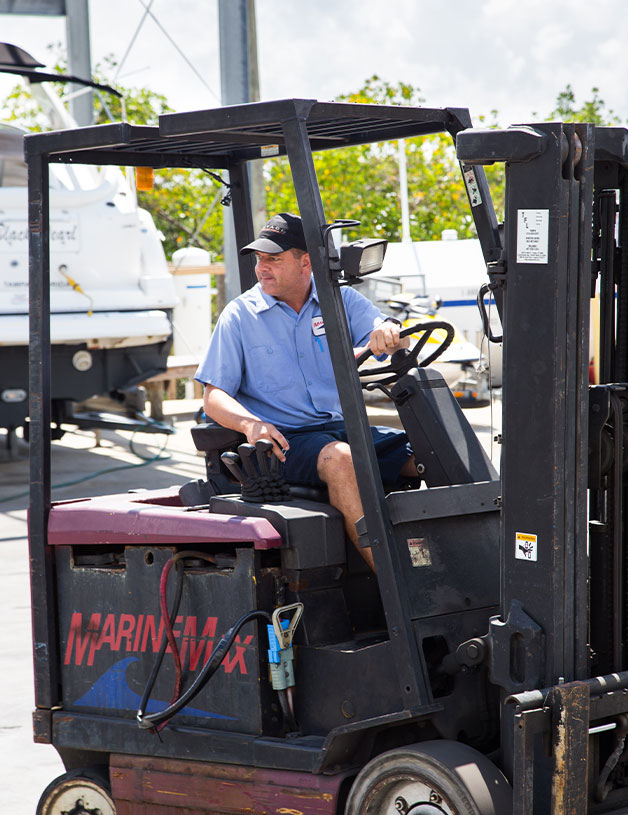 Our MarineMax team can cover all your marine and architectural rigging requirements. All running and standing rigging is carefully inspected and repaired by our experts so you can get back to boating in no time.
Sailing Rigging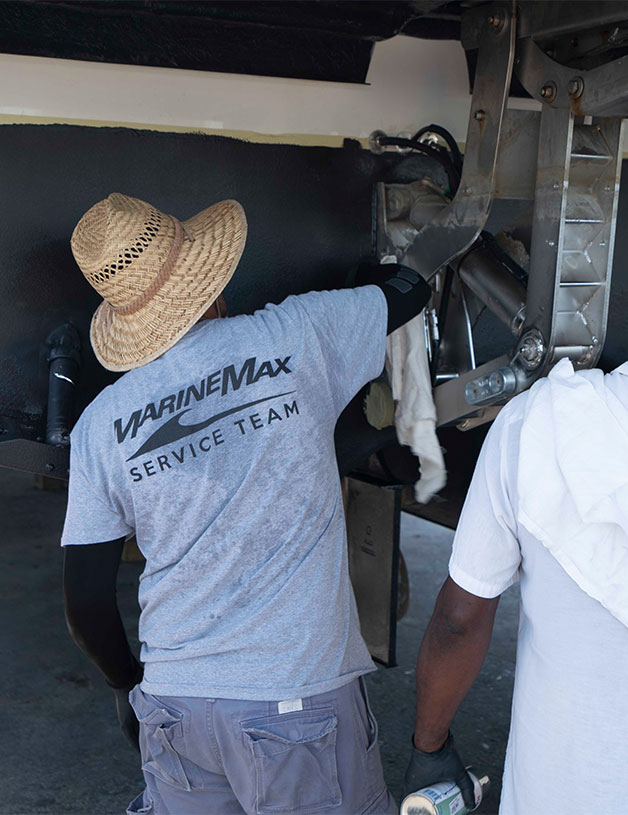 Keep your whole vessel running like new with our highly skilled MarineMax mechanics and extensive services. We provide a full-service approach to all your marine mechanical service needs. Simplify your boat maintenance. Our expert marine mechanics provide quality services for all the systems on your boat, so you spend more time boating. maintenance. Our expert marine mechanics provide quality services for all the systems on your boat, so you spend more time boating.
Boat Mechanical System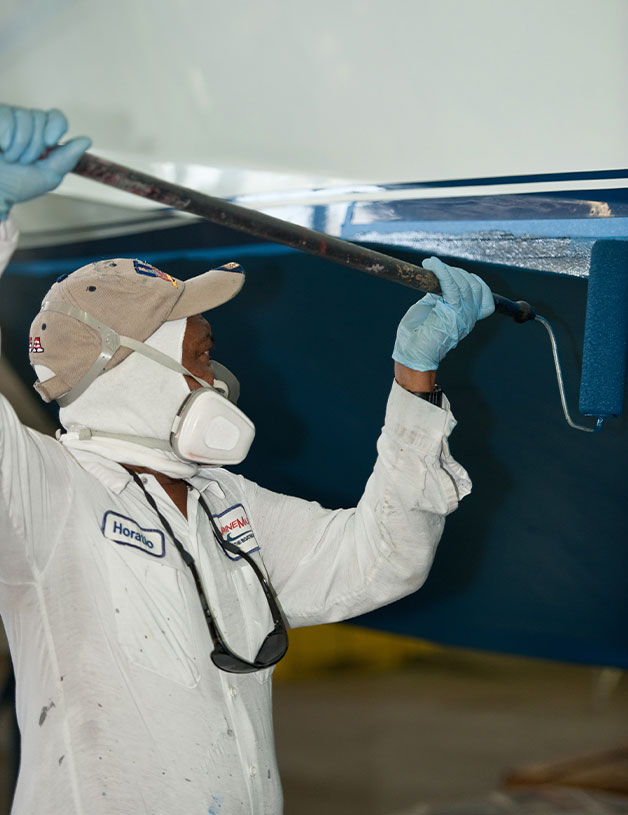 Let MarineMax bring your boat back to life. We can restore your boat's paintwork to its original beauty, fix any dings or scratches, or even completely redesign it.
Boat Paintwork and Finishing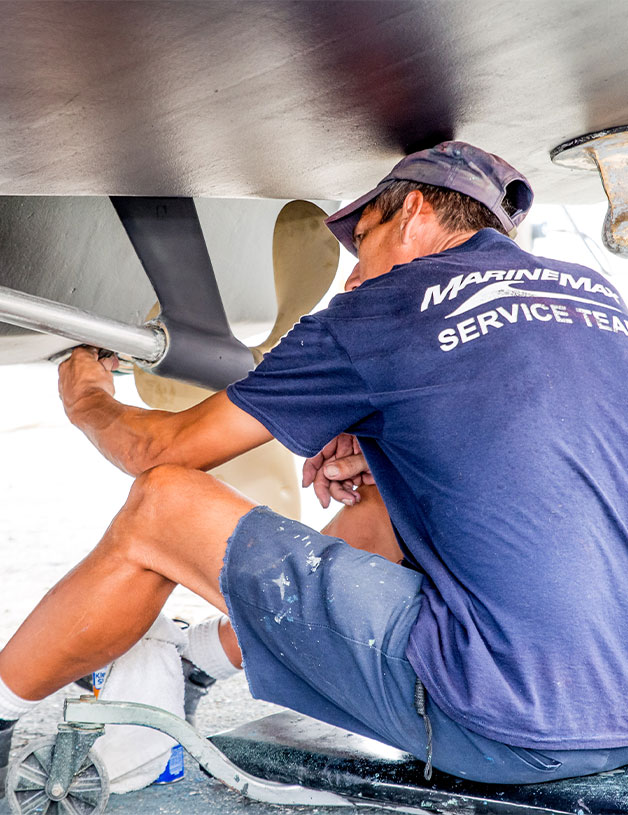 Your boat and yacht plumbing systems require maintenance and care. Come to MarineMax to keep your boat in pristine operating condition.
Boat Plumbing and Sanitation Systems
St. Petersburg Marina
(727) 343-6520
Monday - Thursday:
8:30am EST - 5pm EST
Saturday & Sunday:
8:30am EST - 5pm EST
Shop Boats For Sale
Our inventory includes high-end brands such as Sea Ray, Boston Whaler, Aviara, Hatteras, Azimut, Ocean Alexander, Galeon Yachts, Aquila Power Catamarans, Nautique, and NauticStar, offering a wide range of boats and yachts that cater to diverse boating lifestyles..
Events near St Petersburg
Join Us for Events and Classes!
Discover The St Petersburg Boating Lifestyle
Boating along the southern Pinellas County peninsula is a favorite for the area's boating enthusiasts. Great destinations like St. Petersburg, John's Pass, Shell Key, Anna Maria Island, and Tampa are all within easy reach of MarineMax St. Petersburg. Every type and style of boat can be seen on the bay on any warm summer day, from 19-foot sport boats to luxurious yachts, and everything in between.
MarineMax team members and customers alike delight in boating to the many beautiful sites in and around St. Petersburg and Gulfport. A typical day could include fishing for tarpon in the morning, then putting in at Fresco's docks in St. Petersburg for a bite to eat and a stroll along downtown's colorful Beach Drive in the afternoon to check out the charming shops. Other activities enjoyed by area boaters include the popular raft-up locations at local sandbars where party vibes and the mesmerizing crystal-clear waters combine to create highly entertaining celebrations of the boating lifestyle.
The MarineMax St. Petersburg team members are all boating devotees who spend their free time on the waters of the Gulf of Mexico, Tampa Bay, and beyond. You will find them with customers and friends enjoying the party sandbars and watersports, cruising to great dockside restaurants, or just relaxing in the warm Florida sun. There's also great fishing in our area with opportunities to catch tarpon, redfish, snook, trout, and even the occasional flounder.
With hundreds of miles of shoreline, there are essentially endless opportunities on the waters of the southern Pinellas Peninsula to discover all boating has to offer.
Finance Your Boat
When it comes to financing the boat you've always wanted, our team has you covered.
Explore Finance Options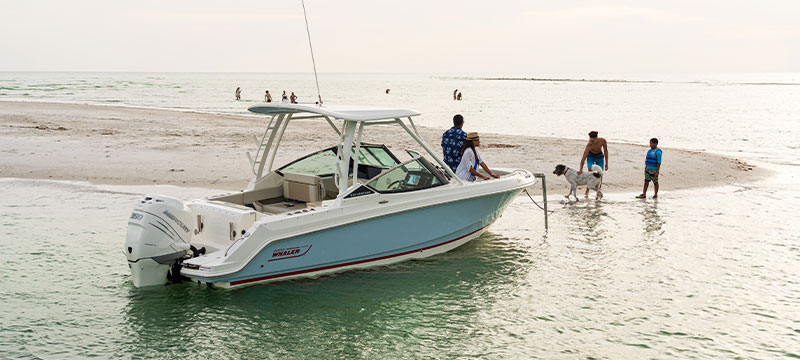 Find Your Perfect Boat Today
Start your search for the boat that has it all for your lifestyle! Explore premium new, used, and brokerage boats.
Search Boats
Boating Made Easy
Sign up for My MarineMax to start maintaining your boating lifestyle with ease.
Sign Up Now