Top 15 Cool Boat Gadgets and Products
Every boat needs to be stocked with the necessities – life jackets, flares, fire extinguishers, and more. But one of the best parts about accessorizing your vessel is the fun and functional gadgets and products that you never knew you needed but are grateful to have on board. Plus, with Father's Day right around the corner, these gadgets make great gifts!
1. FUSION–ARX70 ANT Wireless Remote

Control your music from anywhere on your boat. Whether you're fishing at the transom or about to jump from the swim platform into the water, audio control is within reach anytime, anywhere with the ARX remote – it's never been so easy. And, if you're looking to learn more about marine audio, check out this Boating Tips LIVE episode.

2. Non-Tipping Can Cooler

Say goodbye to accidental beverage spills! This un-spillable beverage cooler is perfect for the boat. Their innovative SmartGrip technology allows the Can Cooler to stick to any smooth surface. From a lack of cup holders on a rocking boat to wagging dog tails, this product will keep your drink upright, accident-free, and icy cold.

3. SportsStuff Booster Ball With Custom Tow Rope

This is a must-have accessory for anyone who enjoys tubing with the family. This buoy reduces rope spray, absorbs shock, and reduces drag, making the activity much more enjoyable for everyone. Take a look at our Top 10 Lakes Ever Boater Should Visit in the U.S. for great places to tube around!

4. Sport Solar Cooker

Go all-natural with a solar cooker that lets you cook a meal with only the sun. And with the pre-installed boat clamp attachment, it's sea-worthy, too. The best part is that it actually works! The weather doesn't have to be perfect for it to work either. As long as there is some sun, you can cook a meal even when it is cold, overcast or windy outside.

5. Docktail Boat Bar and Ultimate Marine Cup and Bottle Holder

The Docktail Bar holds just about everything you need for a sandbar, lake, or dockside party. No more worries about spilled drinks or broken glass from cups and bottles sliding around the rocking boat. Let the Docktail Bar hold your drinks so you can have all the fun. And, here's a new drink recipe to try out with it.

6. Hoop Mesh Trash Bag

What do you do with your trash on board? This product makes cleaning the deck a breeze. It's essentially a mesh bag that holds more than a 20 empty cans, and the bag's unique design means the cans don't fly out when running. Plus, it's washable and reusable. Keep our oceans clean just like how MarineMax and Boston Whaler do by partnering up with Guy Harvery Ocean Foundation.

7. KastKing Cutthroat 7 Inch Fishing Pliers

These are THE pliers for the fishing fanatic. Fans say they love the grips on the handles, the quality and thickness of the pliers, the side mounted cutters, and the case.

8. Dockmate Deluxe Mooring Whips

The Dockmate Mooring Whips provide a ''safety zone'' between dock and boat with a unique ''spring action'' that keeps your boat away from the dock.

9. Scanstrut ROKK Phone Kit

Using a suction cup technology, this gadget keeps your phone secure at the helm. The Scanstrut ROKK Phone Kit is a rugged, versatile mount that'll keep your device secure in even the most extreme conditions. Once you have your phone secure, check out some useful apps to download that can be helpful out on the water!

10. Digital Pocket Anemomter

Measure the wind speed in the palm of your hand. This is helpful when docking or anchoring, and can also give you a better idea of what's to come later in the day. And at less than $20, it's a nice backup even if your other gadgets on board have a built-in anemometer.

11. JStoon Night Vision Goggles

If your boat trip runs long, you want to be able to navigate home as safely as possible. Night vision goggles can help you do so. Plus, you'll certainly impress young children and grandchildren with these goggles.

12. Ultra Absorbent Shammy Towel

This synthetic drying towel will never scratch or scuff, leave behind streaks, lint, water-marks or residue, leaving your boat spotless after a good wash. The Better Boat ultra absorbent towel was developed by boaters, for boaters so that you could spend less time cleaning and more time on the water.

13. LEATHERMAN Multitool

Designed for the outdoors, this multi-tool packs a firestarter, hammer, one-handed blade, an emergency whistle, and much more. It's small and compact, so it's perfect for when you're on the boat or on the go. Be prepared for wherever adventure takes you.

14. GLANDU Heavy Duty Super Bright Searchlight

A marine spotlight is one of the handiest marine accessories to have aboard. It can help you find a navigation aid or landmark in the dark. A spotlight can also help you find things dropped in the water — if the thing floats, or the water is shallow and clear.

15. REEF DRAFTSMEN

These full-grain leather sandals have arch support, a non-marking rubber outsole with excellent traction, and even a built-in bottle opener. Boaters, rejoice in these durable and comfortable sandals.
Women on Water
Exclusive classes especially for women ready to take the helm while gaining more confidence in the operation and care of their boats.
Search Women on Water Classes
View Our Marinas
With vast storage, convenient locations, and incredible benefits, our marinas are the perfect place for your boat to call home.
Where's My Marina?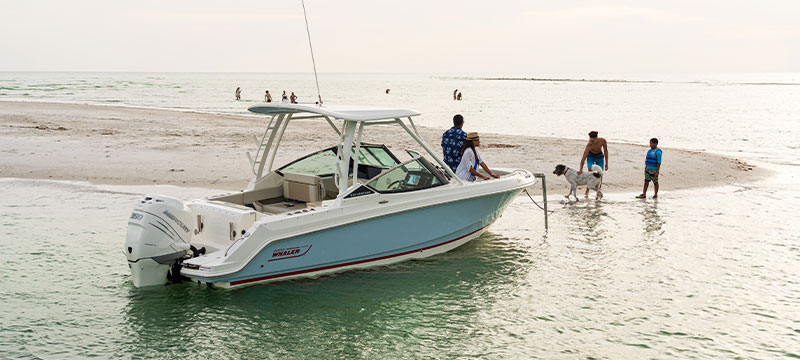 Find Your Perfect Boat Today
Start your search for the boat that has it all for your lifestyle! Explore premium new, used, and brokerage boats.
Search Boats