MarineMax Celebrates Marine Service Technician Week
WRIGHTSVILLE BEACH, NC (April 29, 2022) - Spring has sprung, and so has Marine Service Technician Week! From April 24 through April 30, technicians from all over are being recognized for their hard work and dedication within the boating industry by the American Boat & Yacht Council (ABYC) and others. ABYC designated this weeklong event to bring awareness and recognition to hard-working professionals who keep boats safe, reliable, and enjoyable.
Andy Rishovd, National Service and Parts Manager, comments, "MarineMax is extremely grateful for all our hard-working technicians who keep our boats running and put smiles on customers' faces. We are thrilled to have all the stellar men and women who perform rigorous work on our boats and yachts. You are an essential part of the MarineMax family, and without you, we wouldn't be where we are today. Thank you to all our wonderful technicians!"
MarineMax Wrightsville Beach Service Manager Jim McCarley adds, "We nominated Jack Coon as our representative for Marine Service Technician Week for Wrightsville Beach. He's been with the company for 16 years holding several master certifications. Congrats to Jack for winning one of the ABYC giveaways this week, he certainly deserves it."
Jack's list of certifications includes ABYC Technician Certification – Marine Electrical, Garmin Certified Installer, Simrad Certified, Raymarine Certified Installation and Service Technician, and Lifetime Certified Marine Electronics Technician. He tells his story below.
Not sure what to do with my life, I joined the Navy directly out of high school and trained to become an Electronics Technician. From the first time I worked on electronics, I found that I had a passion for it. While in the Navy, I got married and started a family. Being in the Navy meant being away from my family for long periods, so I decided to leave the military and pursue a career that would allow me to be home more often.
Because of the extensive training I had in the Navy, it was a natural transition into the marine industry as electronic/electrical technician. I worked for nine years with a company that installed and repaired electronics on many different types of boats and subcontracted for MarineMax. After a while, I was recruited by MarineMax to work directly for them. Since then, I have enjoyed 16 years of successful and challenging work for the leading boat dealership in the country.
During my time in the marine industry, I have acquired many certifications. I have certifications for most of the major manufacturers of electronics. In addition, I have been ABYC certified electrical since 2001 and currently hold a lifetime NMEA CMET (certified marine electronics technician) certificate.
Marine technicians make up a vital part of the marine industry by keeping boats properly maintained and making sure recreational boaters stay safe out on the water. According to the National Marine Manufacturers Association (NMMA), annual sales grew by 14% in 2020, with some states like Florida up 28% from 2019. With more boats, comes a greater need for highly skilled marine service technicians
"This week is a great chance to acknowledge the skills of marine service technicians and highlight individuals for their dedication to boating safety," said David Broadbent, ABYC education director. "We owe a big thank you to all the techs who excel at their jobs and remain current with the industry's newest technologies."
To learn more about International Marine Service Week visit www.abycinc.org/thankyoutechs.
Interested in Becoming a Service Technician? Connect with us below.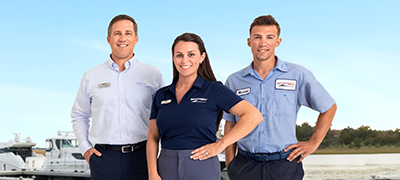 Be The Best of the Best
We pride ourselves on creating an environment for team members to develop their skills and continue growing in their field. Opportunity is knocking!
Join Our Team
Let's Get Social 👍
We want to hear from you! Share your boating photos and videos. You may even get featured on one of our channels, along with the latest news from across the boating industry, fun stories from fellow boating enthusiasts, and much more!
Follow Us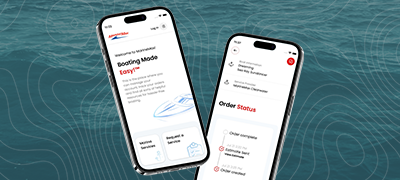 MarineMax App
Scheduling service for your boat or yacht is now easier than ever with the new MarineMax mobile app.
Download Now