Yacht Consultant Helps Customers Find Their Dream Yacht
~ Longtime Boaters Join the Ocean Alexander Family ~
~ Dave Michie Finds the Perfect Yacht Ocean Alexander Customer ~
NAPLES, FL (September 15, 2020) – A new family begins their yachting journey aboard a 2015 72 Ocean Alexander Pilothouse.
Dave Michie, MarineMax Naples Sales Consultant, states, "It was a fun process to find this vessel for the buyers. They are great and were very patient until the right boat and deal presented itself. I have to thank my cohort Bruce Siler, Ocean Alexander Brand Manager, for assistance brokering the deal."
Ocean Alexander builds yachts with traditional lines and contemporary styling. The 2015 72 Ocean Alexander Pilothouse clocks in at an overall length of 73' 5" (22.3 meters) and a beam of 18' 11" (5.77 meters) with a long extended overhead bridge deck and curved lines. The side decks allow plenty of space to transition from bow to stern safely. And inside, she has a raised pilothouse with clear views, a private full-beam master cabin, and three guest suites.
Michie continues, "
Ocean Alexander
builds a great boat with many features and a perfect layout for this Georgia-based family. They traded out of a 55-foot Fleming because they wanted more space. The family is excited to have four staterooms for traveling off the coast of Miami and Northwest Florida."
MarineMax stands by its commitment to provide the world's best pleasure boating experience. With team members across the nation and a network across the globe, an entire team is dedicated to your enjoyment on the water. MarineMax is here to provide you with the very best service imaginable and help make the most of your time out on the water.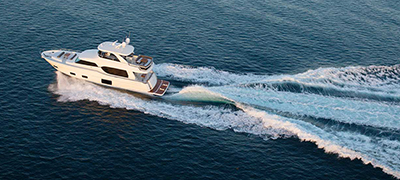 Unmistakable Splendor
Ocean Alexander radically raises the bar in the sheer abundance of luxury and expensive detail they include. But just beneath the very-evident pleasures, they build strong defenses for your safety.
Get on the Water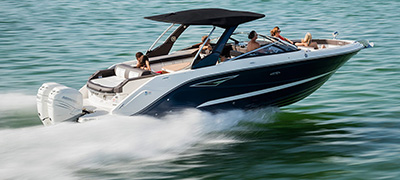 Find Your Perfect Boat Today
Start your search for the boat that has it all for your lifestyle! Explore premium new, used, and brokerage boats.
Search Boats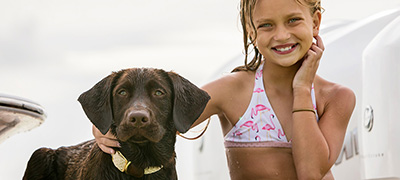 The Boating Lifestyles Blog
Browse hundreds of articles on customer stories, tips, trends, gear, amazing boating locations and more found in our MarineMax Lifestyles Blog.
Explore Boating Articles