Deserving Fort Lauderdale Police Officer Wins Day on Water
- Giving Back is What He Does Best. Now it's Dad's Turn to Relax. –
- Community Philanthropist Wins Contest; Spends Day on the Water with Family. -
FORT LAUDERDALE, FL (July 7, 2020) – Surrounding Father's Day, the Virtual Palm Beach International Boat Show and the MIAPBC worked with MarineMax to offer one Frontline Hero a "Father's Day on the Water." The lucky winner was a deserving father who also doubles as a police officer and community philanthropist.
Early on Tuesday, June 16, Sergeant James McDowell of the Fort Lauderdale Police Department, was informed that he was the winner of the Virtual Palm Beach International Boat Show's "Frontline Super Dad" contest. Sergeant McDowell and his family were treated to a four-hour lunch cruise aboard a brand new
Galeon Yacht 425 HTS
, sponsored by
MarineMax Palm Beach at PGA Marina
.
"I knew my wife submitted my name for a contest, but I had no idea what the prize was going to be," said Sergeant McDowell. Tanya, his wife, wrote an exquisite submission detailing the hard work James does for his community.
My husband, James, is a phenomenal man. He is a Sergeant for the Fort Lauderdale police department and is currently responsible for overseeing the city's school resource officers. When he is not working, he runs a nonprofit called Youth Behind the Shield that he founded in 2017 for at-risk students at Dillard High School… He also reads to Elementary students in his free time and volunteers in the community… For the last three years, he has escorted a senior young lady who does not have a father to an event called Father's MIA, a function similar to a prom for senior girls. He also volunteers with the Men of Tomorrow, a program for middle school and high school boys. He has many students and mentees that consider him a father because of his selflessness and kindness.
Sergeant James McDowell prides himself on helping youth through mentoring and outreach with local organizations that include Youth Behind the Shield, Father's MIA, and Men of Tomorrow. These separate organizations all share one common purpose – to provide resources for young people to find their way in the world.
"I believe you leave it better than you found it," continues Sergeant McDowell. "These programs are led with passion. And this is just me, fulfilling my purpose to show people that there is more to the uniform. We pour into kids' lives to help them with the challenges that they may be facing. We talk about life skills, dealing with challenges, checking in with grades, and figuring out what they want to do after high school or college."
The "Father's Day on the Water" contest found a very deserving dad and provided a fun day away from land to connect with family and experience the #BoatLife. Sergeant James McDowell is the father of two biological boys and one adopted baby girl. The entire family enjoyed the day at sea and will share memories for years to come.
Hear the full interview with Sergeant James McDowell on MarineMax's
From the Helm Boating Broadcast
on Thursday, July 9, at 11:00 am. The show premieres on both Facebook and YouTube, and viewers are encouraged to make comments and ask questions.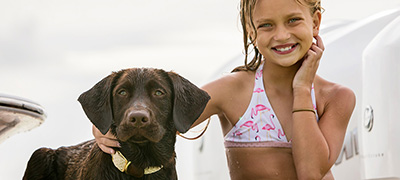 The Boating Lifestyles Blog
Browse hundreds of articles on customer stories, tips, trends, gear, amazing boating locations and more found in our MarineMax Lifestyles Blog.
Explore Boating Articles
Let's Get Social 👍
We want to hear from you! Share your boating photos and videos. You may even get featured on one of our channels, along with the latest news from across the boating industry, fun stories from fellow boating enthusiasts, and much more!
Follow Us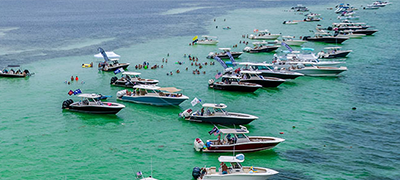 Find an Event
All this fun is exhausting – NOT! We love creating entertaining and exciting customer events. Each is designed to make boating the most remarkable leisure activity in your life.
Find an Event