MarineMax Women on Water Boating Safety Classes Go Virtual
CLEARWATER, FL (April 28, 2020) – MarineMax is committed to providing the world's best pleasure boating experience. On top of purchasing boats online and scheduling service appointments digitally, customers can now take virtual classes to expand their boating knowledge.

MarineMax Director of Marketing, Abbey Heimensen, comments, "we continue to look at existing and new technology to improve the boating lifestyle and allow customers to choose how they find the boat of their dreams, how they complete the purchase process, and how they take the boat home. Every customer becomes part of our family, and a full orientation and boating education is something we've always offered. We're navigating the best way to bring our classes online so customers can continue their education and feel safe and secure on the water."

The highly popular MarineMax Women on Water® class, designed to inspire confidence on the water, gets women behind the helm, enjoying the boating lifestyle. The course presents information in an active, fun, and supportive environment. And now participants will take the virtual helm for an online edition where they will learn boating basics like line handling and how to tie proper knots, boat terminology and the rules of the water, and boating safety techniques. Classes are taught by U.S. Coast Guard licensed captains who have been certified by MarineMax to conduct the lesson. Whether you are new to boating or have been on the water for a while and are now ready to take the helm, MarineMax Women on Water classes can help you gain confidence on the water to be the captain of your own ship - no matter how large or small your boat may be. MarineMax anticipates more locations announcing new classes each month. The best place to check for upcoming courses is the MarineMax website or on the MarineMax App under the events tab. The first classes to go virtual include:
• MarineMax Charleston, SC | Thursday, April 30 | https://bit.ly/2xTPDsM
• MarineMax Baltimore, MD | Saturday, May 2 | https://bit.ly/3eRpQ4W
• MarineMax Clearwater, FL | Monday, May 13 | https://bit.ly/2zDbCVn
• MarineMax Brick, NJ | Thursday, May 16 | https://bit.ly/2W0XgFM
• MarineMax Somers Point, NJ | Thursday, May 16 | https://bit.ly/2SbOhQV
• MarineMax Ship Bottom, NJ | Thursday, May 16 | https://bit.ly/2S8egso
• MarineMax Lake Hopatcong | Thursday, May 16 | https://bit.ly/3eZo9CK

Heimensen continues, "the MarineMax App is an excellent resource to keep up to date with the latest classes offered at your location. And with secure payment processing and access to 24/7 communication, customers can easily shop for a new boat or schedule service to take care of their current boat, all from the comfort of their own home. The goal of the app is to provide an exceptional shopper experience and help customers spend more time on the water and less time taking care of their boat."

The MarineMax App is a digital platform built to transform the customer experience when it comes to boating. The app has one goal: to help boaters indulge their passion for the water. With the touch of a finger, boaters can easily connect with a local MarineMax store and order services for their boat – from routine maintenance, requesting a wash or fuel, to complete repair or upgrade projects. You'll also find access to upcoming events and inventory. Download the app on iTunes or Android to connect with your local store, http://bit.ly/2SDXxyc.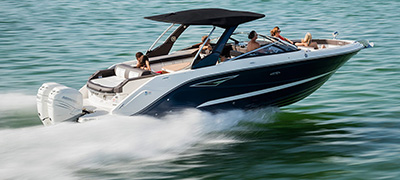 Find Your Perfect Boat Today
Start your search for the boat that has it all for your lifestyle! Explore premium new, used, and brokerage boats.
Search Boats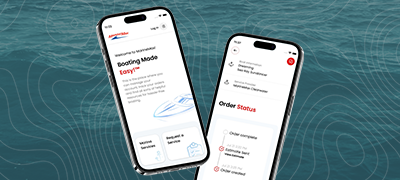 MarineMax App
Scheduling service for your boat or yacht is now easier than ever with the new MarineMax mobile app.
Download Now
Women on Water
Exclusive classes especially for women ready to take the helm while gaining more confidence in the operation and care of their boats.
Search Women on Water Classes