Our Team | Your Advantage
MarineMax, along with providing top notch boats, also works to create a relationship with each and every one of our customers. When you join the MarineMax family you get just that, a family. Our team works hard so that we can offer each boat owner the best sales experience possible, quality and friendly service, along with luxury vacations, exclusive events, classes and so much more. We want to provide our customers with a lifestyle and not just a boat.
We recently reached out to our customers to find out "Which team member made a difference in you boating experience?" There were many great stories that assured us that we are accomplishing our mission to provide an amazing boating experience for each customer, but our favorite story was from Matthew Gowen who talks about his journey with MarineMax and where he stands now in his boating life. The following is his response:
I wanted to quickly send you guys a note to compliment Jacob Coyle and the MarineMax experience. I grew up in Northern Florida with a love for boats and the water; spending a ton of time on my friends' and our families' boats --- but never having owned one myself. Since I was a teenager, I had always dreamed of one day living on the water and owning a boat myself. Three years ago, that dream started to become a reality and I started researching almost every boating option under the sun (new, used, bay, center console, small, large, plus every brand out there, etc.). Jacob actually started chatting with me about some of my options maybe 2 or 3 years ago, before I was really ready to make any decisions. He was always friendly and most importantly there was never any pressure or hassle to make up my mind or "move quickly to take advantage of any sale," as a lot of other dealers do to pressure you into something. Upon being ready to make that purchase early this year, Jacob sat and happily answered about 1,000 questions from me – some of which I am sure were mundane and basic, as this was my first boat buying experience. He also guided me through the selection of options and steered me away from some that he thought I may not need immediately for my particular situation. I looked at other boats but the service, reputation, and haggle-less / pressure-less experience at MarineMax made a huge difference in decision making. It is a relief knowing that, as a first-time boater, every potential issue, problem, question, and maintenance/service need will be taken care of quickly and professionally – and if I have any questions or concerns, I have a resource that will help without pressure. Additionally, I happened to have my four-year-old with me the days I was onsite looking at boats and after spending hours just fielding questions from me, Jacob probably spent almost another hour showing-off and letting my son crawl through and explore all the larger Sea Ray yachts (for fun since he was good during the extended time period where he had to be still and quiet – a challenge for any four-year-old!) I take delivery of my Sea Pro 208 Bay tomorrow and could not be more excited.



Thanks, Matt
Since receiving Matt's response he has taken delivery of his new Sea Pro 208 Bay boat. In a recent interview, we asked Matt about the delivery, why MarineMax, and how he and his family are enjoying their new boat. Here's how it went:
Q: So, Matt how did the delivery go?

A Matt: It went awesome! However, circumstances with work and a death in the family delayed the actual delivery by 4-weeks. It was torture. But once the day came Captain Keith, the MarineMax delivery captain at the

Clearwater store

, walked me through every aspect of the boat, fielding hundreds of questions with his extensive knowledge and experience. Best was he took the time to put the boat in the water at the store and tutored me on docking and operating my new boat. Captain Keith then loaded it onto the trailer and delivered it to the nearest boat ramp to our home where we took it to our dock. Well actually, we went straight to Fish Tales Seafood House where we had lunch on the water, staring at our beautiful new boat.

Q: You mention in your repose that you did a lot of research before finally purchasing the Sea Pro 208 Bay. How many brands did you cover?

A Matt: Owning my own boat has been a lifelong dream and I wanted to be thorough, so I looked at every boat brand that makes a center console between 19-23 feet that met my budget and maximized features. From my experience with my parents' and friends' boats, I knew I did not want to trailer the boat but I didn't want to leave it in the water either. That meant I needed to have it on a lift. So, over the 2 to 3 years of researching, we bought a house on the water, built a dock and installed a lift. All before owning a boat.

Q: What did your wife think about your process?

A Matt: My wife, Brynne, grew up in Atlanta and was not around boats often. She didn't have my same passion for the boating lifestyle. About 3 to 4 years ago, I made a deal with Brynne that if I could buy the boat of my dreams she could do anything she wants with our home without complaint. My wife is a designer, is very creative, and particular. The deal worked out pretty well. Brynne loves the boat and wants to take the

MarineMax Women on Water

(WOW) course.

Q: So, do you use your boat much?

A Matt: Every weekend, both Saturday and Sunday, if the weather is good. We take our son Tucker and Winston, the English Bull Dog, to one of the many sandbar islands and let them play. We visit the area's waterfront dining facilities.

Q: Why MarineMax and Why Sea Pro?

A Matt: It was mostly Jacob Coyle. However, MarineMax's reputation for follow-through, having a service team that will come to my dock when needed, the MarineMax seminars, like WOW, the Coast Guard safety package, and MarineMax Getaways!® all were major factors. We have not done a Getaway, but we most likely will in the near future.

With regards to why the Sea Pro 208 Bay, I always wanted a Boston Whaler Montauk, but the 190 was not large enough and the 210 was outside my budget. After all my research, the Sea Pro made sense for my family and my budget. Brynne especially likes all the cup holders.

Q: Anything else you might want to share?

A Matt: Yes. Jacob was an immense help when navigating options. He steered me away from options that I thought I wanted but really didn't need and explained why I needed other options, like a raw water wash-down system to rinse the sand off of Ticker and Winston. Now, I cannot imagine not having that option.

After speaking with Matt we spoke with Jacob Coyle.

Q: How do you feel about Matt's winning response to "which team member made a difference in your boating experience?"

A Jacob: Matt is a great guy and his family is terrific. I appreciate and am humbled by what he said. However, it really is a team effort. Behind the sale is the entire MarineMax team. Supporting me are the store manager, sales manager, our business managers, service team members, our delivery captain, and even our marketing team. It is totally a

group effort

.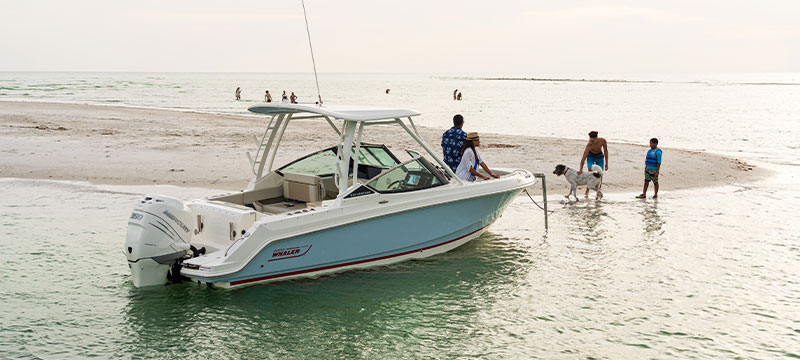 Find Your Perfect Boat Today
Start your search for the boat that has it all for your lifestyle! Explore premium new, used, and brokerage boats.
Search Boats
Our Team Is Your Advantage
Supporting owners with a team of experts to ensure you enjoy boating to the fullest.
Meet Our Team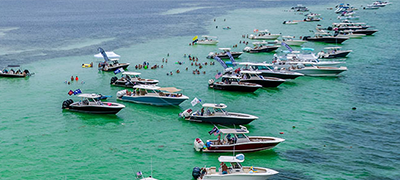 Find an Event
All this fun is exhausting – NOT! We love creating entertaining and exciting customer events. Each is designed to make boating the most remarkable leisure activity in your life.
Find an Event