Love at First Site
THE BLAKELEY FAMILY REMAINS DEVOTED TO THE AQUILA BRAND OF POWER CATAMARANS
Jerry Blakeley first set eyes on a unique power catamaran on the Intercoastal Waterway in 2012. It could have been the boat on its way to be introduced at the 2012 Miami International Boat Show. It was later that year at the Palm Beach Boat Show that Jerry had the opportunity to get onboard.
Construction of Aquila Power Catamarans began in 2012 through a partnership between Sino Eagle Group and MarineMax. This partnership was first established when Sino Eagle Group began building the Aquila 38 specifically for MarineMax's new charter business, MarineMax Vacations.
The Aquila 38 proved to be spacious and efficient. Jerry and his wife, Yunie, found the boat combined a level of comfort with an impeccable ease of handling and efficiency that made it a truly unique power catamaran.
The very next year Jerry and Yunie traded up to a new 2013 Aquila 48. With 4-cabins, two double staterooms at each end of the hulls, it gave them the maximum privacy and comfort.
Two years later while chartering an Aquila 48 with MarineMax Vacations, Jerry and Yunie met a couple who had chartered the new Aquila 44. With a full beam owner's cabin, it was named "Best New Multihull 40'- 49'" in the 2014 AIM Media Editor's Choice Awards. The Aquila 44 better suited Jerry and Yunie's style of cruising, offering a spacious salon and galley as well as plenty of storage to make living aboard or cruising easy and pleasant. With Aquila's revolutionary flybridge to bow direct access it proved to make handling the boat short-handed much easier.
The Blakeley's keep their boats behind their house in Osterville, Massachusetts, in the summer. They find cruising Cape Cod, Edgartown on Martha's Vineyard, Nantucket and Newport, Rhode Island, effortlessly. During the winter, they keep their Aquila at the Palm Harbor Marina, which Jerry considers one of the best marinas in the world for their great staff and fabulous members. From there they have cruised across the state of Florida five times. Even handling the locks along the route with ease, crossing Lake Okeechobee to Fort Myers and beyond. Twice a winter they cruise to Hope Town and Green Turtle Cay in The Abacos, Bahamas. Often with friends for company.
More recently, Jerry has been exploring the benefits of outboard power. After seeing an early version at the introduction of the Aquila 36 during the 2017 Miami International Boat Show, Jerry dismissed it as an option. However, he gave the Aquila team his input on what he would like to see on an outboard powered Aquila power catamaran. At the 2017 Newport Boat Show, Jerry was astounded that many of his suggestions were addressed and the boat was remarkably enhanced. The Blakeley's ordered an Aquila 36 to their specifications and took delivery in March 2018.
The Blakeley's feel their brand-new Aquila 36 Power Catamaran, with a 14' 7" beam, blends perfectly live aboard space and qualities perfect for socializing with rugged strength and control. The Aquila 36 has cockpit seating for over two dozen adults and two comfortable cabins with private en-suite heads. Jerry also likes that he can single-hand the Aquila 36 and he enjoys its spirited performance and excellent fuel economy. With its open water capabilities, wide stance and twin sponsons, the boat is remarkably stable making it exceptionally comfortable at speed cruising to his favorite haunts or while at rest just relaxing.
In October 2017, their friends and cruising partners, Ant and Sue, bought Young's Boat Yard on the Chesapeake near Baltimore. Jerry plans to have his Aquila 36 trucked to Young's Boat Yard and will cruise with Ant and Sue for several weeks and take in the beauty of the Chesapeake Bay and its wonderful harbors. Following that he plans to take his boat to his property on Oyster Harbors in Osterville.
WRITTEN BY MARK KELLUM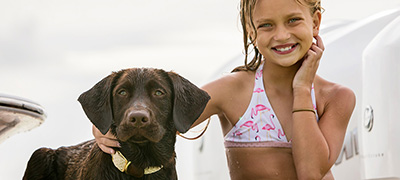 The Boating Lifestyles Blog
Browse hundreds of articles on customer stories, tips, trends, gear, amazing boating locations and more found in our Blog.
Explore Boating Articles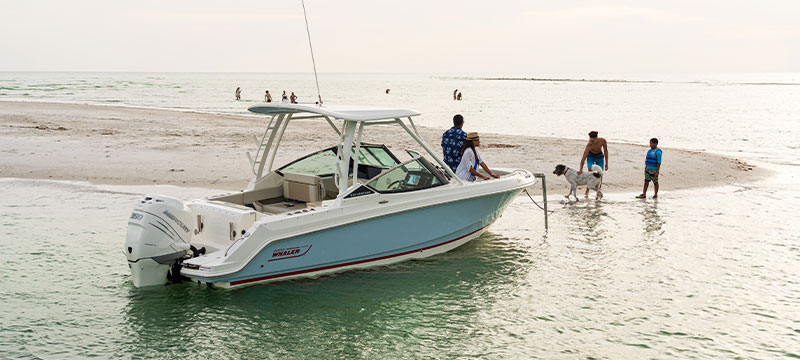 Find Your Perfect Boat Today
Start your search for the boat that has it all for your lifestyle! Explore premium new, used, and brokerage boats.
Search Boats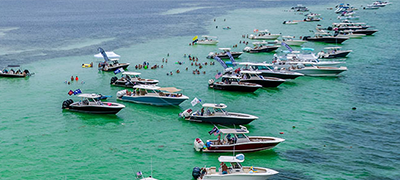 Find an Event
All this fun is exhausting – NOT! We love creating entertaining and exciting customer events. Each is designed to make boating the most remarkable leisure activity in your life.
Find an Event